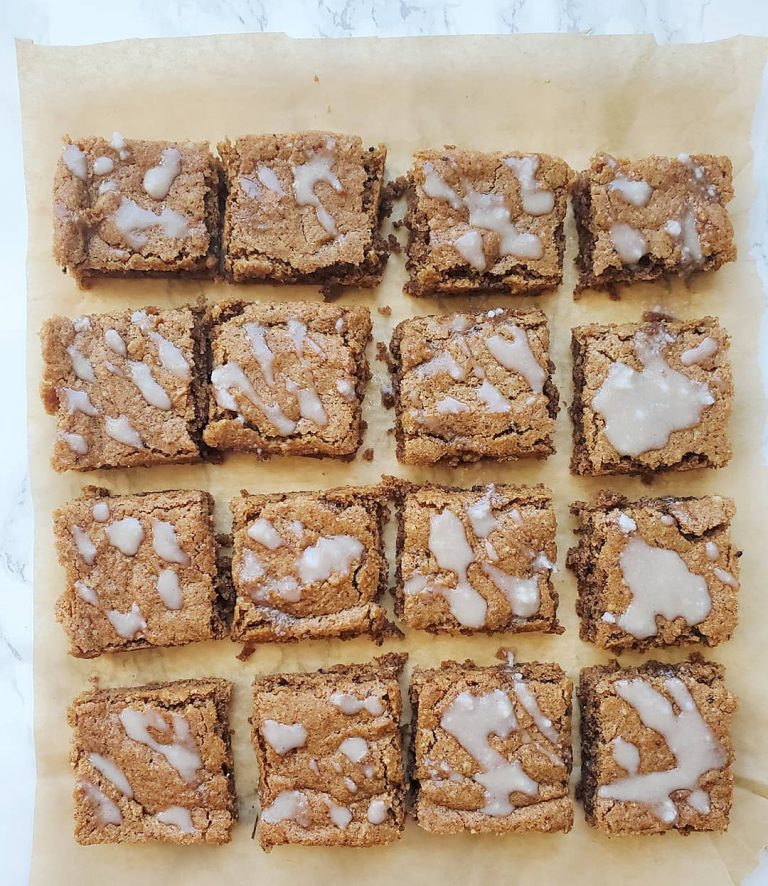 Paleo Chai Latte Blondies
| CHAI LATTE BLONDIES | with a Vanilla Coconut Milk Glaze! I promised to share this recipe soon and here it is! If you love spiced cakes, this is for you! If you love chai lattes, this is for you! If you love food that is delicious, this is for YOU! This dessert is refined sugar free, paleo, and even keto friendly. I remember when I was a teenager, going to Starbucks was like the coolest place to be seen and I would go there and order their Chai Latte which is soooo delicious but also fullllll of sugar. I've been aiming to put one dessert on my blog each week because I post about 5 times a week, and when I did a poll..about 20% of you wanted more dessert recipes…and well..you can do the math..but it checks out! Anyway, hope you decide to make these this weekend! If you do, tag me in your photo on instagram, so I can see it!
Ingredients:
1.25 cups blanched almond flour
1/2 tsp baking soda
1/2 tsp salt
1 tsp cinnamon
1/2 tsp cardamom
1/4 tsp nutmeg
1/2 tsp ground ginger
1/4 tsp clove
1 tsp finely ground coffee grinds
1 egg
1/4 cup nut butter
1/4 cup coconut oil, room temperature
1/4 cup coconut sugar
3 tbsp maple syrup
1 tsp vanilla extract

Directions:
1. Preheat oven to 350°F
2. In a medium size bowl, mix together all wet ingredients, including coconut sugar, until smooth.
3. In a large bowl, mix all dry ingredients, including spices and coffee grinds
4. Pour wet ingredients into dry ingredients. Mix well.
5. Line an 8×8 brownie dish with parchment paper(or grease the dish with coconut oil if you dont have parchment paper)
6. Pour batter into dish and bake for 20 minutes.
7. Remove from oven and let it cool for am hour uncovered before you add the glaze.

Vanilla Coconut Milk Glaze

Ingredients:
3 tbsp coconut cream
1 tsp maple syrup
1 tsp vanilla

Directions:
1. Combine coconut cream and maple syrup in a small saucepan and bring to a boil. Let it boil for 5 minutes.
2. Remove from heat and add vanilla.
3. Let it cool completely and put on top of Blondies once they are cool.