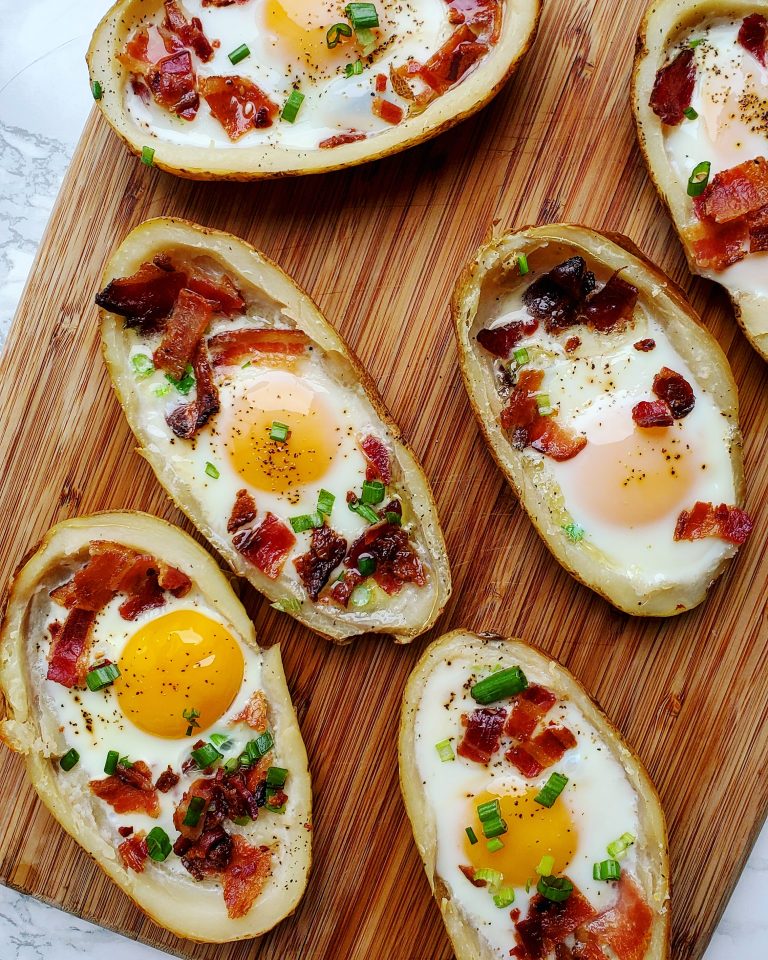 Breakfast Potato Boats
| BREAKFAST POTATO BOATS | 🥔🍳🥓 Potatoes, Eggs, Bacon, and Green Onions. These are a few of my favorite things. This little gem of a recipe has had me eating V well this whole week. This breakfast is naturally gluten free and whole 30 approved! The perfect option for a weekend brunch party, but easy enough to make it just for yourself.
4 large Russet Potatoes
8 eggs
1 pack of bacon (about 12 slices)
5 green onions, diced
Salt
Pepper
Oil/Butter

1. Preheat oven to 425°F
2. Poke potatoes a few times all over with a fork and then place on a baking sheet.
3. Rub potatoes with a little oil, salt and pepper and then bake whole potatoes on a baking sheet at 425°F for 40 – 45 mins.
4. Cook bacon using any preferred method and then crumble into pieces.
5. Remove potatoes from oven and let cool enough to handle. Also, reduce oven heat to 350°F.
6. Cut potatoes in half long ways.
7. Scoop out the insides of the potato, leaving a thin layer of potato all around. (Keep the insides of the potato to make a potato soup)
8. Add a couple pats of butter, a bit of salt, and some black pepper to the inside of each potato half.
9. Add half the crumbled bacon and half the green onions to the inside of the potatoes.
10. Carefully crack an egg into each potato half.
11. Sprinkle with salt and pepper, and the rest of the bacon.
12. Put them back in the oven and cook for 20 to 25 mins at 350°F.
13. Remove from oven and garnish with the rest of the green onions.