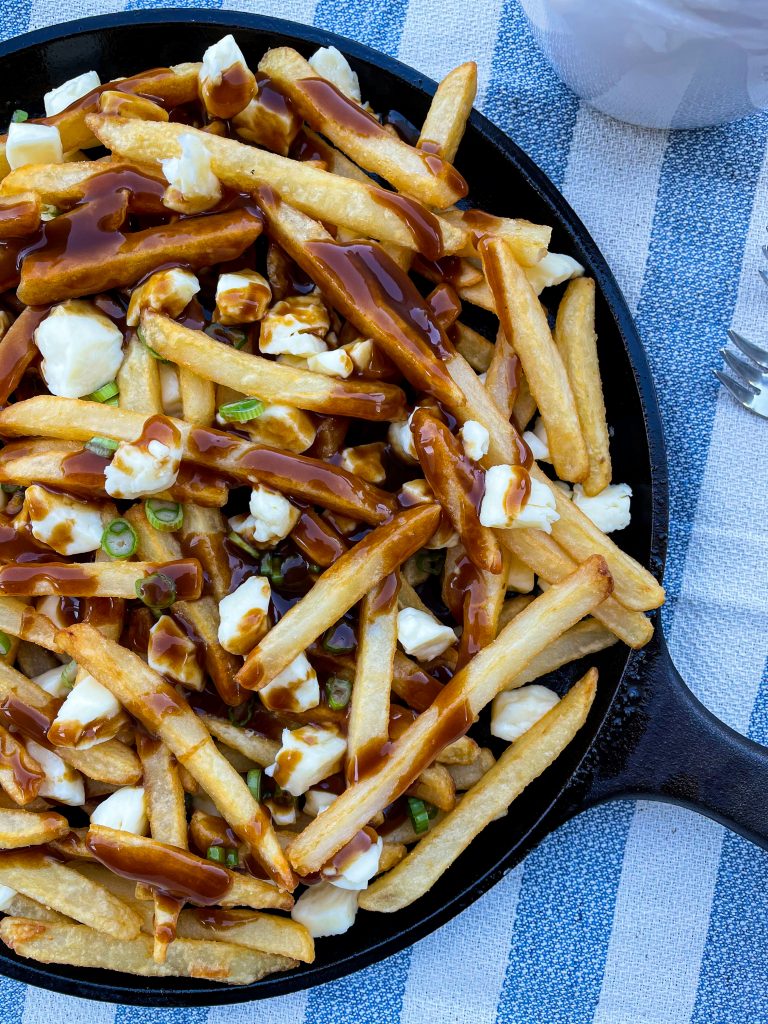 Easy Poutine
This shop has been compensated by Inmar Intelligence and its advertiser. All opinions are mine alone. #mccainquickcook . One of my favorite dishes in the whole world is Poutine! Poutine is a Canadian specialty dish made from French Fries mixed with fresh cheese curds and warm brown gravy. I used McCain® Quick Cook Straight Cut Fries to make this Easy Poutine in a fraction of the time and it was a hit with my whole family.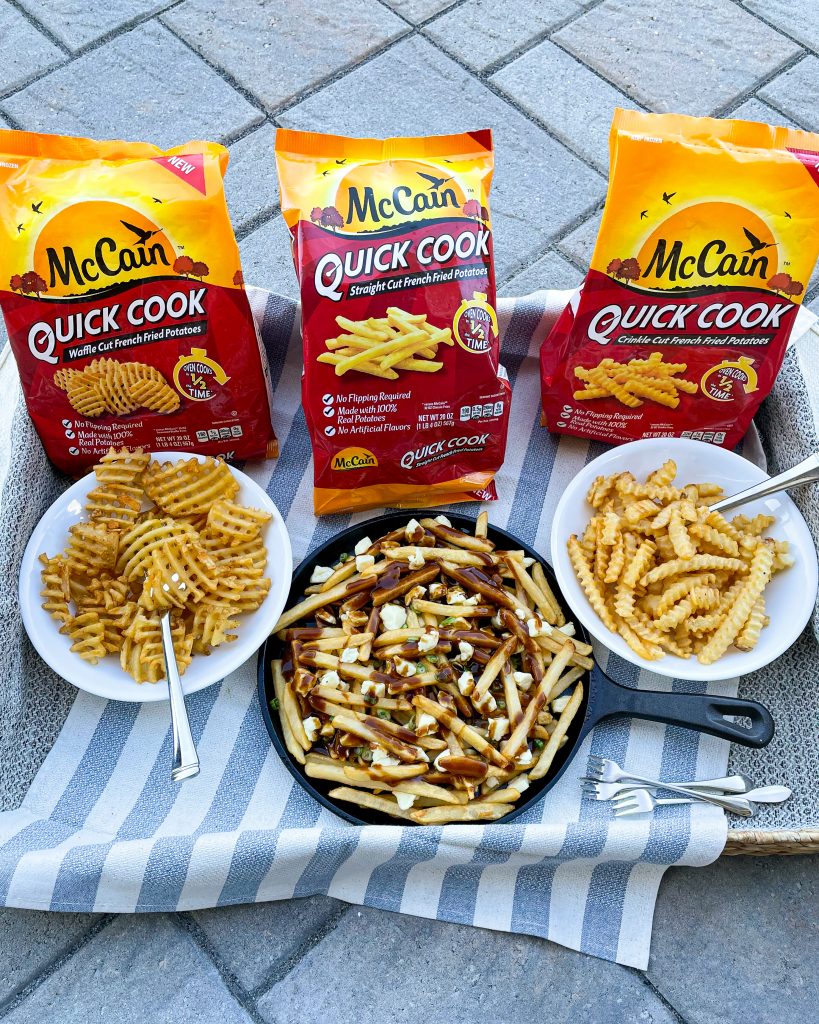 Poutine usually requires making your own french fries first, which means peeling potatoes, cutting them up, and then frying. I just had a baby, so I don't have a full day to spend cooking, anymore. Luckily, McCain makes it easy and convenient for me to make the delicious meals I want without spending a lot of time in the kitchen. McCain now makes a Quick Cook variety of fries that cook in half the time.*
Click HERE to add McCain Quick Cook Fries to your grocery cart.​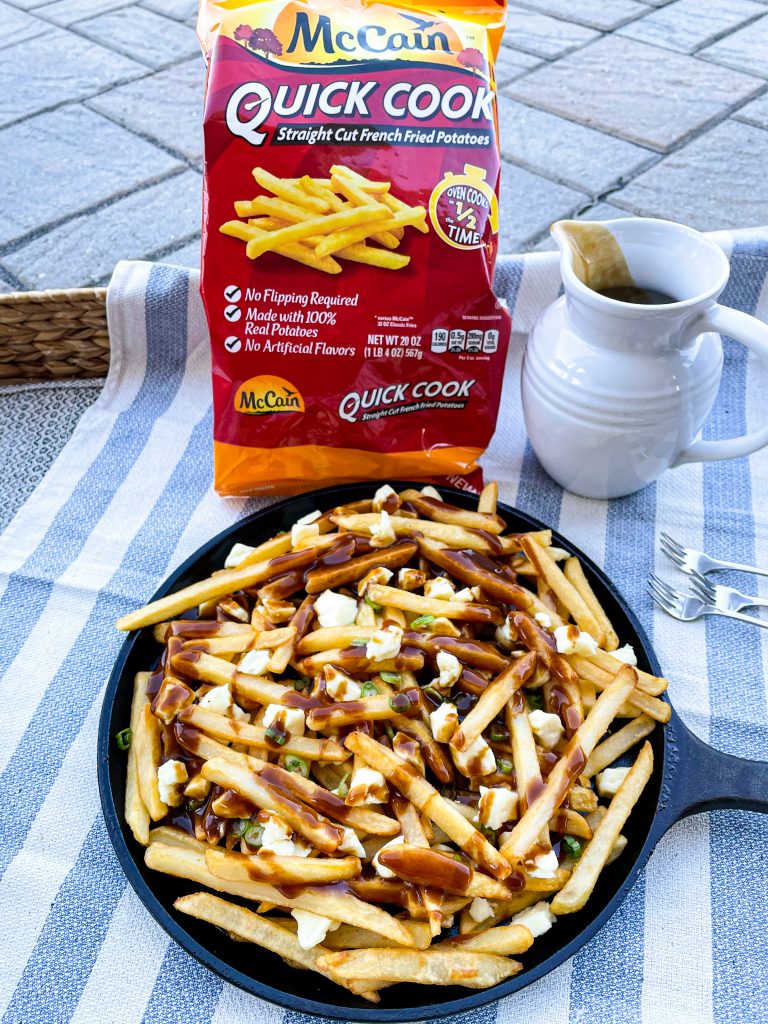 McCain Quick Cook Fries come in three varieties, crinkle cut, waffle, and straight cut. They are faster to prepare and easier to share! I tossed my fries with fresh cheese curds and then poured on some warm brown gravy once they were done cooking. It was amazing to eat on a cold winter day!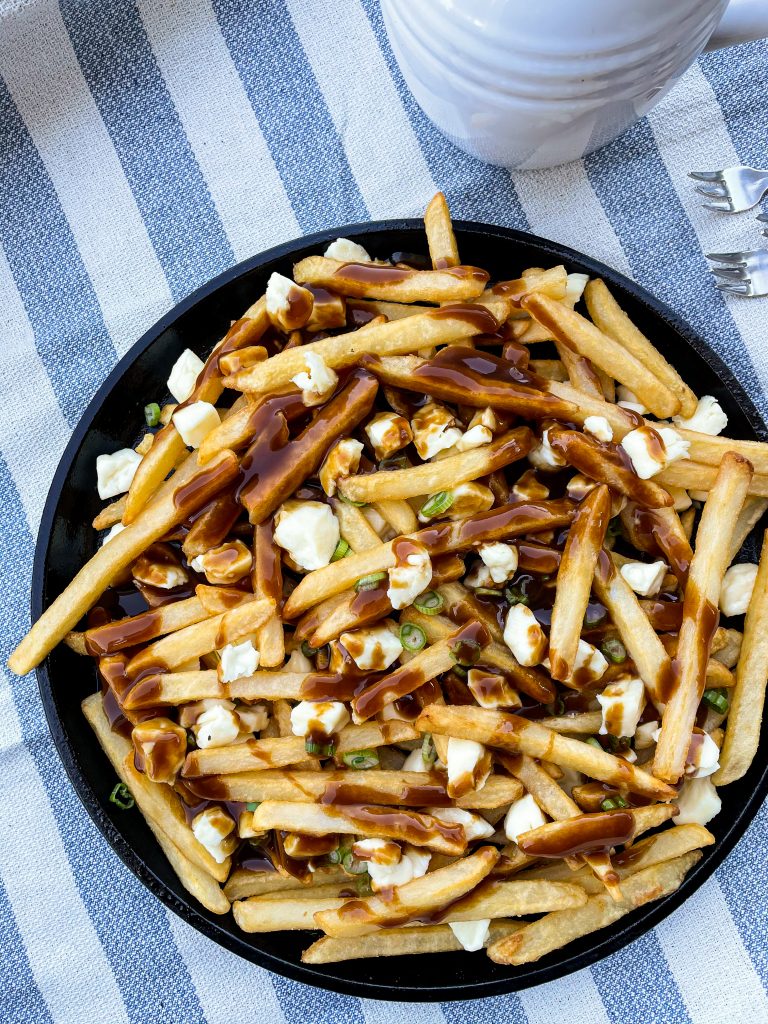 These fries cook quickly and no flipping required, which saves me the time of having to watch them. McCain Fries are made with 100% real potatoes and have no artificial flavors. I love keeping a couple of bags of these in the freezer to create a fast side dish or main dish like I did with this Poutine.
Sometimes I don't have time to meal plan days in advance, and having these fries on hand makes it easy to whip something together fast that we enjoy!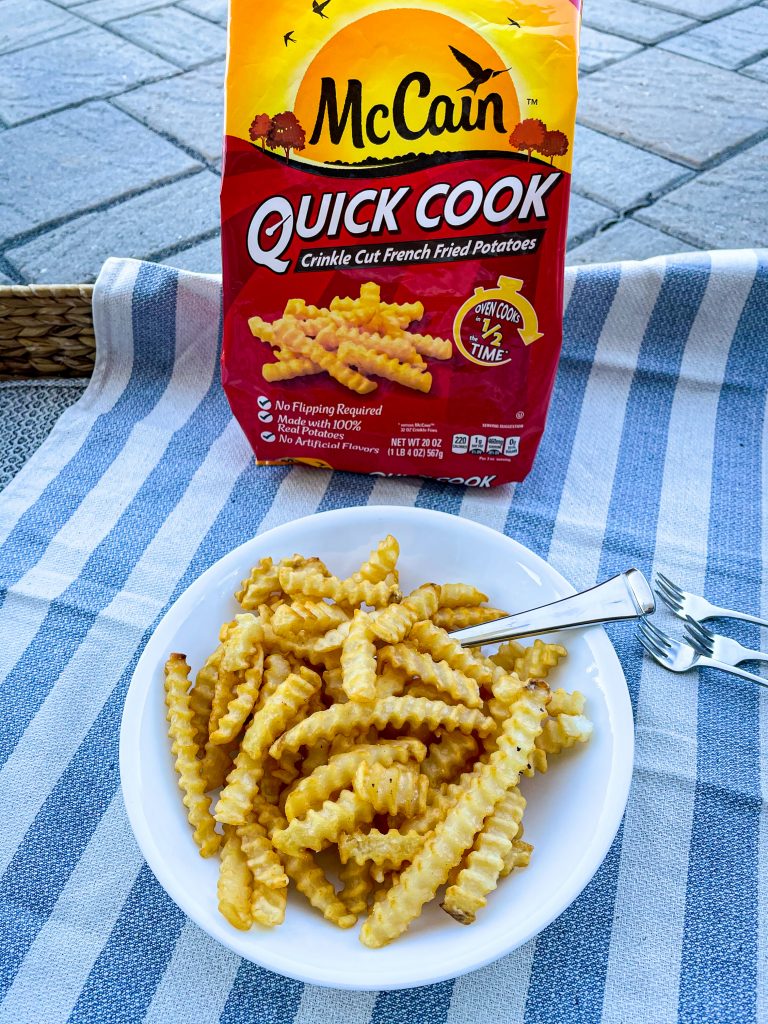 What is Poutine?
Poutine is a French-Canadian dish traditionally made of French fries and fresh cheese curds, then covered with gravy.
I was able to easily find these McCain Quick Cook Fries in the freezer section of ShopRite by me! This is great, because who has time to shop around these days? I need my grocery store experience to be "in and out".
Is there meat in poutine?
Poutine is usually made with a beef gravy, so it is not a vegetarian dish. However, I have tried many poutines made with a mushroom gravy and they are also super delicious.
I absolutely loved how fast I was able to get this delicious snack on the table for my family to enjoy! That is a reason to celebrate all on its own! Take a few minutes to make these delicious fries for a hot-from-the-oven dish the whole family will eat just as fast!
*Compared to McCain® 32 OZ Crinkle Fries, 32 OZ Classic Fries, and 26 OZ Seasoned Waffle Fries (respectively) in conventional ovens.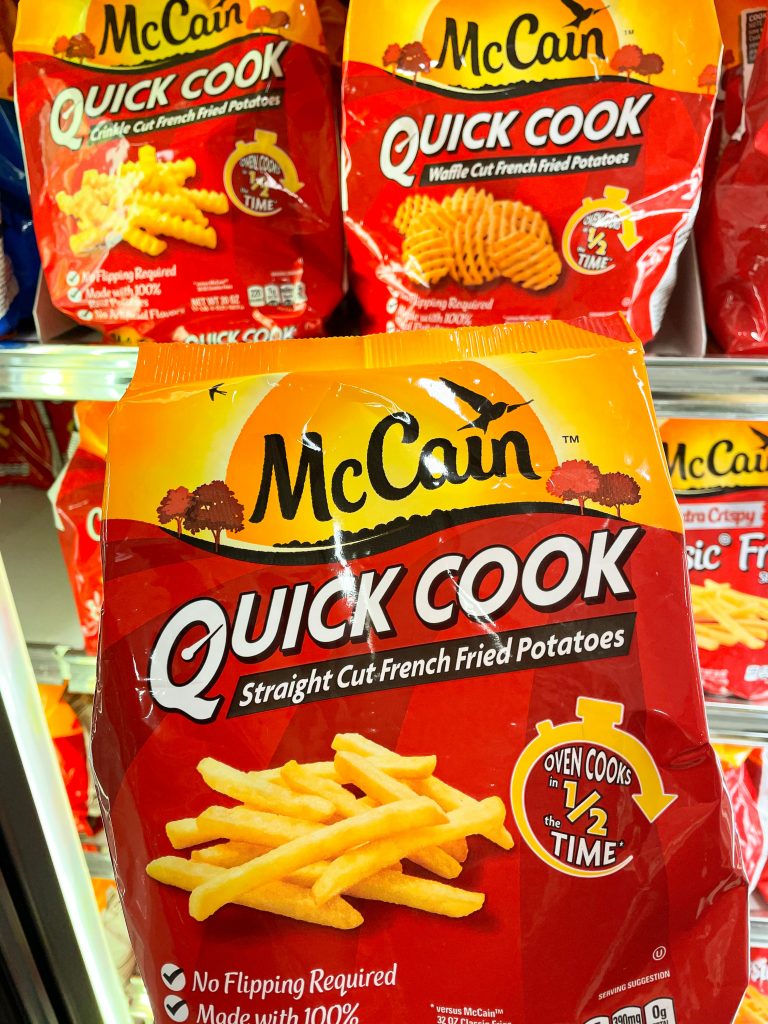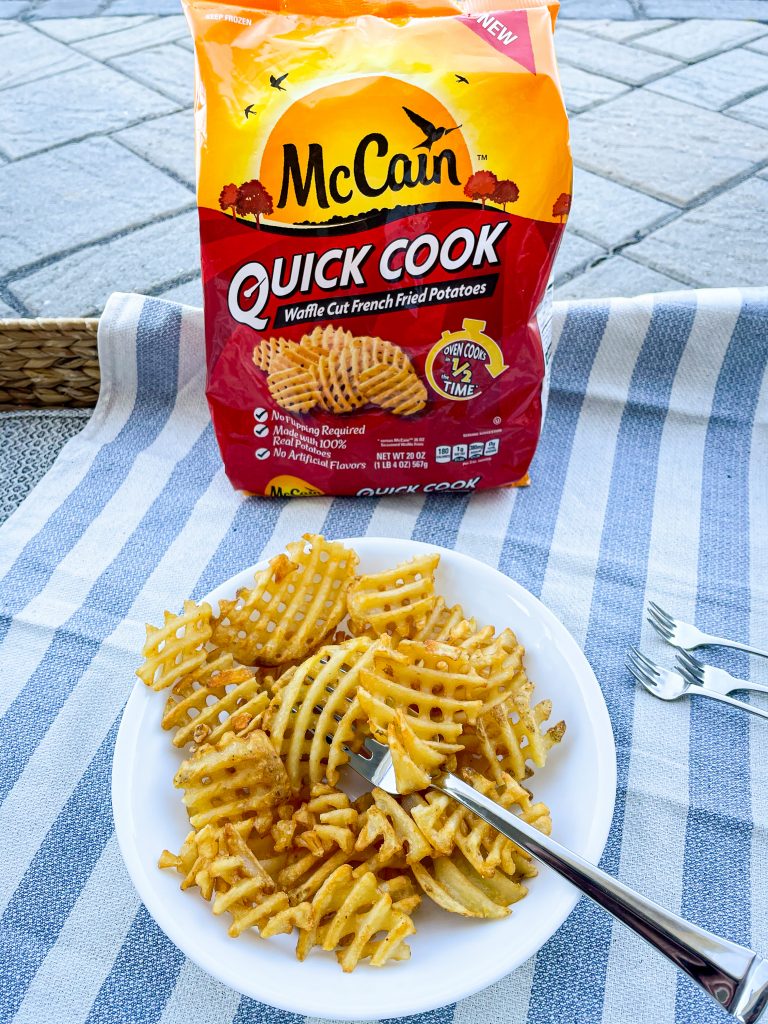 Easy Poutine
A Canadian Dish of French Fries topped with Fresh Cheese Curds and Hot Brown Gravy!
Ingredients
1

bag

McCain Quick Cook Straight Cut Fries

6

ounces

Fresh Cheese Curds

Your favorite Brown Gravy

you can use store bought or homemade
Instructions
Cook the McCain Quick Cook Straight Cut Fries on a baking Sheet for 10-13 minutes or until lightly golden – no flipping required

While the fries are cooking, heat up your gravy and chop the bigger cheese curds into smaller pieces

Once the fries come out of the oven, mix with cheese curds and gravy. The cheese does not need to be heated, but if you prefer, you can heat the whole dish together in the oven for a few minutes, but watch it carefully.

Enjoy!
Keyword
appetizer, french fries, fries