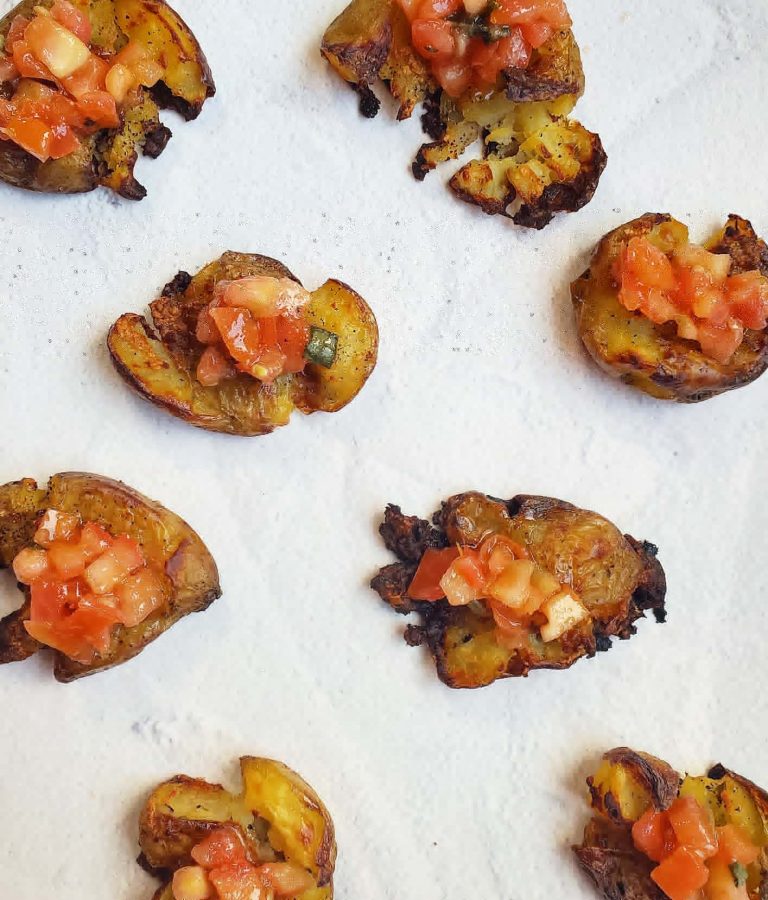 Bruschetta Smashed Potatoes
| BRUSCHETTA SMASHED POTATOES | 🍅🥔 Happy Monday, Everyone! We've been on a bruschetta kick over at our house recently, and so I thought..this would work really well on a crispy smashed potato. I am always lookin' out for my paleo peeps! This would be a great Superbowl option for anyone, especially people who are freshly coming off of a whole 30! You can easily make your own bruschetta by combining some basil, olive oil, and tomatoes or save some time and opt for a premade version. Either way, you are sure to love this combination!
How To Make This:
Ingredients:
Little Potatoes (the size of a golf ball)
Olive Oil
Salt
Garlic Powder
Black Pepper
Homemade or Store-Bought Bruschetta
Directions:
Boil potatoes for 20 to 25 minutes. Make sure they are tender enough to smash.
Drain potatoes and pat dry
Line a baking sheet with parchment paper, rub a little layer of olive oil all over and add potatoes to the sheet.
One by one, smash each potato with a fork
Drizzle with olive oil, salt, pepper, and garlic powder.
Bake at 425°F for 25 to 30 minutes, or until potatoes are nice and golden.
Let potatoes cool without being moved for 10 minutes.
Top with bruschetta!