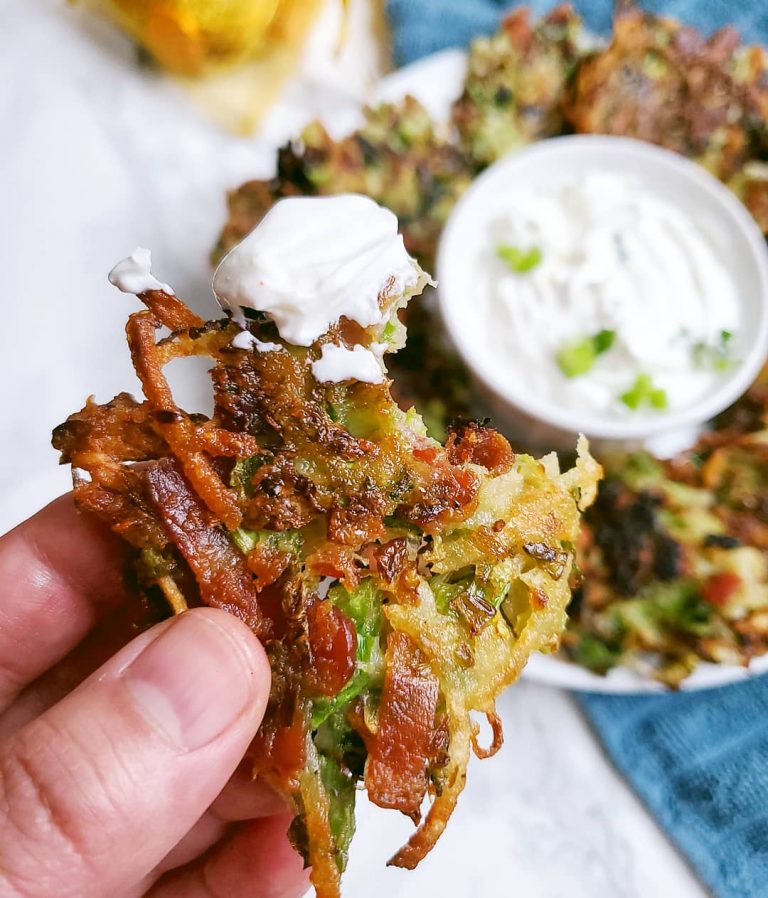 Brussels Sprouts and Bacon Latkes
| POTATO LATKE WEEK | 🥔🥓 DAY 4 brings us Brussels Sprouts and Bacon Latkes! These latkes were my favorite of them all because…wellll….BACON!! I used a bag of shredded Brussels sprouts from @traderjoes to save on time, and flavored these with some Garlic and Herb Seasoning from @primalpalate
Recipe below!
2 russet potatoes, peeled
1 bag shredded brussels, 10 oz
1 6oz bag of green onions
I pack of bacon, cooked and diced
1 tsp garlic and herb seasoning
1/4 tsp black pepper
1 tsp salt
2 eggs
1/2 tsp baking powder(I make my own using baking soda and cream of tartar)
1/2 cup tapioca flour
Directions:
Grate the potatoes using the grating disc of your food processor or by using a box grater.
Take half of the grated potatoes and add them back to a food processor and pulse a few times until they start to resemble mashed potatoes. You want half to be grated and half to be a mashed consistency. This will ensure creamy, but crunchy latkes.
Drain all water from the potatoes by using a nut milk bag or cheese cloth. (This step is very important. If you dont remove all the water, the latkes will never crisp up) I use the nut milk bag from www.elliesbest.com. You can use the code "spinachandbacon" to receive 10% off your purchase.
Once all the water is removed, add the potatoes to a large bowl.
Add the shredded Brussels sproutsto the bowl with the potatoes.
Throw the onions into the food processor and pulse until it starts to look like a paste.
Squeeze all water from the onions using a cheese cloth or nut milk bag.
Add onions to potatoes and brussels sprouts.
In a small bowl, beat the eggs with the salt, pepper and @primalpalate garlic and herb seasoning.
Pour egg mixture over potatoes and onions, and mix well.
Add flour and baking powder to the mixture and mix well.
Heat enough oil in a large skillet to cover the bottom of the pan. Use medium heat.
Once oil is hot, drop a heaping tbsp of the mixture into the oil. Then I use the back of the spoon to flatten the latke once it is in the oil. Cook each side for 3 minutes.
As the latkes are cooking, transfer them to a paper towel lined baking sheet to absorb the excess oil.