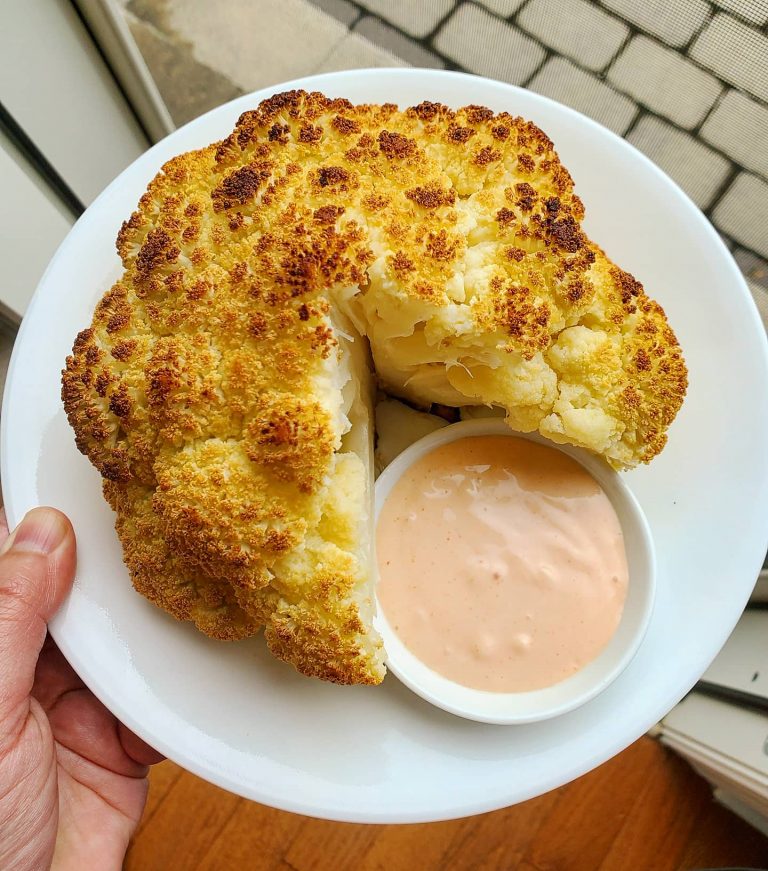 Whole Roasted Cauliflower
| WHOLE ROASTED CAULIFLOWER | with a Buffalo Mayo Dipping Sauce! 😍 I've seen this Cauliflower around the internet, and now that I am home all the time, I figured now was the time to cross some of these food projects off the list. I loved the roasted taste of this cauliflower. The inside was sooo tender that I could just pull off a piece and dunk it into my sauce..and it was not mushy at all! I made a creamy buffalo sauce for it because I love the taste of Buffalo Cauliflower, but you can make any dipping sauce for this. I have seen people make it with an herby vinaigrette and also a dijon sauce. Tons of options out there!
Ingredients
1 head of Cauliflower
3 – 4 TBSP Ghee (or oil of your choice)
Salt

Directions
1. Preheat oven to 375°F
2. Wash cauliflower and pat dry.
3. Cut off all the leaves on the cauliflower. Also cut off the bottom of the stem. You want the cauliflower to be able to sit flat in an oven proof pan. Be careful not to make any cuts that will make the cauliflower fall apart.
4. Slather the Cauliflower Florets with ghee. Flip over the cauliflower and get the ghee(oil) into any empty space you can find. Your cauliflower should be completely covered.
5. Sprinkle GENEROUSLY with Kosher Salt.
6. Place Cauliflower (florets side up) on a cast iron pan or any oven proof pan.
7. Cover tightly with aluminum foil and bake covered for 30 minutes. This part is important as the inside will steam and get tender before you brown the outside.
8. Remove from oven and carefully remove the aluminum foil.
9. Place back in the oven (uncovered) for about 50 minutes. The florets should have a nice crispy browness to them.
10. Dunk into your favorite dip or sauce. I made a Buffalo Mayo for dipping. I combined 2 tbsp of Mayo with 1.5 tsp of Frank's Red Hot Sauce. Then I mixed it together. Add more hot sauce if you like spice.