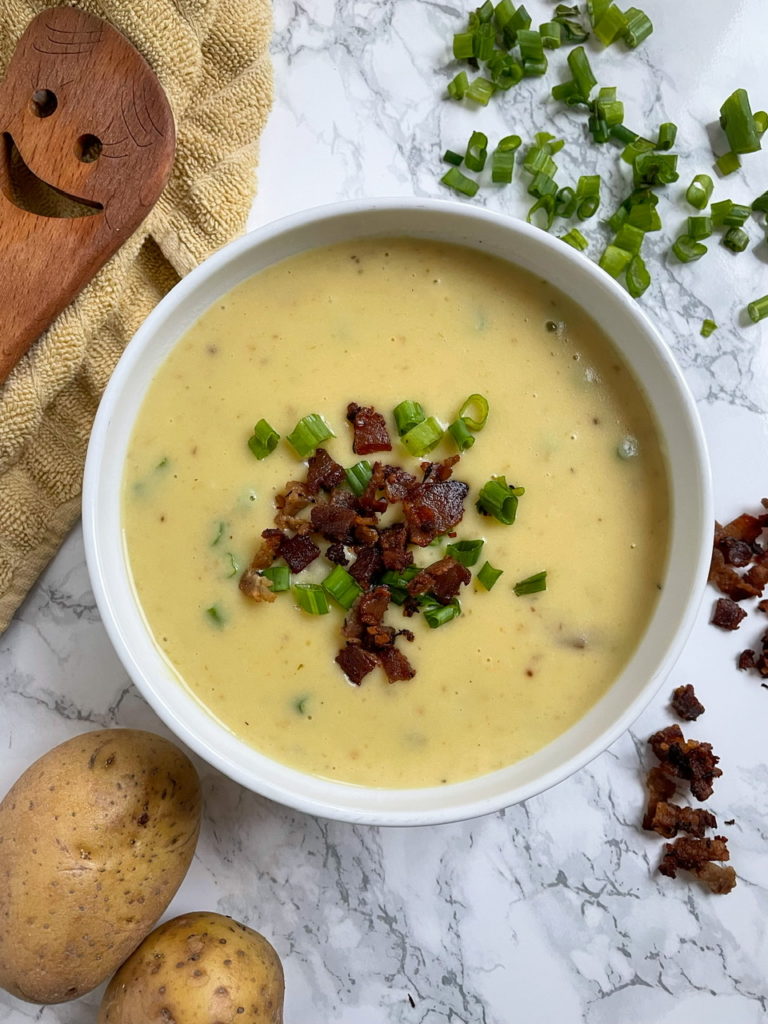 Instant Pot Parsnip Soup
I love a creamy soup! And I love making soup in my Instant Pot. This Instant Pot Parsnip Soup is a great way to use some seasonal root vegetables in a way that nourishes your body and tastes really good. Parsnip on it's own is a bit sweet, so I also use potato in this recipe to balance out the flavor a long with a few of my other favorite soup ingredients. This soup is very similar to a loaded potato soup but the parsnip gives this an interesting and nutritious twist.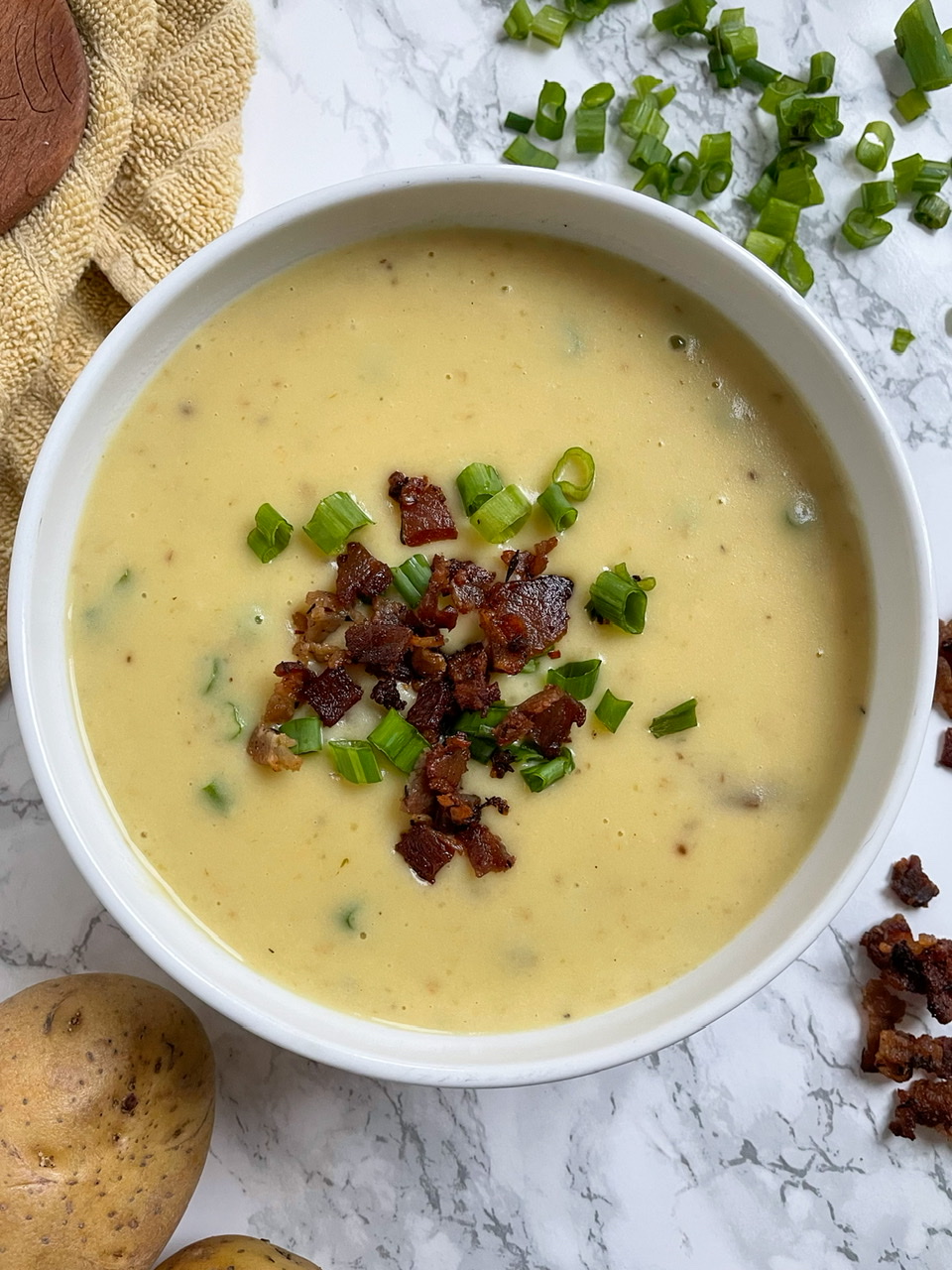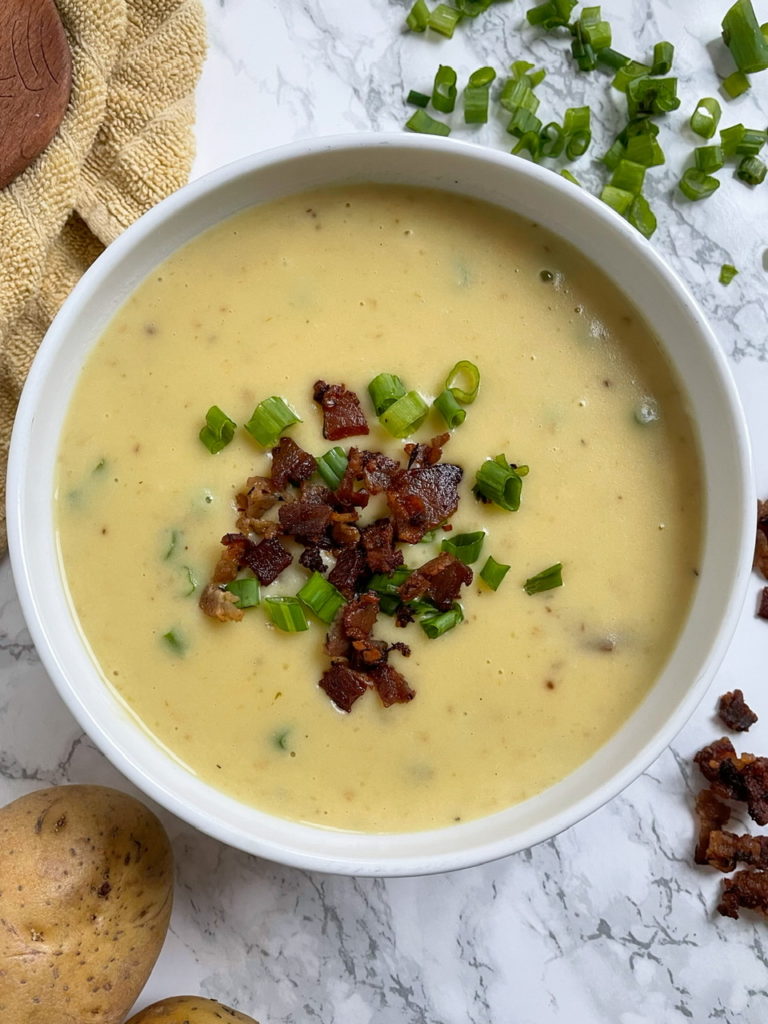 Making soup in an instant pot has to be "up there" in easiest things to cook. You can sauté onions right in the pot, then add most of your ingredients, pressure cook for 12 minutes, and then use an immersion blender to make the soup creamy directly in the pot. This makes for super fast clean-up later on! I like to add a little cream or half and half afterwards to make it even more creamy, plus some sharp cheese and bacon! Toppings are optional, and you can even make this soup for your Whole30 if you choose a good non-dairy milk and omit the cheese! I used bacon bits by a brand named "Naked Bacon" which is Whole30 approved too!
What does parsnip taste like?
Parsnips have a spicy sweetness to them. Not spicy, like a pepper. The spice is like a slight bitterness, but since the vegetable is sweet it tastes pretty balanced. It has more fiber and less carbohydrates than potatoes, so it is a nice alternative to potatoes. You can make a parsnip and potato mash which is similar and more nutritious than just regular mashed potato. You can also slice parsnips into chips and then roast them. Parsnips are actually my favorite root vegetable to turn into chips! So good! Or, another great way to use parsnips is to make this Instant Pot Parsnip Soup!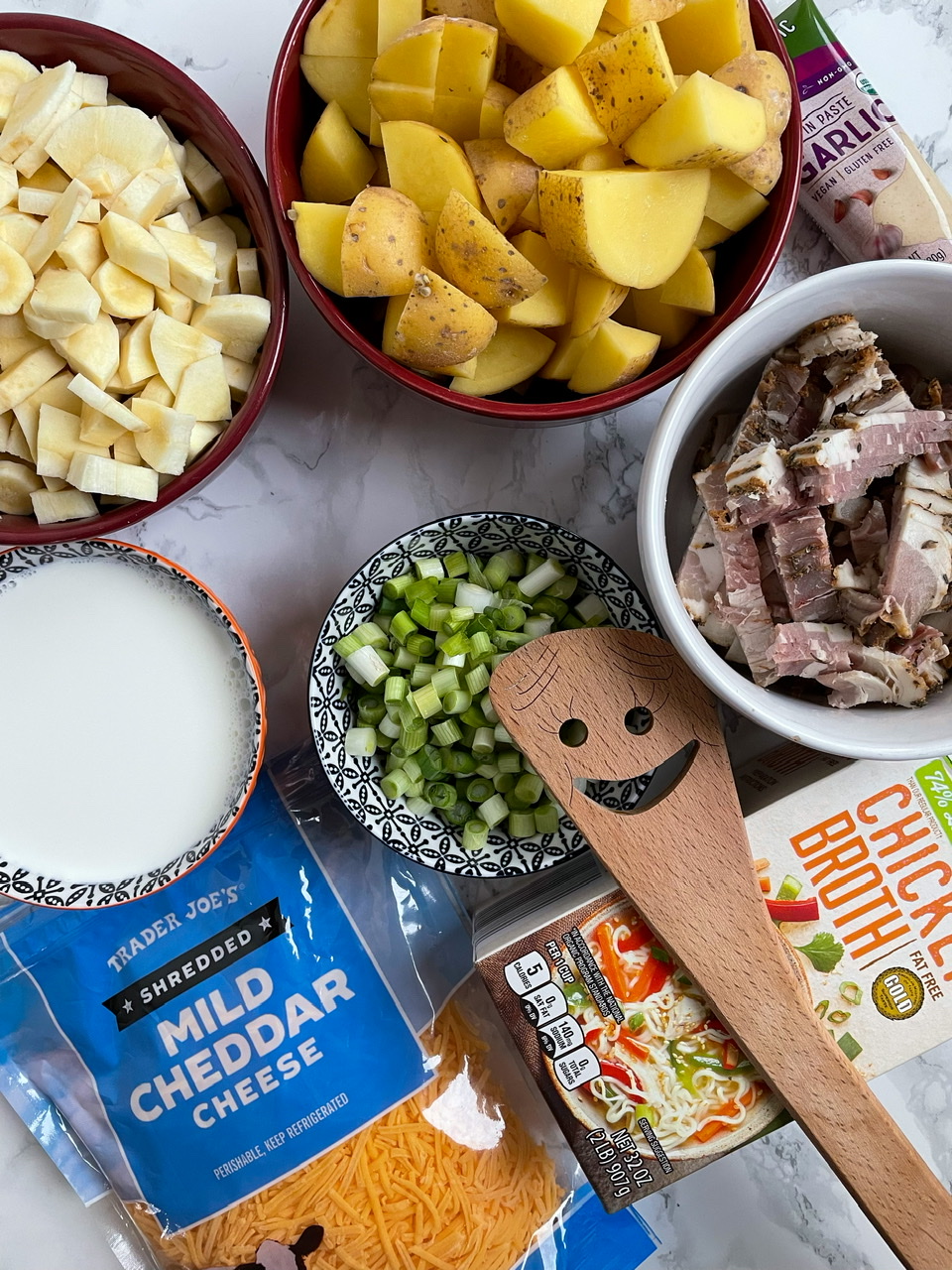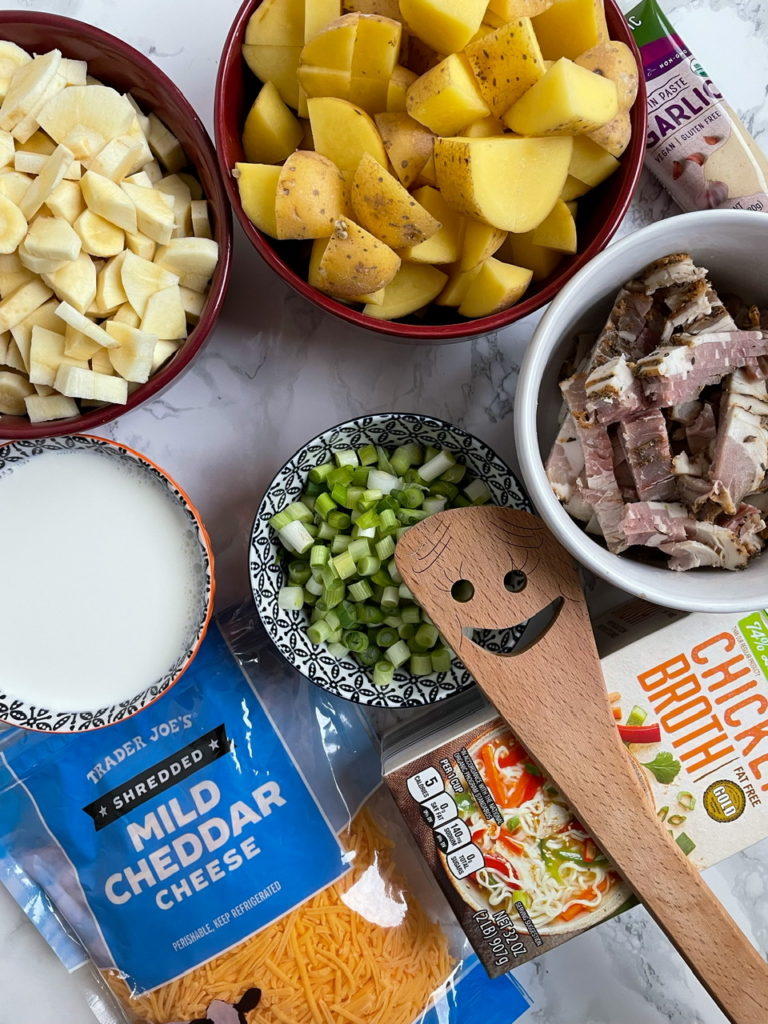 If you like this recipe for Instant Pot Parsnip Soup, you may also like:
Instant Pot Broccoli Cheese Soup
Instant Pot Parsnip Soup
A creamy and delicious parsnip and potato soup made in your instant pot. The perfect winter warm-up soup!
Ingredients
2.5

tbsp

Butter

1

Cup

Onion or Green Onions

diced

1

tbsp

Garlic

minced (I like to use Garlic Paste to make it easier)

4

Parsnips

peels and then cut into 1" slices and then halved

3/4

tsp

Sea Salt

plus more later

5

Yukon Gold Potatoes

These do not need to be peeled because the skin is a nice golden color. Dice these into 1" pieces

2.5

Cups

Chicken Broth

You can use Veggie Broth, as well.

1/2

Cup

Heavy Cream

Or Milk of Choice

2

Cups

Sharp Cheddar Cheese

Bacon Bits

Either homemade or store bought. These are optional
Instructions
Chop your onion, parsnips, and potatoes.

Turn on your Instant Pot and put it into Saute mode. Add your butter

Once you see the butter start to bubble, add your onions and garlic. Then, mix

Once the onions start to get a little color on them, add your parsnips, potatoes, and salt. Mix and then add the broth. Make sure the broth almost covers the contents in the Instant Pot. It is ok if the tops are peaking out.

Turn off your instant pot. Then, place the cover on and make sure it is in the "sealed" position.

Select "Pressure" cook at high pressure for 12 minutes.

*This step is optional* During this time, you can make bacon bits if you would like to add them to your soup. Cut raw bacon into 1" pieces, place in a pan and cook until brown. Drain the bacon from the oil and set aside.

Once the soup is done, let the soup natural release for 10 minutes. Then, very carefully, open the seal and let the rest of the pressure release.

Once the pressure has been released and it is safe, remove the cap, give your soup a mix and use an immersion blender to make the soup super creamy. Alternately, you can pour the contents in batches into a vitamix or blender to make it creamy.

Add your cream (or non-dairy milk) and cheese and mix all together. Taste and add more salt or black pepper if you would like. Add bacon bits and top with green onions!