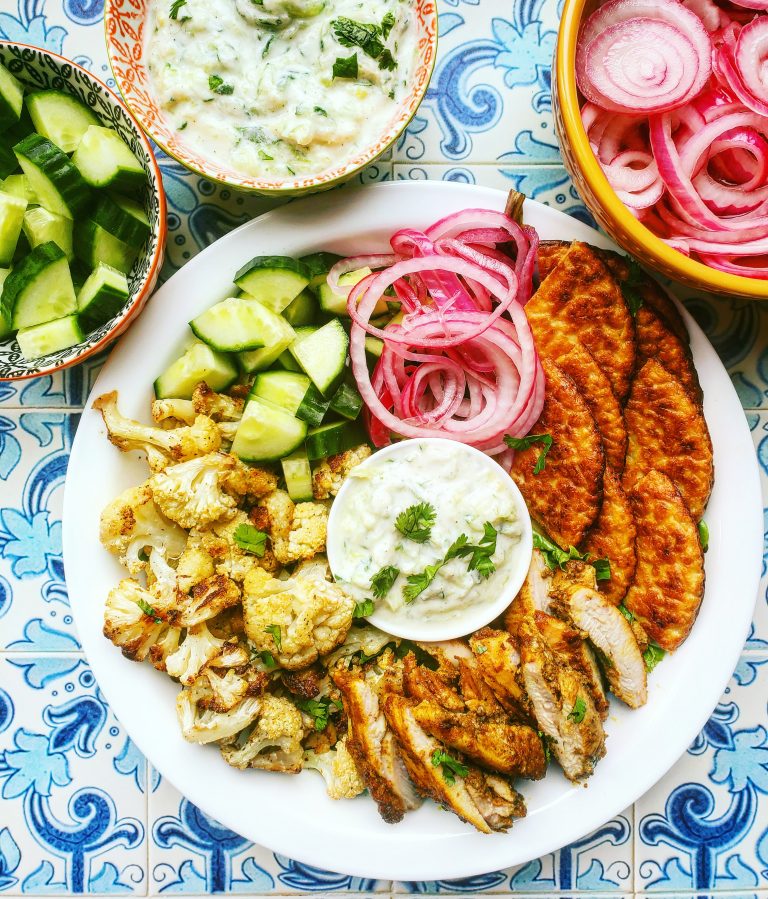 Tandoori Chicken
SHEET PAN TANDOORI BOWLS!! I can't promise you that this is a traditional recipe for tandoori chicken, but I can promise you it is so darn delicious!! You will want to eat it alllll and it'll be hard to keep some for leftovers. I had made tandoori chicken in the past but something was lacking. This time, I did more research and added a few more spices to create more of a robust flavor. It is a tiny bit spicy because of the cayenne but it is manageable because of the delicious yogurty sauce that accompanies it! Even if the recipe isn't 100% tradtional, I know there is a grandma out there that would be proud of the flavor on these! Also, I wanted an easy cleanup so I cooked these on a sheet pan with some cauliflower and everything came out so perfect! This chicken is marinated for 24 hours so you do have to plan ahead, but once you do that the recipe is a breeze! I will be adding the recipe for the raita (cucumber yogurt sauce) and pickled red onions later this week!
Ingredients:
7 – 8 boneless chicken thighs
3/4 cup full fat yogurt (use coconut yogurt if paleo)
2 garlic cloves, minced
2 tsp ground ginger
1.25 tsp ground coriander
2 tsp ground cumin
1.5 tsp ground cayenne
1.5 tsp sweet paprika
2 tbsp garam masala
1 tsp turmeric
1/4 tsp cinnamon
1/4 tsp nutmeg
1/4 tsp ground cloves
3 tsp salt
3.5 tbsp avocado oil
1 tbsp maple syrup

Method:
1. Add all of the ingredients to a gallon sized ziploc bag, or container of your choice. Mix so that chicken is fully covered in the mixture and marinade in the refrigerator for 24 hours. Flip the bag around to shake the mixture up a few timea during the 24 hours.
2. Once you are ready to cook the chicken, preheat oven to 350°F. Place an oven safe rack on an extra large baking sheet. Place chicken thighs on the rack and cook for 50 minutes. I also like to add cauliflower florets(with salt, pepper, and a little olive oil) to part of the pan, if there is space. I roast them for the same amont of time as the chicken.
3. After 20 minutes of cooking, flip the chicken. Then, after another 10 minutes, flip again. Make sure that the chicken is right side up after the last flip. Continue cooking, and then once 50 minutes has passed, either out them under the broiler for 5 minutes or put them in a hot pan for 5 minutes to have the tops crisp up a little bit.
4. Let the chicken rest, undisturbed, for 5 to 10 mins, then serve with roasted cauliflower, diced cucumber, naan, raita(cucumber yogurt sauce), and pickled red onions. Recipes for all of the sides will be posted this week!
Follow me on Instagram @spinachandbacon