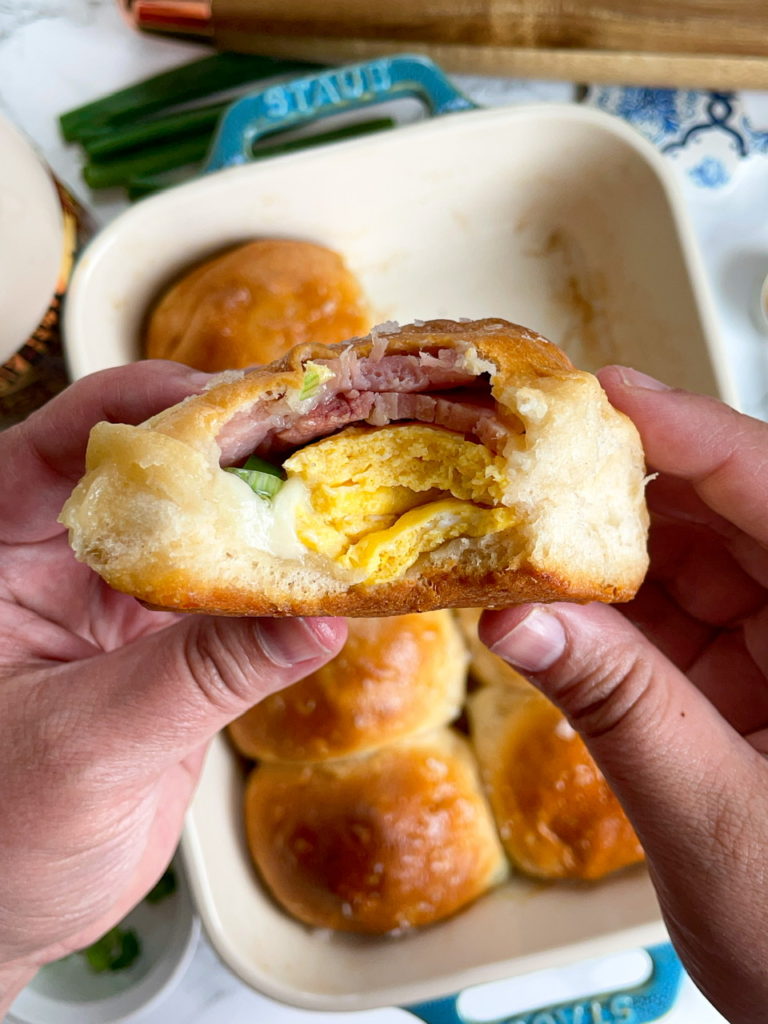 Ham, Egg, and Cheese Stuffed Biscuits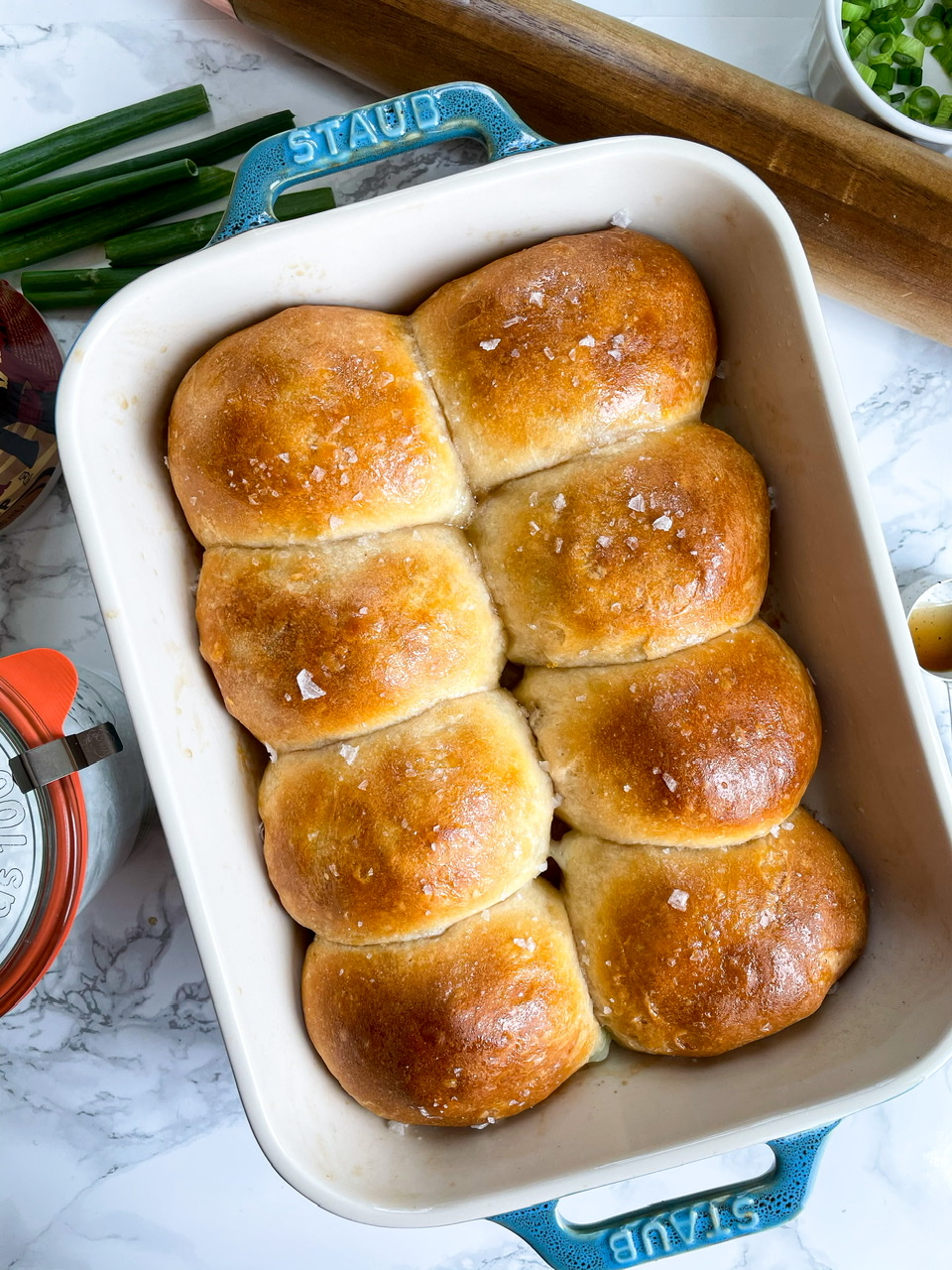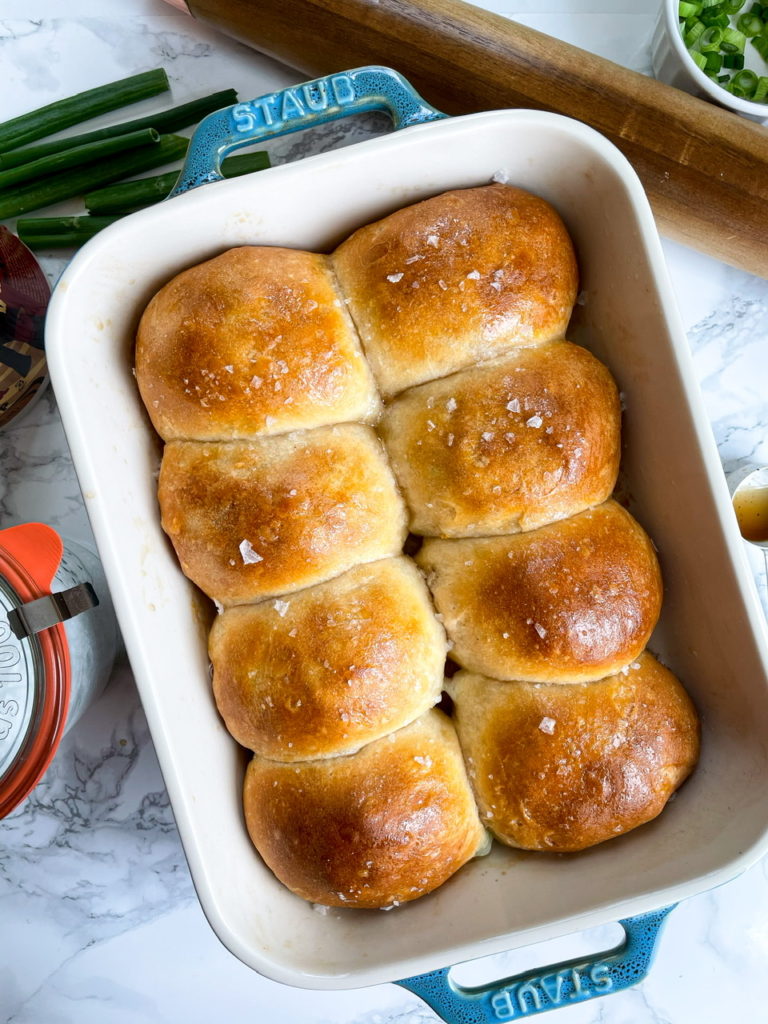 I didn't choose the biscuit life. The biscuit life chose me! No, but seriously, all I can think about lately is what type of fun flavor combinations I can stuff into a biscuit. I love these Ham, Egg, and Cheese Stuffed Biscuits because of how adorable and portable they are, plus OBVIOUSLY they taste good. After they baked up, I drenched them in a maple syrup butter and they were truly delicious. I made these cuties with my leftover Easter ham, but you can make these with sausage, bacon, pork roll, Canadian bacon, you name it!
I love the addition of the maple butter on these, but if you aren't into "sweet food", these work well with just butter and a sprinkle of Everything Bagel Seasoning, Sesame Seeds, or Poppy Seeds.
These are super easy to make ahead of time and then freeze for a later date. We made a big batch of these and then froze most of them because we are only two people. We will be waking up early on Sundays in the upcoming weeks to go to Softball, so these will come in handy on those days. Just pop them in the microwave or toaster oven, heat them up, and we will be able to enjoy a delicious breakfast on the run.
If you love these Ham, Egg, and Cheese Stuffed Biscuits, check out my recipe for Meatball Stuffed Biscuits!
Cooking Equipment:
10.5″ x 7.5″ baking dish to cook 8 of these or use a 9″ x 9″ baking dish to cook 16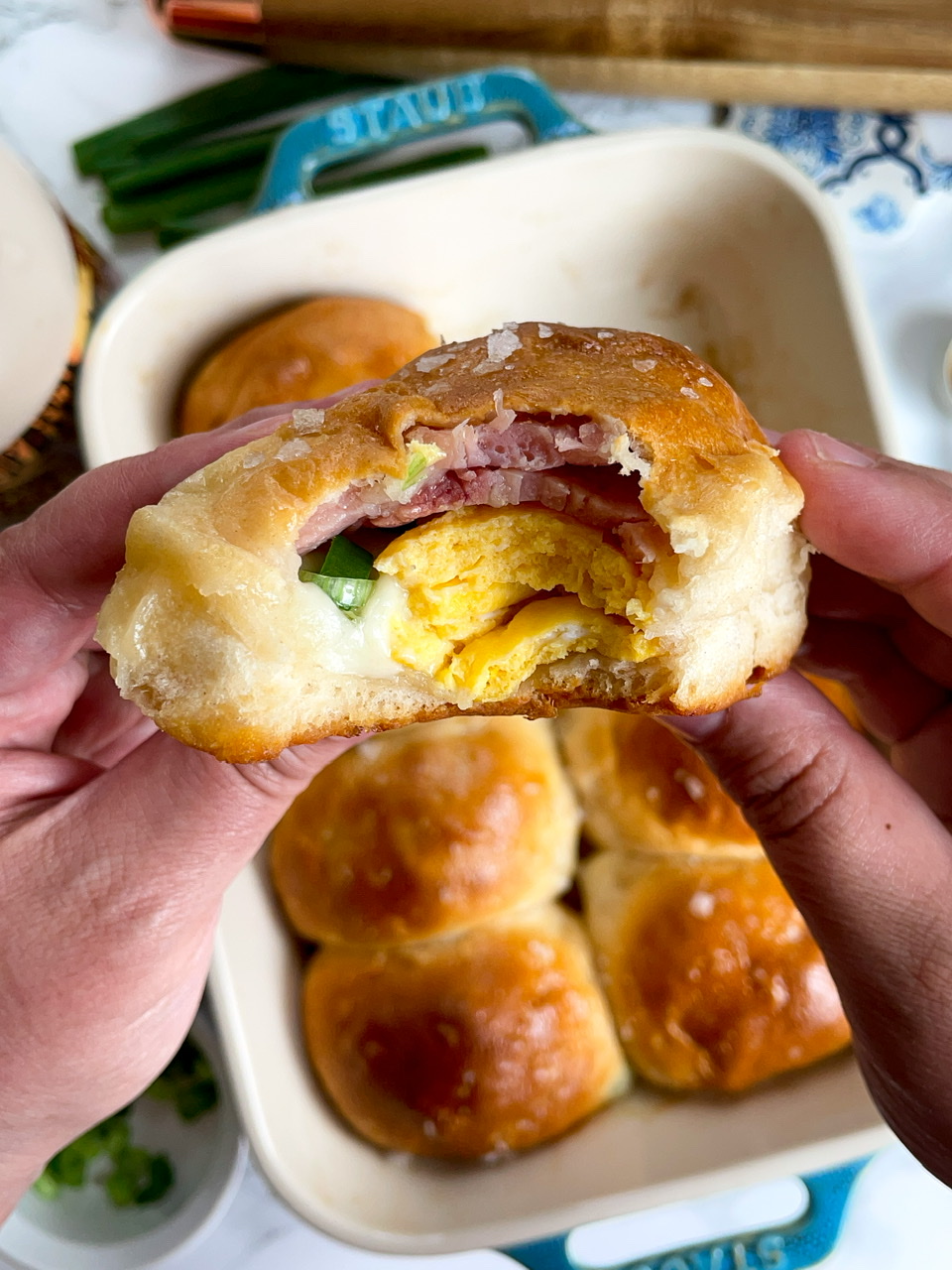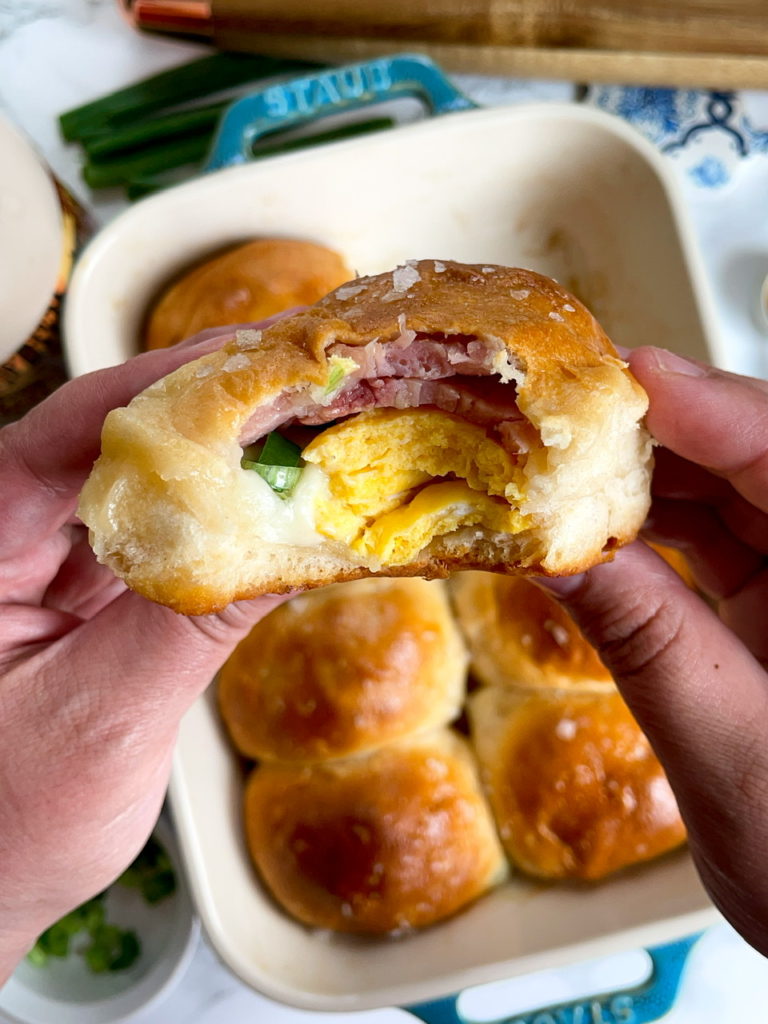 Ham, Egg, and Cheese Stuffed Biscuits
Ham, Egg, and Cheese stuffed into Biscuits and then topped with a delicious maple butter!
Ingredients
1

Pack

Buttermilk Biscuits

8 count

6

Eggs

Scrambled

8

oz

Cooked Ham

I sliced mine, but you can also dice them into cubes

4

oz

Extra Sharp Cheddar Cheese

Cut into cubes

2

Green Onions

Finely sliced

1

TBSP

Butter

Plus a little bit extra to grease the pan

1

TBSP

Maple Syrup

Coarse Salt

Optional
Instructions
Preheat oven to 375F and grease a 10.5" x 7.5" baking dish with butter. If you are doubling the recipe, you should use a 13"x9" baking dish

Cut up the cheese, slice the ham, and slice the green onions

Crack eggs into a mixing bowl, and scramble. Cook them in a pan on medium low heat until just set, stirring occasionally.

*Tip* Keeping the scrambled eggs in bigger chunks will make it easier to assemble the biscuits.

Once the eggs are done cooking, open up the package of biscuits, and assemble them on a table or counter. Gently flatten each biscuit with a rolling pin or use your hands.

Layer each biscuit with cheese, then egg, green onion, and ham. Then pull the biscuit around the filling and pinch the ends close. Place the biscuit seal side down in the baking dish and repeat with remaining biscuits.

Bake for 25-30 minutes. When there is about 2 minutes left on the timer, melt 1 tbsp of butter in a small bowl for about 15 seconds or until melted.

Add 1 tbsp of maple syrup to the butter.

Evenly spread maple butter mixture on to the tops of the biscuits for an additional 5 minutes.

*Optional* you can sprinkle a TINY bit of coarse salt to the tops of the biscuits before you finish baking them.

Remove from the oven, let cool, and enjoy the most delicious little breakfast sandwich!
Keyword
biscuit, cheese, egg, ham