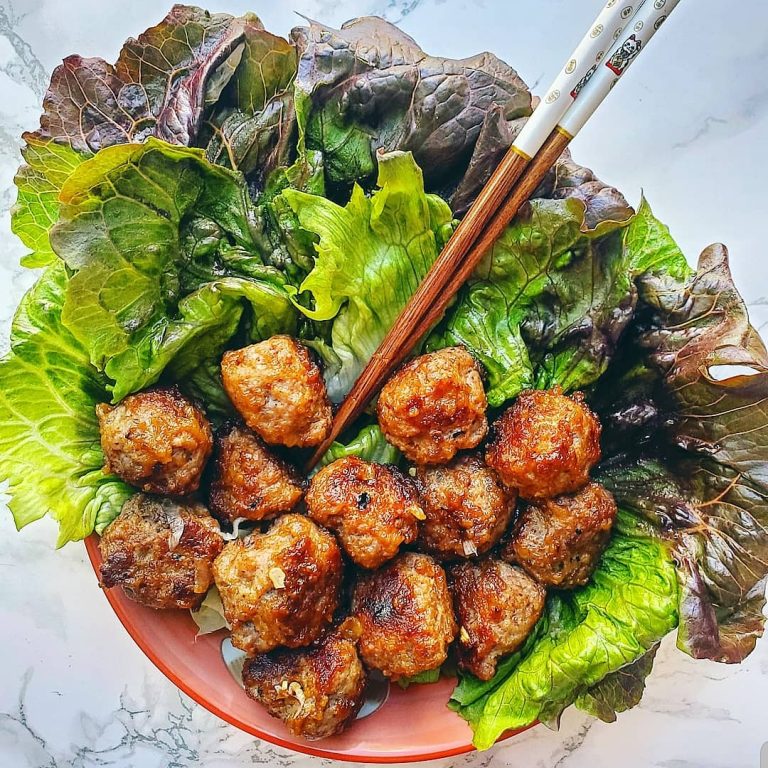 Whole 30 Chinese Pork Meatballs
| CHINESE PORK MEATBALLS | I revamped my original recipe and made a whole 30 version of my Chinese Pork Meatballs. My original recipe uses honey to achieve a wonderful sticky sweetness that I just LOVE so much. ♥️♥️ For this recipe, I used a combination of applesauce and coconut aminos to achieve a similar flavor. They aren't as sticky as my original recipe since I couldn't use honey, but the taste is just as delicious!
Meat Mixture:
1 lb Ground Pork
1.5 tbsp onion, minced
1 tbsp shallot (or garlic), minced
1/2 tsp salt
1 tsp sesame oil
1 tsp ginger, minced
1/8 cup Almond Meal
Pinch of Black Pepper

Sauce:
2 tbsp sesame oil
1 tsp shallot, minced
1/2 tsp ginger, minced
1.5 tbsp Apple Cider Vinegar
1.5 tbsp applesauce (unsweetened)
1 tbsp Coconut Aminos + an extra drizzle
1.5 tsp Frank's Red Hot
1/2 tsp Arrowroot Flour

Directions:

1. Combine meat mixture ingredients well. Form into 16 equal sized meatballs.
2. Preheat oven to 350°F.
3. Brown meatballs in 2 tbsp avocado oil or ghee in a pan. This takes about 3 minutes on the first side and 1 – 2 minutes on the other side.
4. Remove from pan and add to a parchment paper lined cookie sheet. Cook in oven for 13 minutes.
5. While meatballs are in the oven, prepare the sauce.
6. Add all ingredients, except for the arrowroot flour, to a pan. Mix and bring to a simmer (about 3 minutes).
7. Stir in arrowroot flour. Sauce will thicken. Turn off heat. Leave in pan.
8. Once meatballs are done cooking in oven, toss them in the saucepan to coat and cook on low until fully coated.
9. Cook in the sauce until the sauce starts to caramelize and get darker. Stir meatballs frequently in the sauce. Add a few more drops of coconut aminos right at the end and mix it around one last time.
10. Serve immediately and enjoy!
*Some of the links on this page are affiliate links for products that I truly love and recommend. By clicking on one of the links, I may receive a small amount of commission. This helps me continue to provide you with new spinachandbacon recipes. Thank you for all of your support!