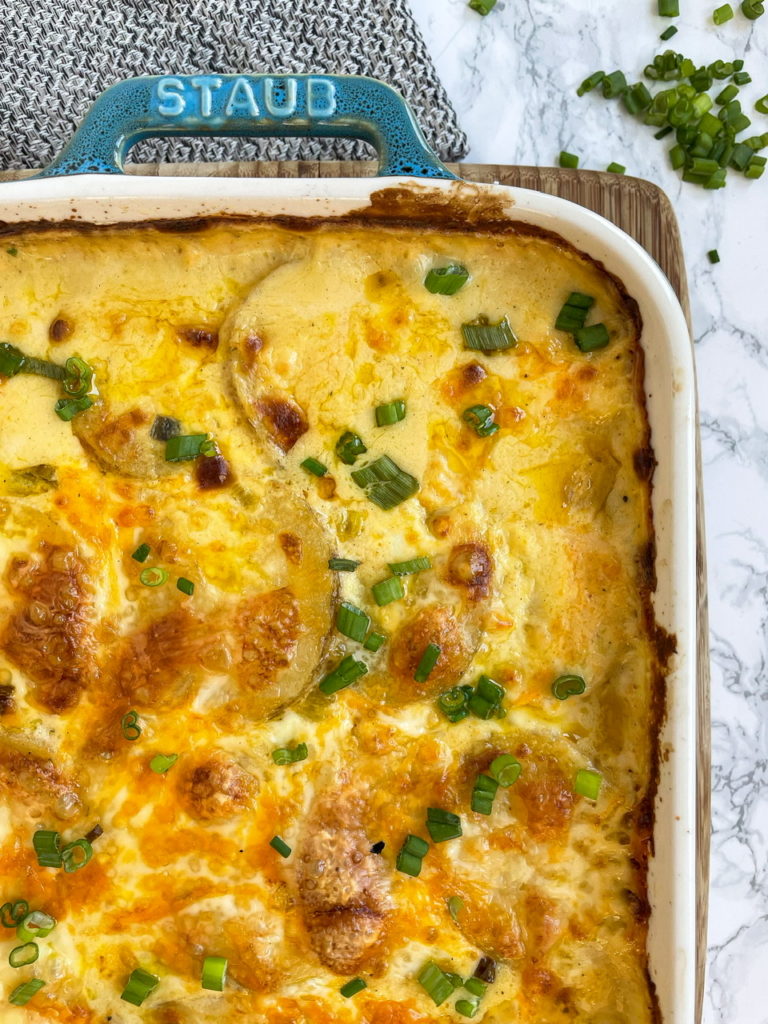 Potato and Brussels Sprouts Gratin
Tomorrow is the Winter Solstice and for me "Winter" means hearty food! My go to winter dishes are stews, thick soups, and anything with potatoes. I have always been a fan of a delicious gratin. Thinly sliced potatoes layered in between a creamy white sauce and cheese. It is truly a decadent dish that has been a favorite for centuries. This Potato and Brussels Sprouts Gratin has all of that decadence plus the added benefit of another vegetable. I wanted to add in another vegetable to this dish to cut through all of that cheese and cream, but if you have picky eaters, this dish can easily be made without it or use any vegetable they might like.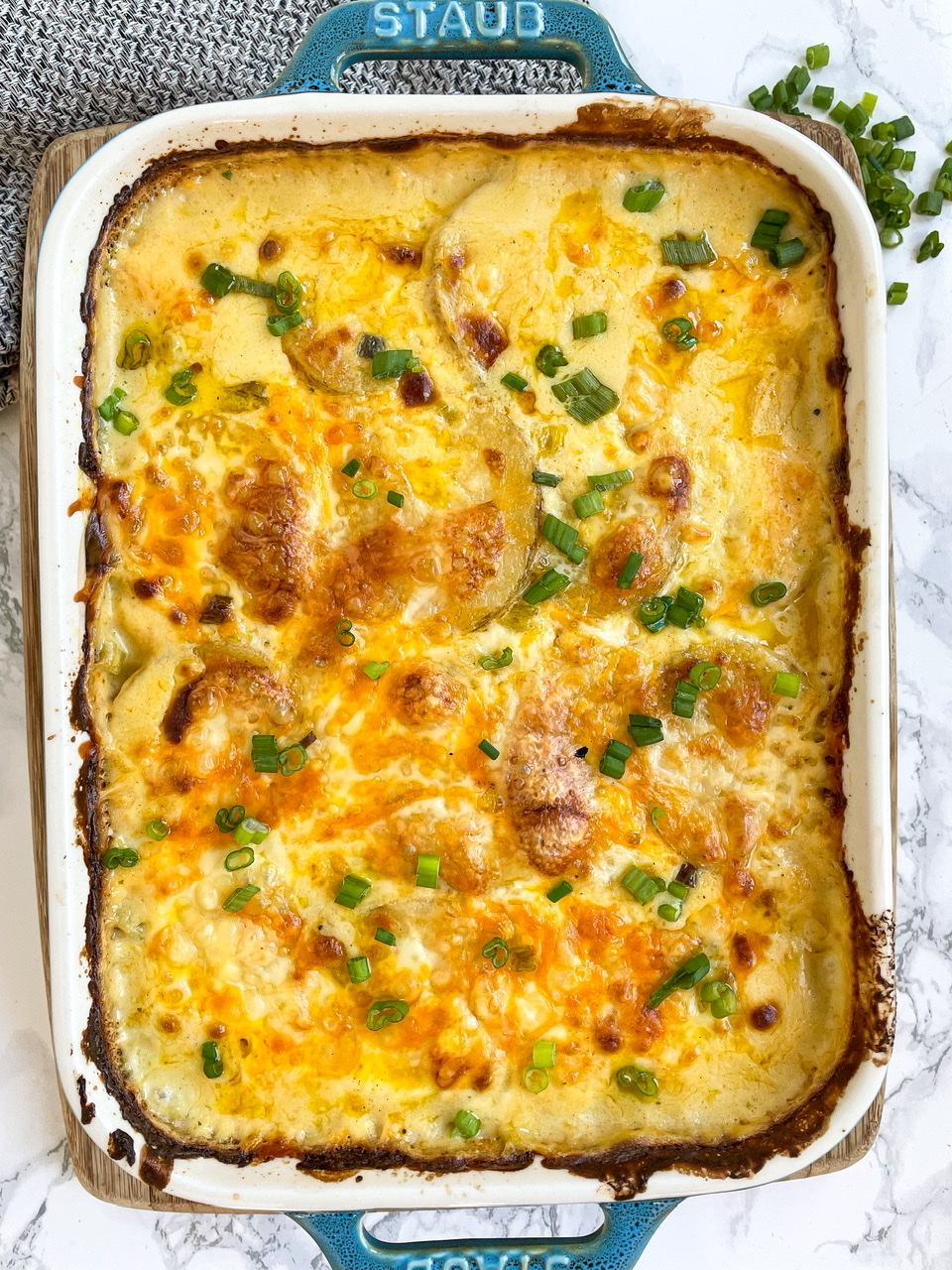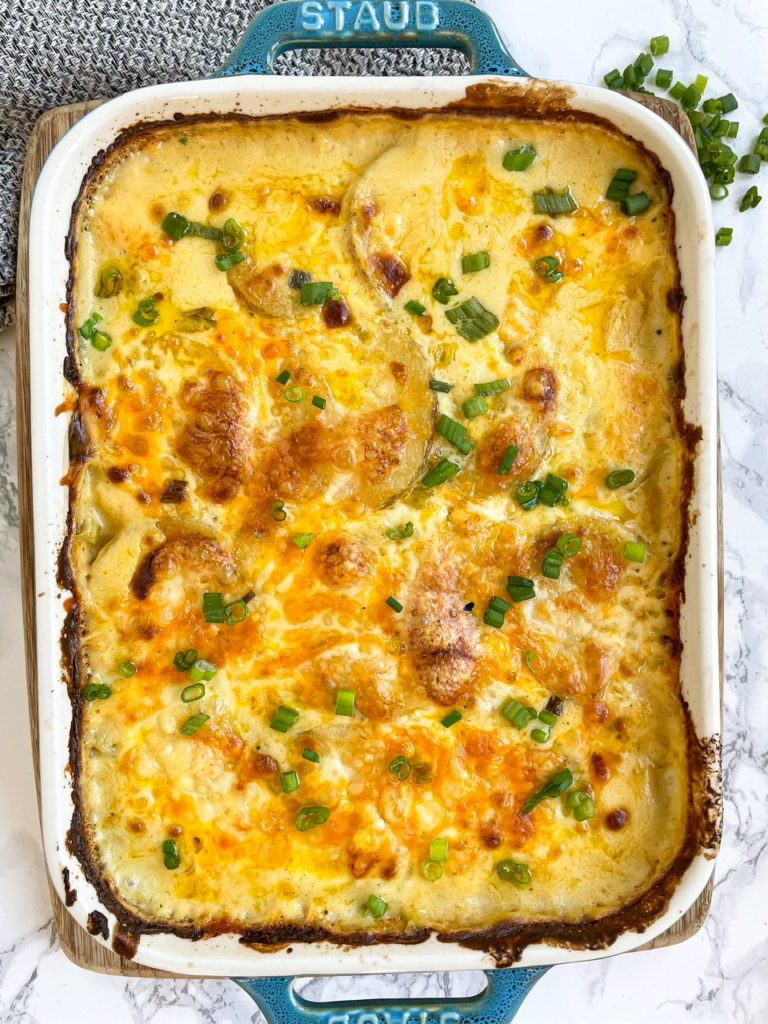 What is Gratin?
Gratin can mean two things. It can mean to bake or broil in a shallow dish or it can refer to the crust that forms on top of food when you broil it. In this case, the cheese on top of the dish gets nice and brown while you cook it.
What is in Gratin?
Normally some combination of cream, butter, and cheese is inside, with browned cheese on top being the most important part. I use a combination of sour cream and broth for my mixture plus two types of cheese on top. I always love to mix different flavors of cheese when I make cheesy dishes. Sharp cheeses work best in this. I have even used 1 low fat cheese + regular cheese in this recipe and it came out delicious!
Ingredients in Potato and Brussels Sprouts Gratin:
Yukon Gold Potatoes
Shredded Brussels Sprouts
Green Onions
A Shallot
Shredded Cheese
Sour Cream
Broth
Flour(tapioca flour or corn starch can be used)
Poultry seasoning with salt
Garlic Powder
Black Pepper
Nutmeg
If you like this recipe, you may also like:
Ham Egg and Cheese Stuffed Biscuits
Easy Potato and Brussels Sprouts Gratin
An easy way to make this delicious side dish
Equipment
3qt Baking Dish

Aluminum Foil
Ingredients
5

Yukon Gold Potatoes

Not Peeled

1/2

bag

Shredded Brussels Sprouts

two handfuls

4

Green Onions

diced

1

Shallot

Sliced (garlic may be used instead)

24

oz

Shredded Cheese

A mix of sharp and mild cheese

1.5

cups

Sour Cream

1.5

cups

Broth

I used Chicken Broth

2

tbsp

Tapioca Flour

Flour or Corn Starch may be used

1

tbsp

Poultry Seasoning with Salt

If using no salt poultry seasoning, add 1/2 -3/4 tsp of salt

1

tsp

garlic powder

black pepper

generous shake

nutmeg

a pinch
Instructions
Slice potatoes into thin 1/8" slices using a sharp knife or a mandolin

Whisk together the sour cream and broth

Add flour and spices and whisk again

Lay one third of the potatoes on the bootom of a baking dish, followed by half the brussels sprouts, half the onions, and half the shallots.

Add one third of the liquid on top, and then one third of the cheese.

Add another layer of potatoes, plus the other half of the brussels sprouts, onions and shallots. Add another third of liquid and cheese.

Add the final layer of potatoes, liquid and cheese

Cover tightly with aluminum foil and bake for 60 minutes. Remove aluminum foil and bake another 20 minutes until cheese is bubbly and the middle of the potatoes is tender.