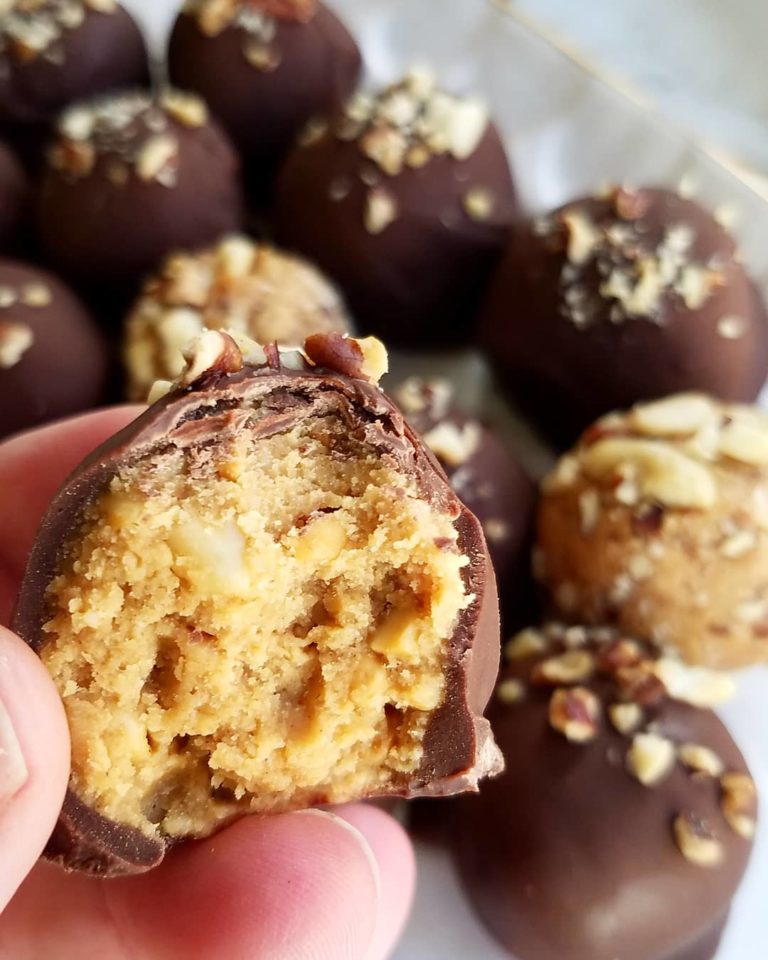 Nut Butter Chocolate Truffles
Nut Butter Truffles!  Amazing little nuggets of creamy nut butter, rolled in melted chocolate and coconut oil, with an added topping. Perfect for your partner, your family, your friends, and most importantly YOU! These are 100% dairy free, almost but can be keto by using Lily's Sweets Chocolates. Best part is, I made some without any chocolate topping, and they were still delicious.
*Makes 16 Truffles*
1 Cup Nut Butter
1/2 Cup Coconut Flour
1 TBSP + 1 Tsp Maple Syrup
1 Tsp Vanilla Extract
1/4 Tsp Cinnamon
1.5 Tbsp Coconut Oil
2 Cups Enjoy Life Chocolate Chunks
Optional Toppings – Crushed pecans, pistachios, walnuts, etc.
Mix Nut Butter, Coconut Flour, Maple Syrup, Vanilla Extract, and Cinnamon in a bowl or food processor. Once it is combined, shape 1 inch balls and place on a parchment paper lined baking sheet. Set aside.
Melt Chocolate Chips slowly with the coconut oil. Using a double broiler is the best way, but a microwave will also work – just make sure you check the mixture every 5-10 seconds.
Roll each ball in the melted chocolate mixture, coat well, and then use a tiny spatula or fork to bring them back to the baking sheet. Immediately top each with an optional topping or go to the next one. Refrigerate for an hour and enjoy!