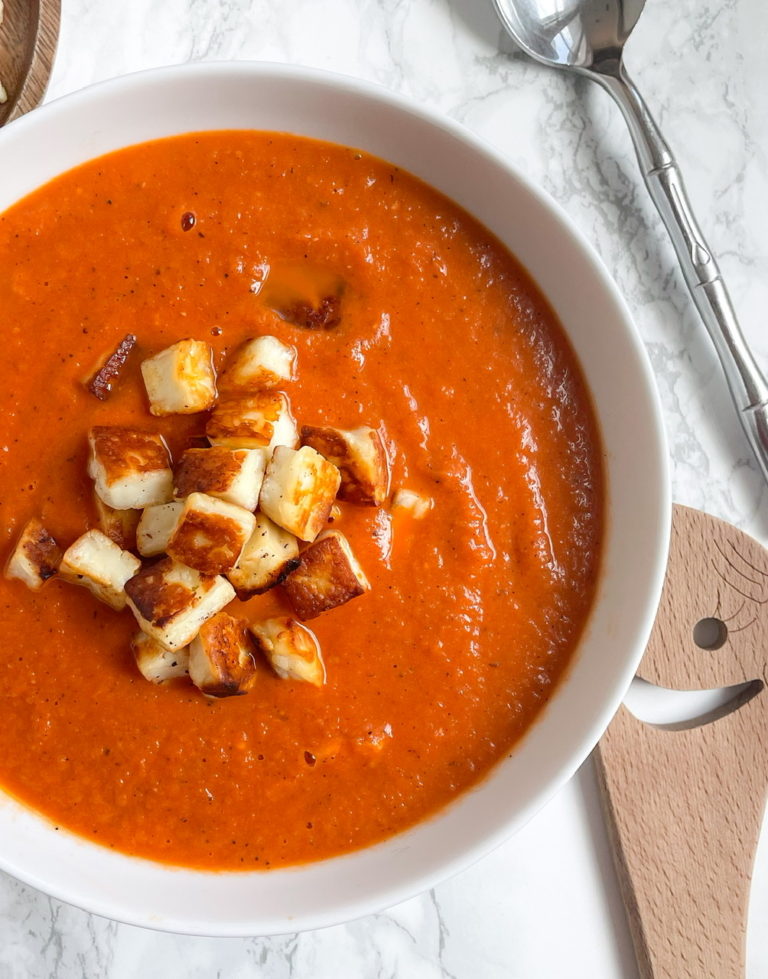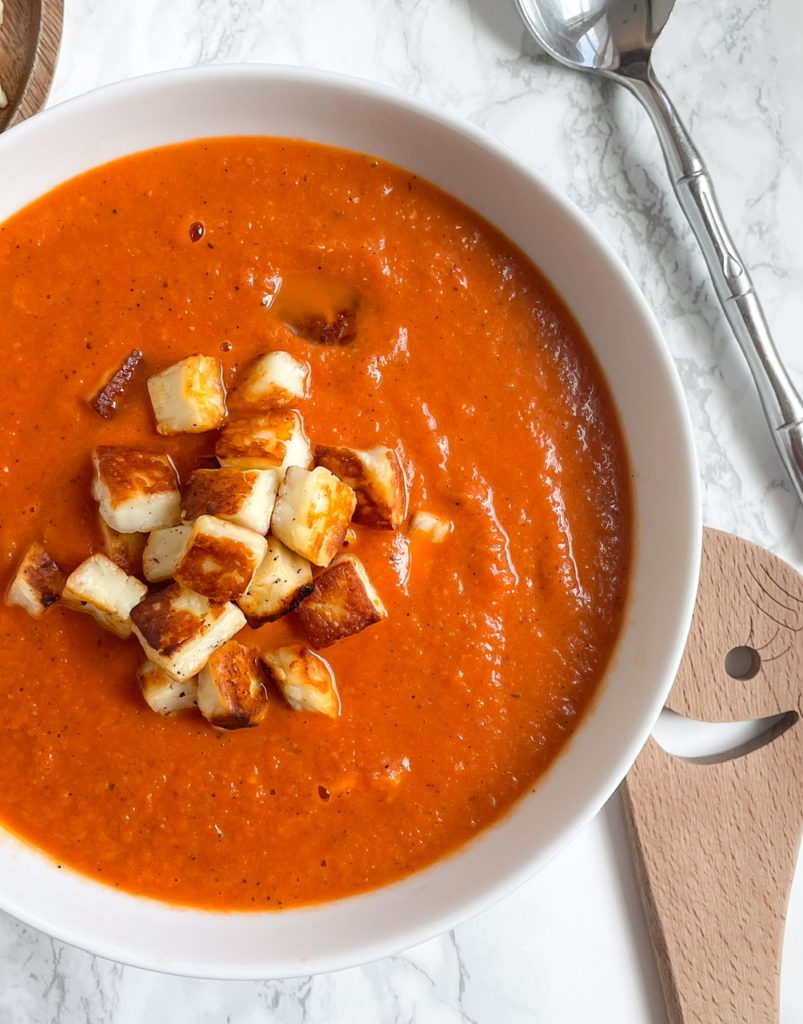 Tomato Soup with Halloumi
Tomato Soup with Halloumi cheese is a classic creamy tomato soup topped with perfect little bites of crispy grilled halloumi cheese. Who doesn't love a crispy grilled cheese with a bowl of fresh tomato soup? There is nothing like that combination. Normally I make my grilled cheese with sourdough bread and then just dunk it into my soup, but sometimes I want something just a bit lighter.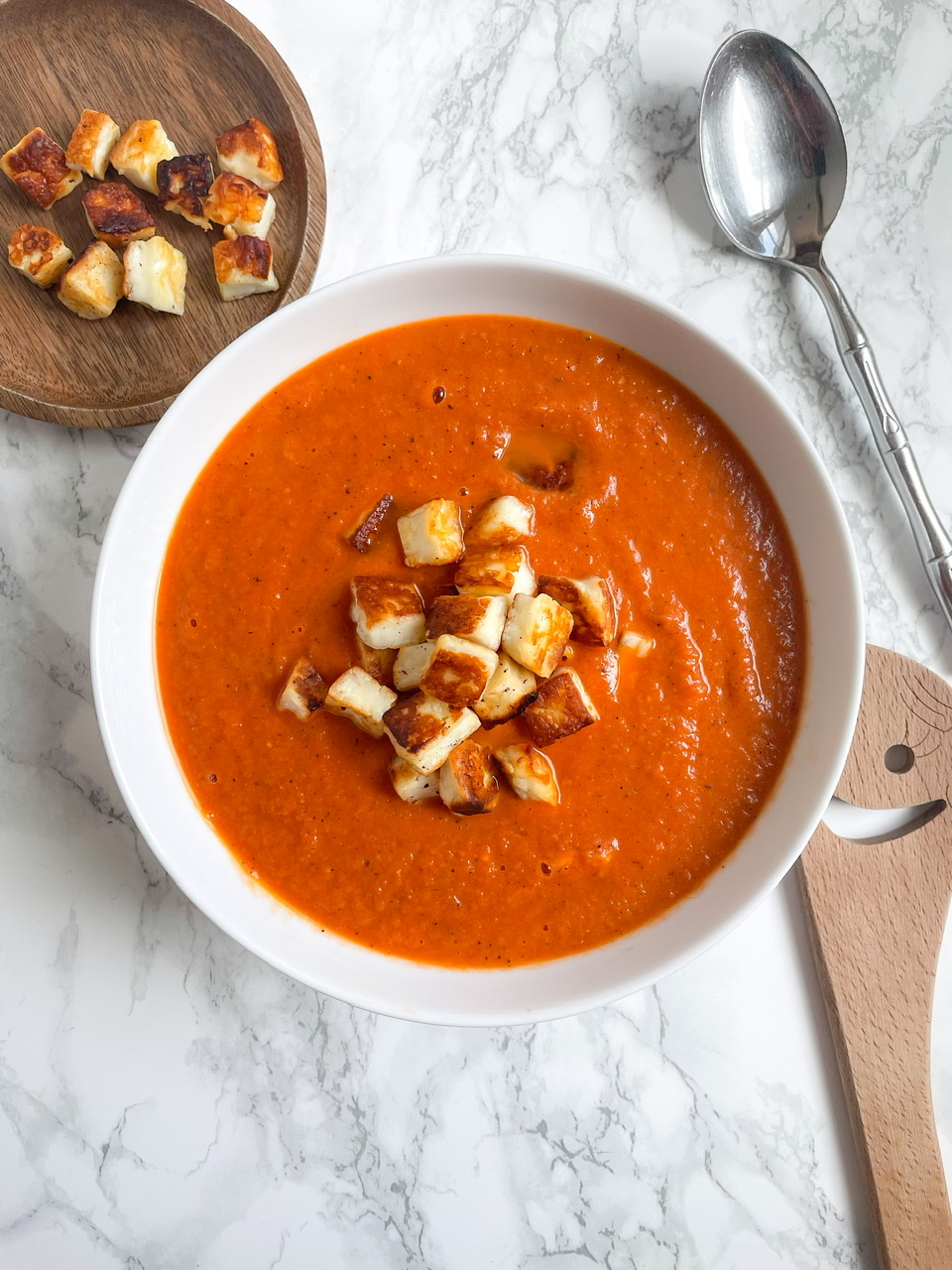 Summer is tomato season and everywhere you turn there are tons of tomatoes. Grocery Stores and Farmers markets carry so many varieties like roma, heirloom, kumato, and beefsteak. Halloumi cheese is a grilling cheese that comes in a block. You can eat halloumi on it's own, just slice it, heat it, and eat it or you can use it as the greatest topping for tomato soup. Everyone knows tomato soup goes with grilled cheese, so this is the perfect topping. You will love it!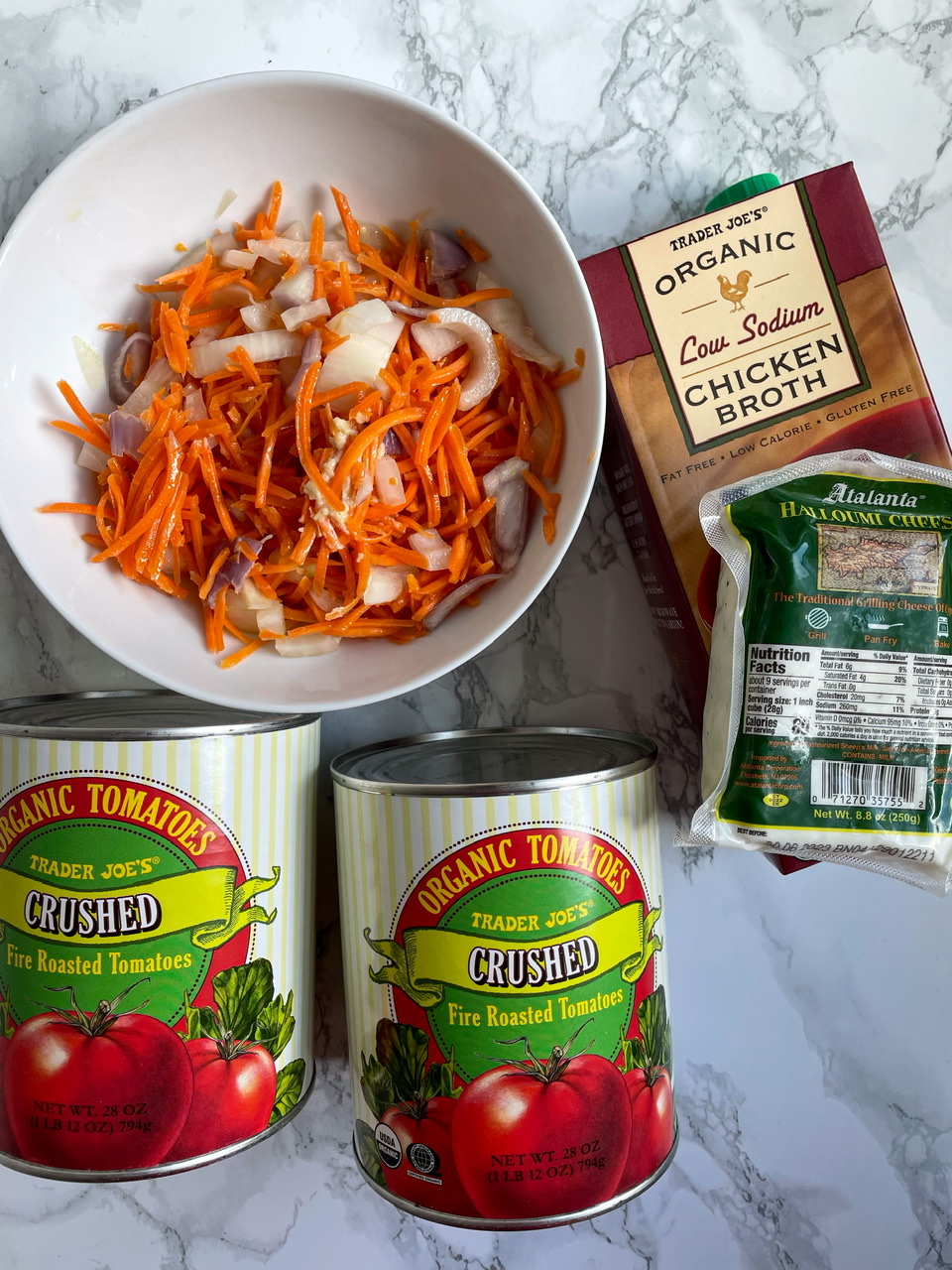 How do you make Tomato Soup?
I like to make tomato soup with ingredients like tomatoes, shallots, onions, garlic, broth, olive oil, and a touch of milk for creaminess. Then I like to top my soup with crispy cheese croutons.
Ingredients:
2 – 28 oz cans crushed tomatoes, unsalted
1- 15 oz can of sliced carrots
3 shallots, roughly chopped
1 medium yellow onion, roughly chopped
2 tbsp pesto (optional but it gives it a great taste)
1 clove of garlic, diced
2 tbsp olive oil
1 tsp sea salt
1.5 cup broth
1 cup of milk
8 oz Halloumi cut into crouton sized cubes
Directions:
1. Cook onions/shallots/garlic/carrots for 5 mins on low heat.
2. Add pesto, stir, and cook for 2 – 3 minutes
3. Add tomatoes, bring pot to a simmer on high heat, then bring back on low.
4. Add the salt and the broth. Cook uncovered on lowest heat for 20 minutes.
5. Blend the soup in a blender or food processor until smooth.
6. Bring back to the pot and add almond milk.
7. Let simmer on lowest heat and start making your cheese.
8. Cut cheese into 1/4 inch slices, and then cut each slice into 3 pieces so that you have little squares.
9. Put the cheese on a greased pan and cook until both sides are golden brown.
10. Ladle soup into bowls and top with cheese.
If you like this recipe, you may also like these: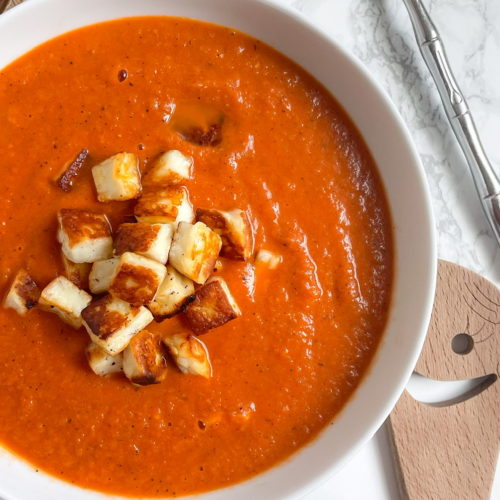 Tomato Soup with Halloumi
Creamy Tomato Soup with Crispy Halloumi Cheese Croutons
Ingredients
2

28oz can

Crushed Tomatoes, unsalted

1

cup

carrots

sliced

3

shallots

roughly chopped

1

medium

Yellow Onion

roughly chopped

2

tbsp

Pesto

1

clove

garlic

chopped

2

tbsp

Olive Oil

1

tsp

Sea Salt

1.5

cup

Broth

1

cup

Milk

you can also use half and half or cream, but you should start at 1/2 cup and then check the taste and consistency.

8

oz

Halloumi

cut into cubes
Instructions
Cook onions/shallots/garlic/carrots for 7-10 mins on low heat until softened

Add pesto, stir, and cook for 2 – 3 minutes

Add tomatoes, bring pot to a simmer on high heat, then bring back on low

Add the salt and the broth. Cook uncovered on lowest heat for 20 minutes

Turn off the heat. Blend the soup in a blender or food processor until smooth. You could also use an immersion blender right in the pot.

Put the soup back to the pot and add the milk

Let simmer on lowest heat and start making your cheese.

Cut cheese into little cubes, and then put the cheese on a greased pan and cook until all sides get golden brown.

Ladle soup into bowls and top with cheese