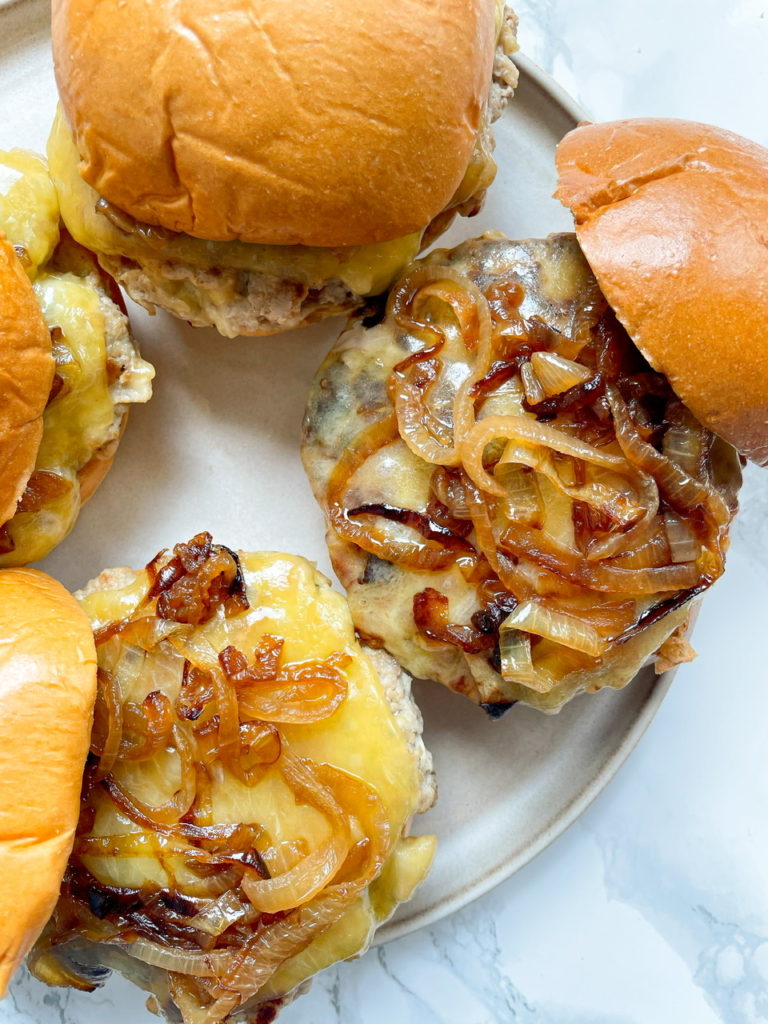 Pork and Apple Burgers
Pork and Apples! A magical combination! We all know how delicious pork chops and apples are, so I wanted to give this a little modern burger spin. These pork and apple burgers are made with caramelized onions, sliced white cheddar cheese, and brioche buns. They are just so delicious and have some of the delicious flavors of Fall while still giving a nod back to summer.
You can use fresh grated apples or apple sauce in this recipe. I have tried both, and while I preferred the texture of the burger with the applesauce, I really liked the idea of grating fresh apples right into the mixture. Both styles of apple can add a lot of moisture, which is why it is important to not use more than 1/2 cup of sauce. For the grated apples, it is important to strain them so that you remove as much water as possible.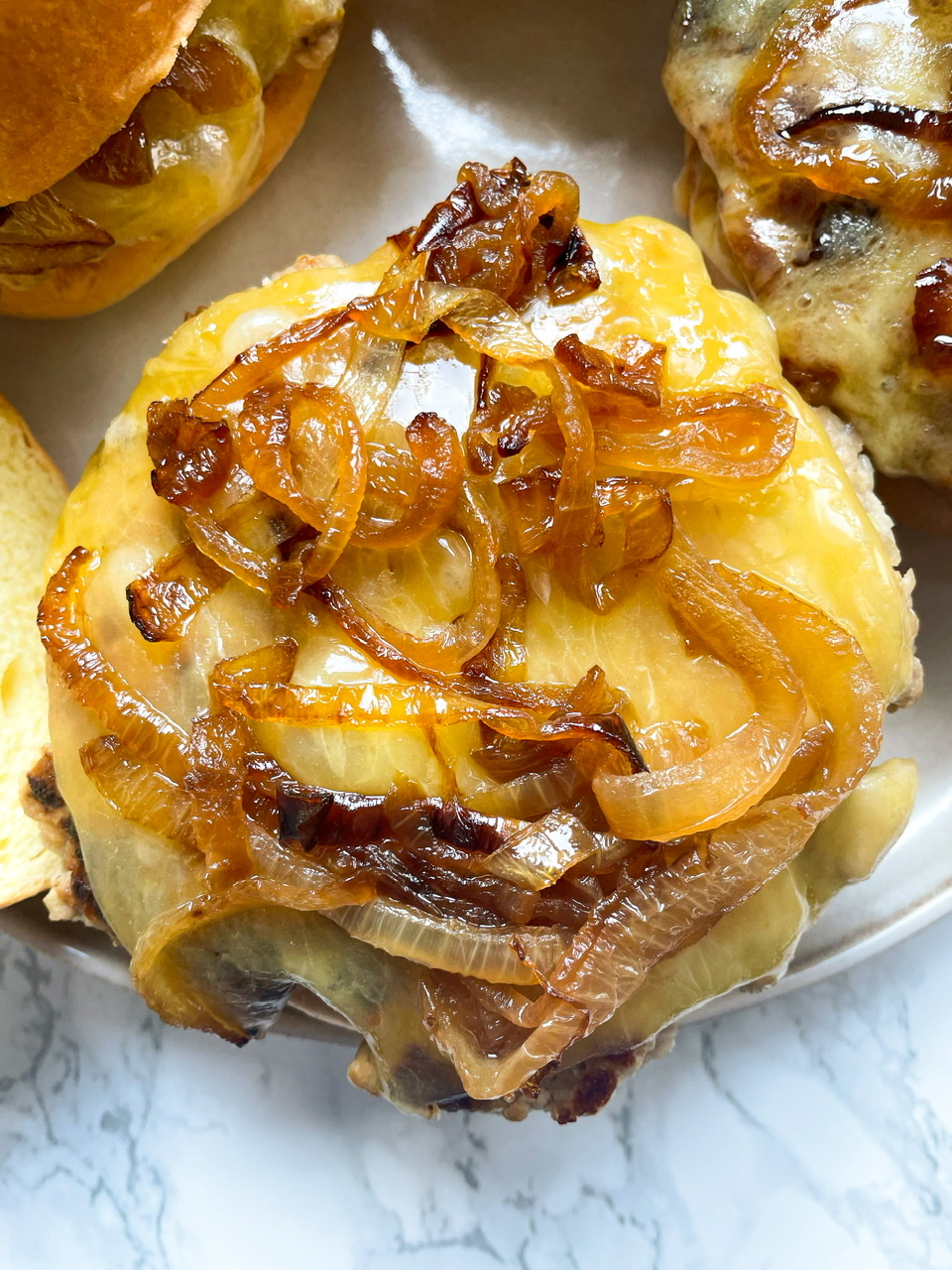 Why is apple eaten with pork?
There are two reasons, actually. The acidity of the apple cuts through the fattiness of the pork and eases digestion. Also, the sweetness of the pork balances out salty pork.
Can you use applesauce in Pork and Apple Burgers?
Yes. I used between 1/3 and 1/2 cup of apple sauce in the meat mixture. The extra moisture can make the meat mixture a little wet, so I cooked these on medium high heat to create a nice seal on each side. I used a medium high heat and cooked the burgers for 3.5/4 minutes on each side.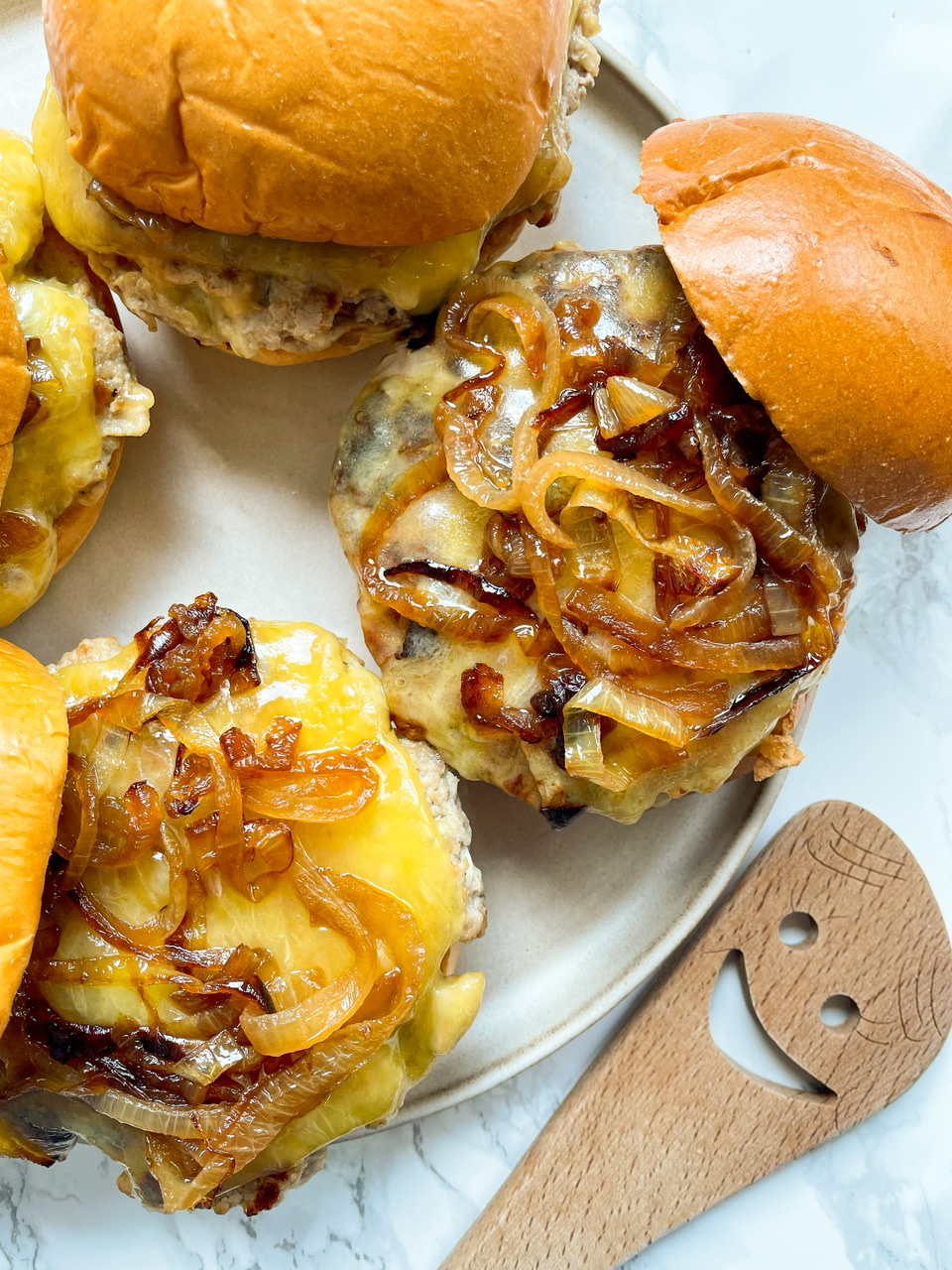 How to cook a burger on the stove
I heated a little olive oil in a very large skillet on medium high heat. Then, I divided my meat mixture into 4 patties. I typically get 4 patties from 1 lb of meat. Then I added them to the hot pan. I cooked my Pork and Apple Burgers on the first side for 3.5 minutes.
Next, I made sure it was nicely browned on the one side and I flipped it. Once I flipped it, I added a slice of cheese on to the burger so that it will melt while the other side is cooking. I cooked the other side for 4 minutes each. Then, I let each burger rest for 5-10 minutes.
How do you Caramelize Onions?
First things first, to do this properly it will take about 40 minutes, however, it is not a lot of work. This is something that can be done while watching TV, sending an email, talking on the phone, etc. You have to slice your onion thin, but not too thin: about 1/4 inch thick. Then, cut each onion slice in half, and then in half again. You will have onion quarters. Next, heat up about 1 tbsp of olive oil in a pan with 1 tbsp of butter on medium heat.
Once it gets hot and melted, add your onion and mix so that all of the onions are covered in the oil mixture. Add about 1/4 tsp salt per onion, mix, and then turn the heat down to low. Let the onions cook on low heat and mix every 5 minutes or so. Once the onions are evenly browned, they are finished cooking.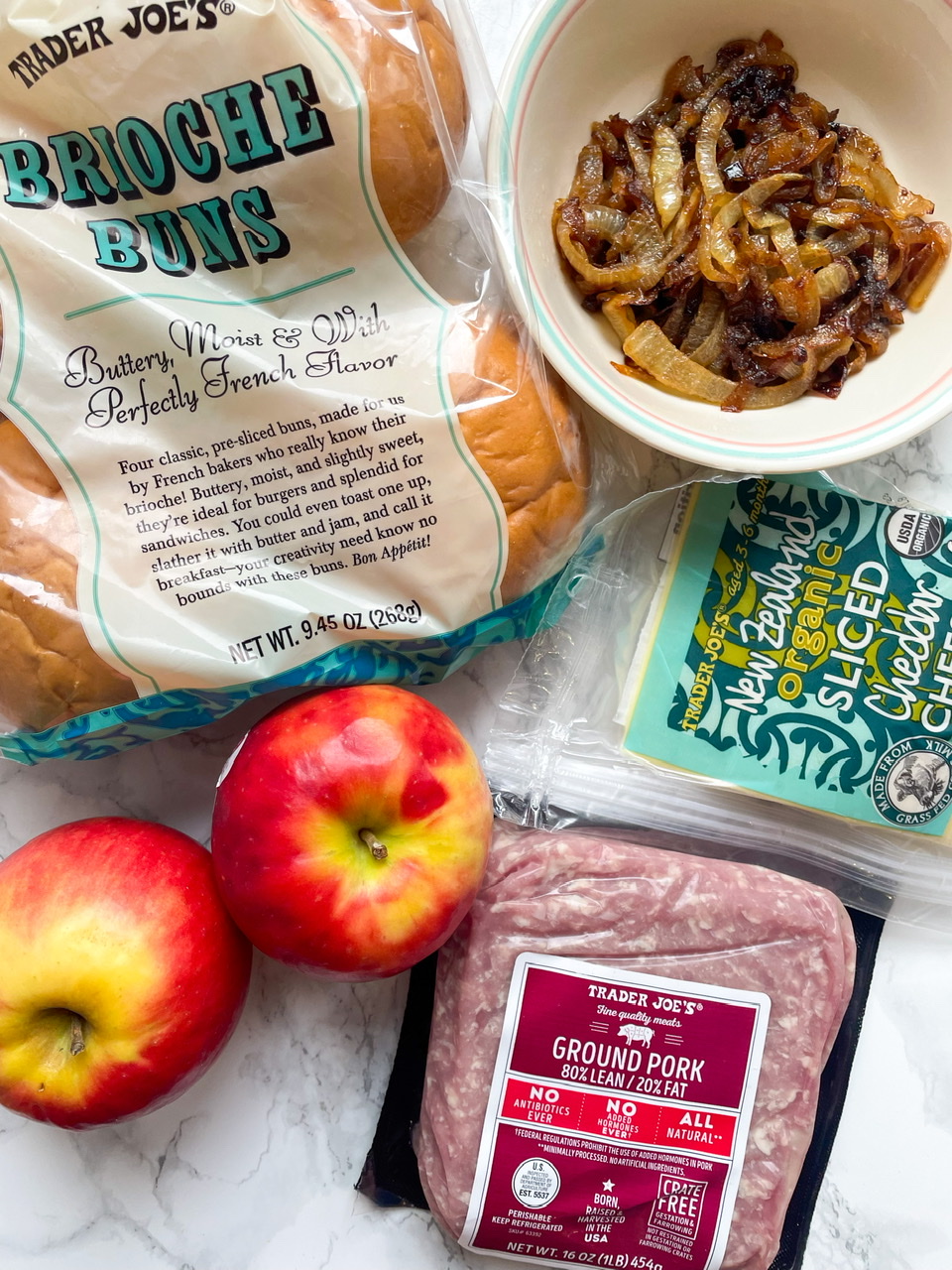 Ingredients for Pork and Apple Burgers:
1 lb Ground Pork
2 Red Apples peeled and grated (or 1/2 cup apple sauce)
1 tsp Salt
1/2 tsp Garlic Powder
1/2 tsp Black Pepper
4 slices White Cheddar
1 Large Yellow Onion sliced
2 tbsp Butter
2 tbsp Olive Oil
Pinch of rosemary optional
2 tbsp Breadcrumbs optional
Options to make this recipe sweeter:
This recipe is not very sweet, it has just a hint of sweetness. So, if you are someone who relishes in the sweetness, there are a few options to make this recipe sweeter.
Add thin apple slices to a pan and grill them slightly. Chop them up, and add this to your caramelized onion topping before serving.
Top Burgers with a little apple jam
Top Burgers with a little apple sauce
If you like this recipe, you may also like: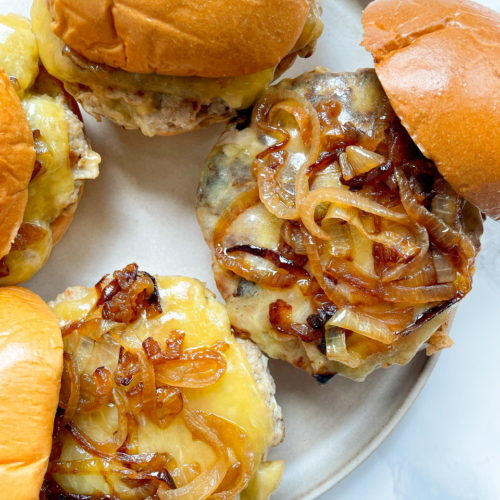 Ingredients
1

lb

Ground Pork

2

Red Apples

peeled and grated (or 1/2 cup apple sauce)

1

tsp

Salt

1/2

tsp

Garlic Powder

1/2

tsp

Black Pepper

4

slices

White Cheddar

1

Large Yellow Onion

sliced

2

tbsp

Butter

2

tbsp

Olive Oil

Pinch of rosemary

optional

2

tbsp

Breadcrumbs

optional
Instructions
Caramelize The Onion
Add butter and olive oil to a pan on medium heat. Once it is melted, add your sliced onion to the pan and mix. Keep mixing every few minutes until the onions are evenly browned and caramelized. This takes about 35-40 minutes. You should sprinkle some salt on the onions during the cooking process too. Just a couple of pinches.

Once your onions are done cooking, take half of them, and chop them up on a cutting board.
Grating Apples
If you want to use grated apples instead of applesauce, choose two red apples. Peel the apples and then cut in 4 pieces around the core. Using a box grater, grate each apple piece. Also, it is important to squeeze as much water out of the apples as possible. You can do this using a tea towel or fine mesh sieve.
Burgers
In a medium bowl, add your ground pork, apple sauce(or grated apples), your chopped caramelized onions, salt, pepper, and garlic powder. You can also add some optional rosemary and breadcrumbs. mix well

Form four equal patties. You want to form the patties thin, as they will shrink up while they cook. You will need to cook them in a large skillet to make them all fit, but if they don't all fit, you can cook them in two batches.

Cook the patties for 3.5 minutes on each side. Once you flip them over, add a slice of white cheddar and let it melt completely as the burgers finish cooking. I cook the burgers on the second side for 3.5/4 minutes. If your burgers are thicker, you may want to keep it on the heat a little longer per side.

Put the burgers on a plate so that they can rest for 5-10 minutes.

Toast the buns while the burgers are resting.

Top each burger with a some of the caramelized onion mixture. You can also add some thin slices of apples as a topping too!