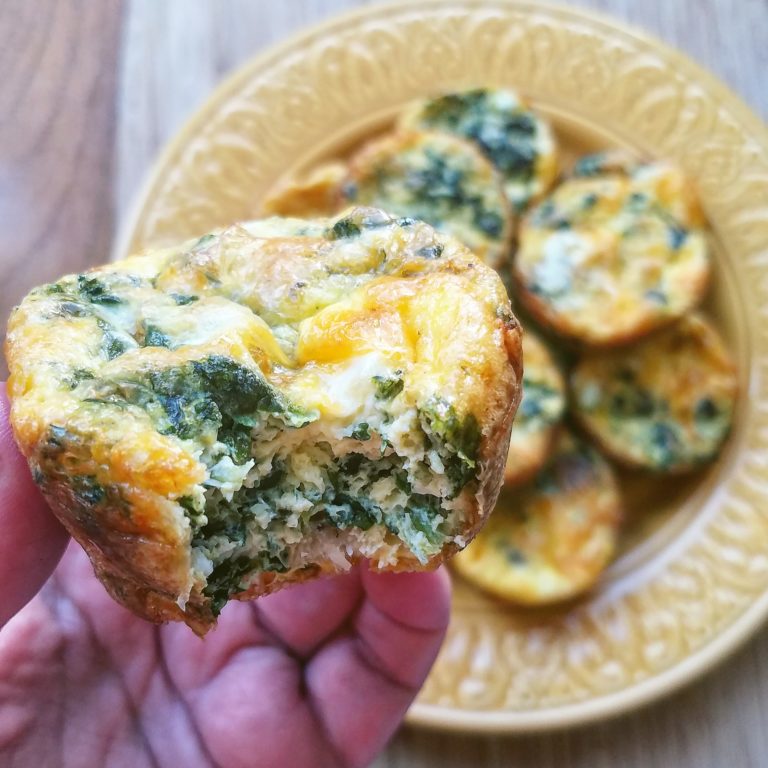 Mini Veggie Frittatas
Who loves breakfast? I do! I do!! I make sure to stock my freezer with these mini egg frittatas every two weeks. I change up the fillings so I never get bored. I spray a cupcake pan with avocado oil by Chosen Foods(this ensures they pop right out), fill with my fillings, add eggs, and cook for 25 minutes at 400°F. My favorite fillings are diced breakfast sausage, spinach and peppers with a little cheese but they are totally customizable!
Ingredients for 20 Frittatas:
10 – 12 Eggs
1/2 Cup of Almond Milk, Half and Half, or Heavy Cream
4 Sausage Links, sliced and diced (Some brands of Breakfast Sausage are small. You would need more in this case)
Veggies, diced (onions, peppers, spinach, etc.
Shredded Cheese (optional)
salt/pepper
Method:
 Preheat Oven to 400 degrees F
Cook sausage with onions and peppers in a saute pan until sausage is browned and onions are slightly brown. *I keep the spinach raw *
Crack eggs into a bowl. Add Milk, a few pinches of salt and pepper. Beat mixture until fully combined.
Spray two cupcake pans with Avocado Oil. I love the one made by Chosen Foods. Make sure to spray well so that the frittatas do not get stuck.
Add the sausage, onions, peppers, and raw spinach + whatever other veggies you want to the pan. Make sure to distribute evenly.
Top with a tbsp of cheese, if using
Distribute the egg mixture evenly over the sausage, veggies, and cheese. Do not fill more than 3/4 of the way up. Stir each cup to make sure the fillings are fully mixed.
Put pan in the oven and set the timer for 25 minutes.
Remove pan and let it cool without touching the frittatas. Each one will shrink a little bit and that will make it easier to remove from the pan.
Let cool completely and wrap in aluminum foil and add to a freezer bag.