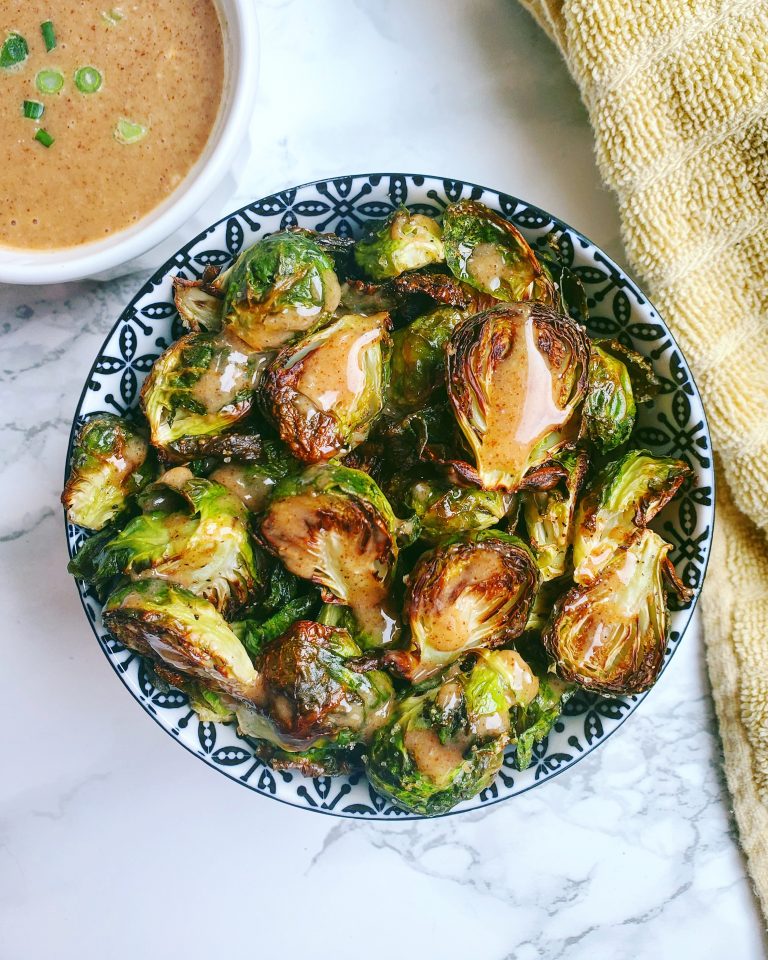 Brussels Sprouts with Satay Sauce
| BRUSSELS SPROUTS WITH SATAY SAUCE | Dammmn, who would've thought this combo would taste so good? This Southeast Asian sauce is usually served with skewers of meat or fresh spring rolls and I always order it when I see it on a menu. Traditionally, this sauce is made with peanuts or peanut butter, but I used almond butter, along with a few other paleo approved ingredients to make a yummy and satisfying paleo satay sauce. This weekend I dipped everything in it – brussels, artichokes, chicken, potatoes…even just ate some from a spoon because you know…sometimes you just gotta!
Ingredients:
1/4 cup raw almond butter
1/4 cup full fat coconut milk
1 tbsp sesame oil
1 tbsp coconut aminos (if you want to use soy sauce instead of coconut aminos, you wont need to use fish sauce)
1/2 tbsp minced ginger
1/2 tbsp honey or maple syrup
1 tsp fish sauce
1/2 tbsp rice vinegar (or apple cider vinegar)
1/4 tsp salt
1/2 to 1 tsp sriracha (depending on how spicy you like it)
Brussels Sprouts

Directions:
Mix the above ingredients in a bowl until smooth. Drizzle over roasted Brussels Sprouts.

*to cook Brussels sprouts, slice them, toss them with oil, salt, and pepper, place them cut side down on a parchment paper lined baking sheet, then cook them in an oven at 400°F for 30 – 35 minutes or until crispy.