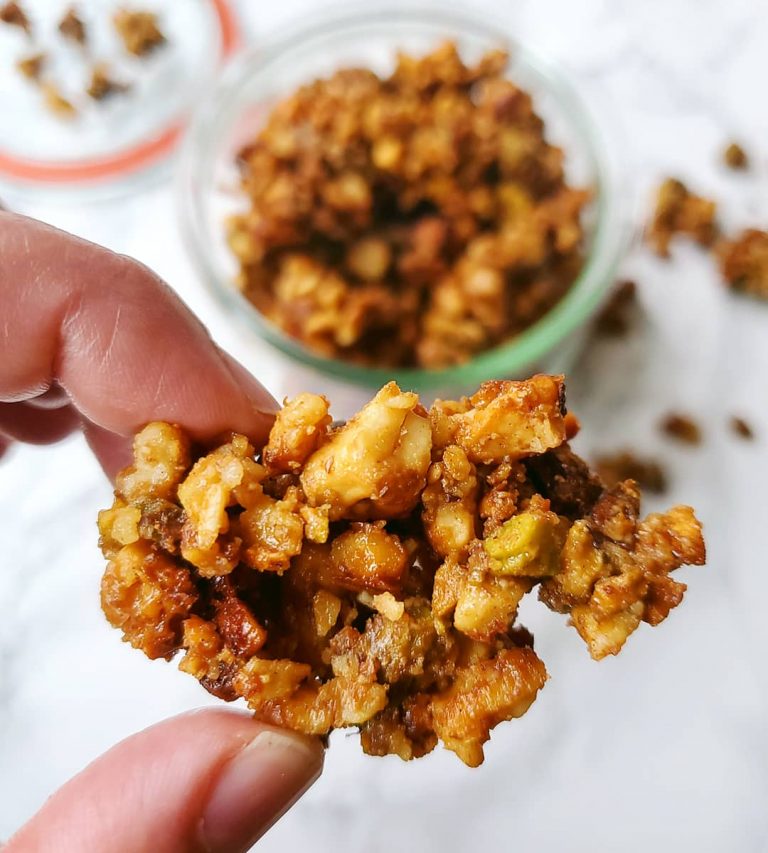 Baklava Granola
| BAKLAVA GRANOLA | 🍯 If granola and baklava had a baby..this would be it! This paleo/grain-free granola is packed full of all the traditional Baklava ingredients, minus the delicious filo dough. And I mean…as much as I would love to be 100% paleo, let it be known that…I…..LOVE(and respect)….Filo Dough and would happily accept a piece of real Baklava because it is one of my favorite treats! Life is better with treats anyway..so..🤷‍♀️. If you aren't following a paleo diet, feel free to lighten this up by adding oats in to the mixture instead of cashews. Everything else should stay! 🙂

Ingredients:
1.5 cups cashews
2.5 cups walnuts
1.5 cups pistachios
2 tbsp grass fed butter
2 tbsp coconut oil
4 tbsp honey
3 tbsp maple syrup
2 tbsp lemon juice
1.5 tsp cinnamon
1/4 tsp salt
Directions:
Preheat oven to 325°F
Add some of the nuts to a food processor. You will use 1.5 cups cashews, 2 cups walnuts, and 1/2 cup pistachios. Add them to a food processor. Pulse them 5 to 6 times until you have a mix of small and big pieces. Put in a bowl and set aside.
Add another 1 cup pistachios and 1/2 cup walnuts to food processor. Pulse until slightly broken down. You want the pistachio chunks to still be visible. Add to the bowl with the rest of the nuts.
Melt 2 tbsp butter plus 2 tbsp coconut oil with 4 tbsp honey and 3 tbsp maple syrup. Add to bowls with nuts. Mix completely.
Add 2 tbsp lemon juice, 1.5 tsp cinnamon, and 1/4 tsp salt to the mixture. Mix completely.
Bake at 325°F for 23 – 25 minutes..stir twice during the cooking process. Leave on baking sheet to cool.