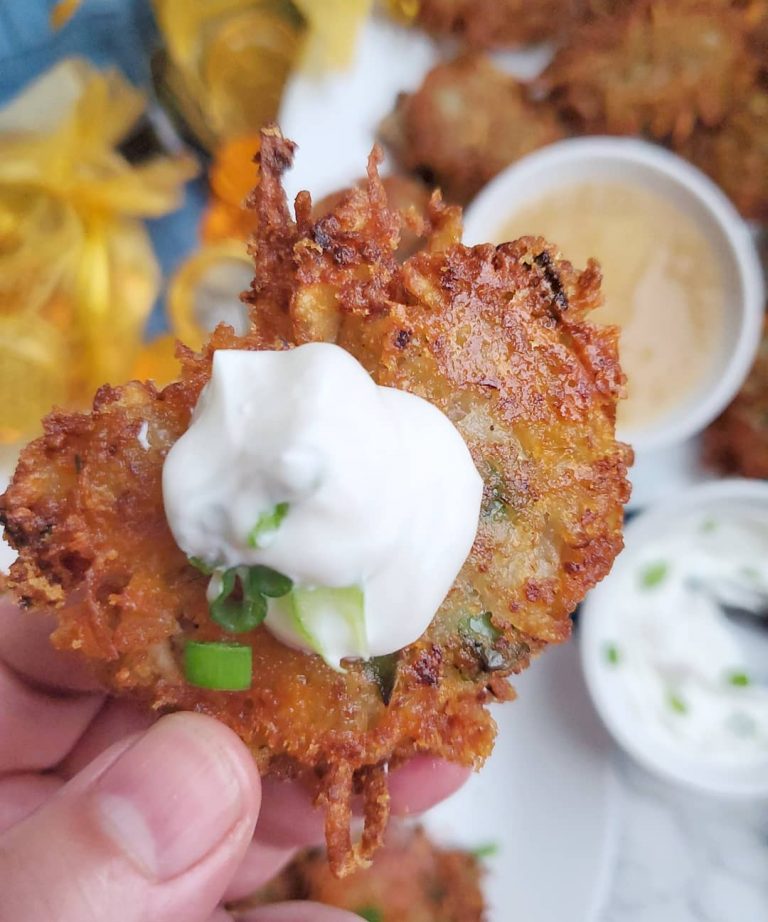 Cheddar Jalapeño Latkes
| LATKE WEEK | DAY 2! 🥔🧀🌶 Cheddar Jalapeño Potato Latkes! These delicious latkes are cheesy and spicy in all the best ways! In order to get my latkes extra crispy, I make sure to get all the water out of my potatoes using my @elliesbest nut milk bag. View my highlights to see me in action! ❤🕎
#whatsonmyplate Chedddar Jalapeño Latkes topped with Green Onions and Sour Cream.
Recipe is on www.spinachandbacon.com or use the clickable link in my bio.
Use code "spinachandbacon" for a 10% discount at www.elliesbest.com
Ingredients:
3 russet potatoes, peeled
1 yellow onions, peeled, and cut into large chunks
1 shallot, peeled, and cut in half
1 eggs
1/2 cup tapioca flour
1 tsp baking powder (I make my own using baking soda and cream of tartar)
1 tsp garlic and herb seasoning
1 tsp salt
1/2 tsp black pepper
3 Jalapeño Peppers, finely diced with seeds removed
2 cups shredded cheddar cheese

Makes 25 smaller latkes

Directions:
1. Grate the potatoes using the grating disc of your food processor or by using a box grater.
2. Take half of the grated potatoes and add them back to a food processor and pulse a few times until they start to resemble mashed potatoes. You want half to be grated and half to be a mashed consistency. This will ensure creamy, but crunchy latkes.
3. Drain all water from the potatoes by using a nut milk bag or cheese cloth. (This step is very important. If you dont remove all of the water, the latkes will never crisp up) I use the nut milk bag from www.elliesbest.com. You can use the code "spinachandbacon" to receive 10% off your purchase.
4. Once all the water is removed, add the potatoes to a large bowl.
5. Throw the onions and shallot into the food processor and pulse until it starts to look like a paste.
6. Squeeze all water from the onions using a cheese cloth or nut milk bag.
7. Add onions to potatoes.
8. In a small bowl, beat the eggs with the salt, pepper and garlic and herb seasoning.
9. Pour egg mixture over potatoes and onions, and mix well.
10. Add flour, baking powder, jalapenos and cheddar to the mixture and mix well.
11. Heat enough oil(avocado oil or oil of your choice) in a large skillet to cover the bottom of the pan. Use medium heat.
12. Once oil is hot, drop spoonfuls of the potato mixture into the oil. I use a heaping tablespoon and then I use the back of the spoon to flatten the latke once it is in the oil. Do not move the latke for about 3 minutes. Once one side is golden brown, flip it over and brown the other side.
13. As the latkes are cooking, transfer them to a paper towel lined baking sheet to absorb excess oil.