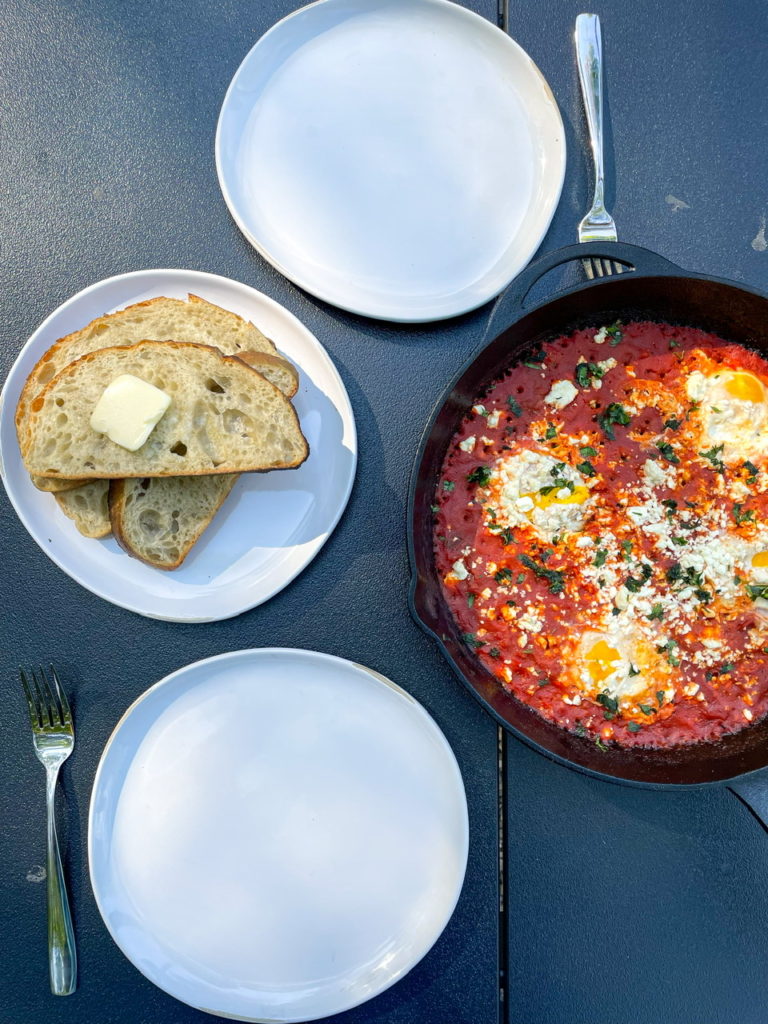 Shakshuka with Feta
Shakshuka (shakshouka) is a dish made with gently cracked eggs baked into a delicious savory sauce. It can be as spicy or mild as you want, but I love it with a bit of spice and topped with some crumbled feta cheese to cool it off! I make a shakshuka with feta anytime I have leftover tomato sauce. I love making this recipe at home for a delicious brunch but it even makes a delicious one pot camping meal.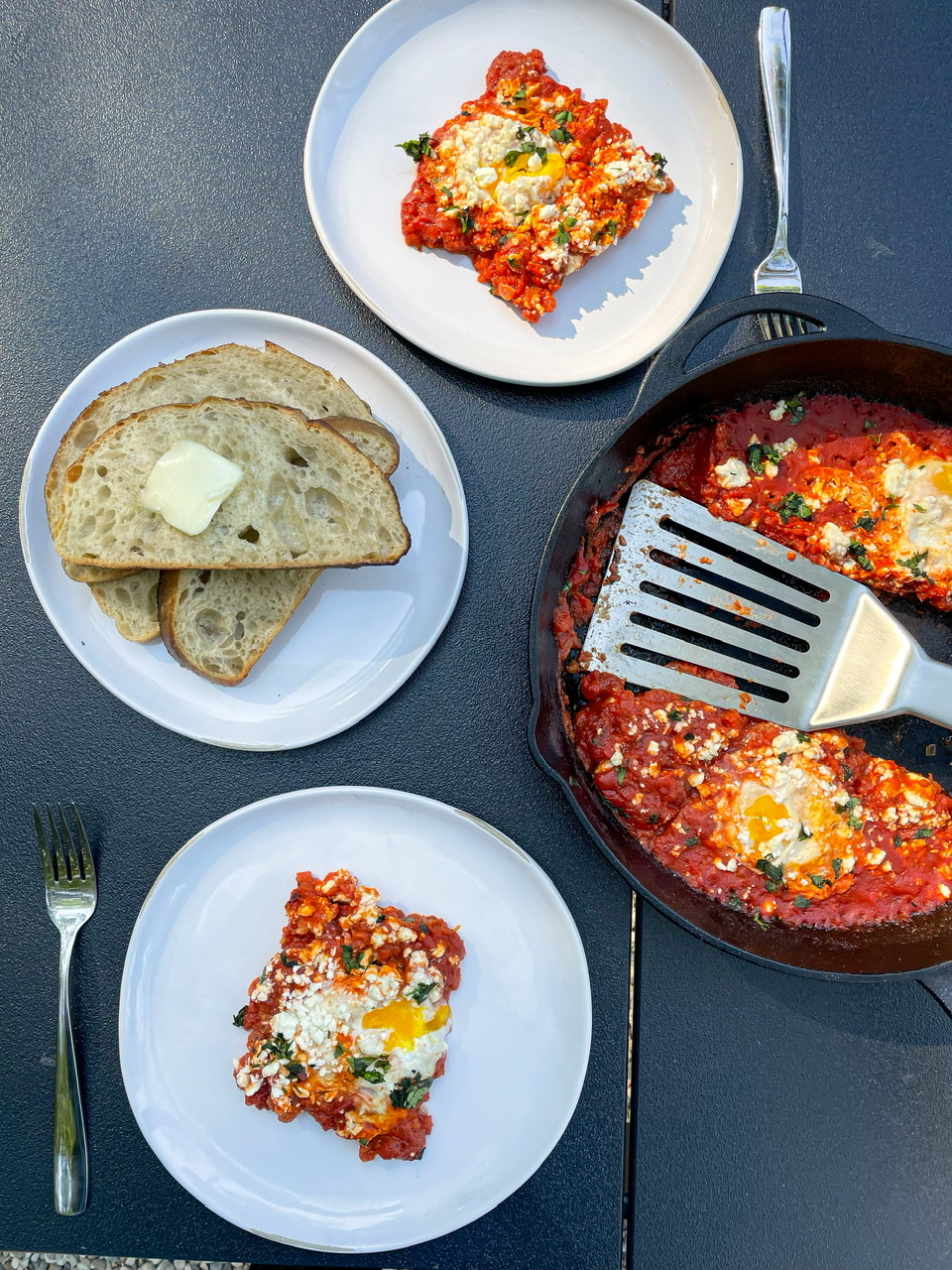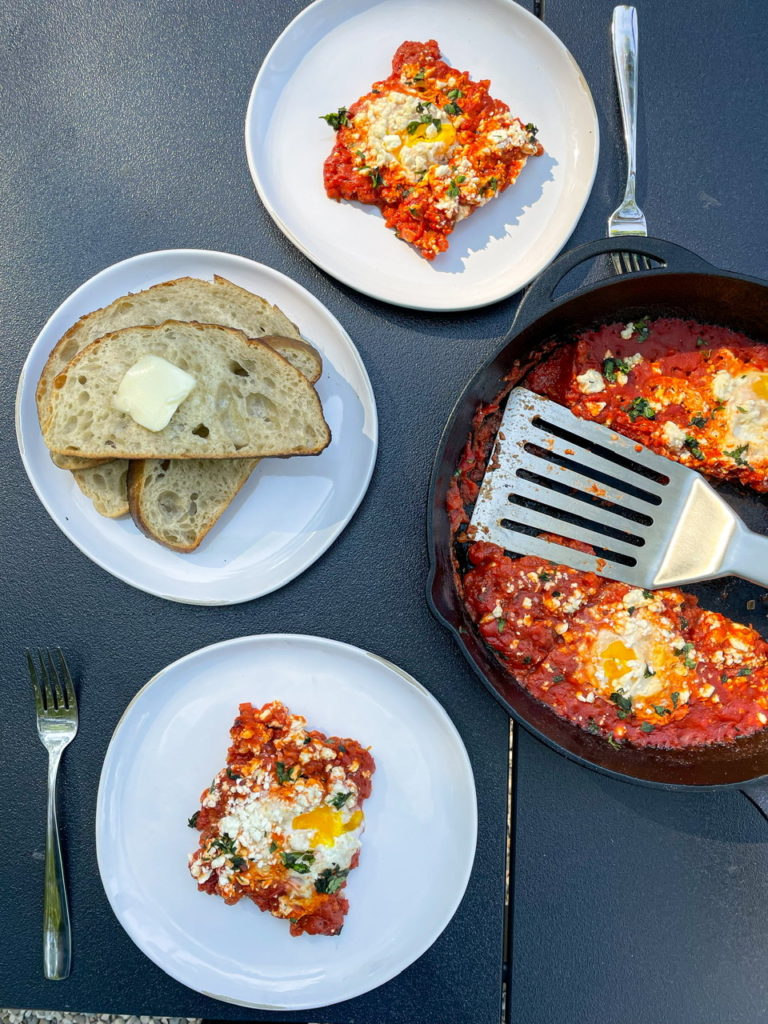 During the Fall and Winter it seems I have some sort of leftover tomato sauce in a jar or can after every weekend. This is a great way to use it all up. Just add some red bell peppers, onions, garlic, spices, and eggs to it and you create an incredible and filling breakfast and brunch. I like adding chipotle pepper to the spice mixture because it adds a little heat and smokiness but if you do not have that you can add some chili powder and red pepper flakes.
This breakfast or brunch comes together super fast, and feels super fancy. This past weekend I made this dish while we went camping. It actually cooks best in a cast iron skillet so this meal was effortless over a camp fire. Whenever I am camping I like to have all my ingredients prepared in bowls ready to go. I am not as comfortable around an open flame as I am behind a stove. So, I put all my ingredients in little bowls and brought everything outside.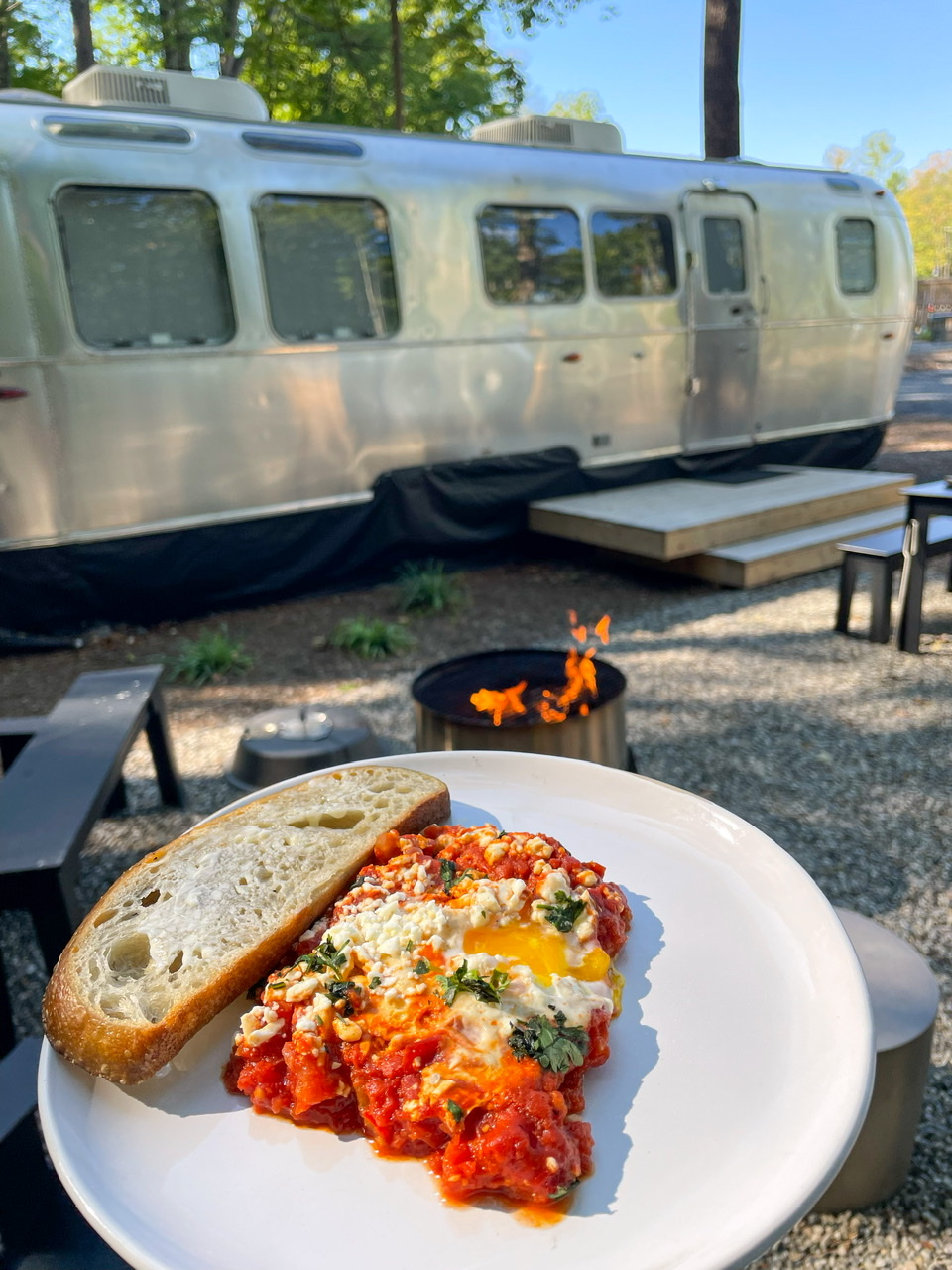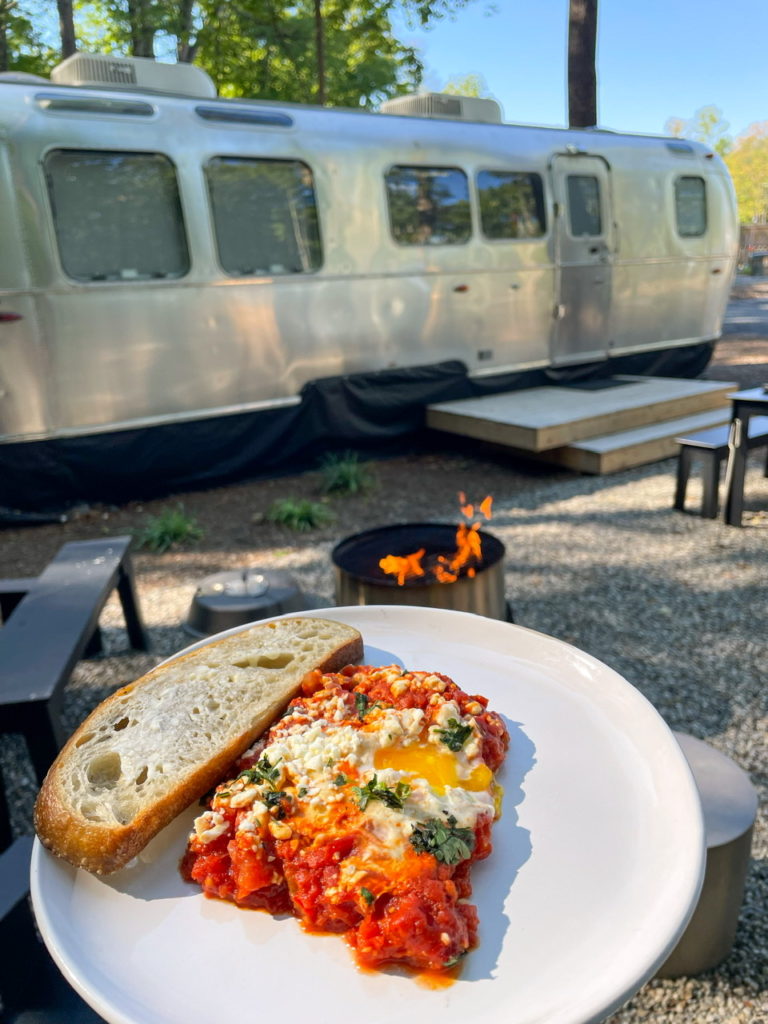 I love adding crumbled feta cheese to this dish because I live for that saltiness flavor. It completely transforms this dish. I have also made this with manchego cheese and that is also so delicious.
What does Shakshuka with Feta go with?
I like to serve my shakshuka with either feta or manchego cheese and then some sort of bread for dipping. I love using toasted sourdough bread or warm naan. This dish also goes well with a side of potatoes or greens.
Which country is Shakshuka from?
Traditional shakshuka originally came from North Africa, Tunisia to be exact, however it is a popular dish throughout the Middle East.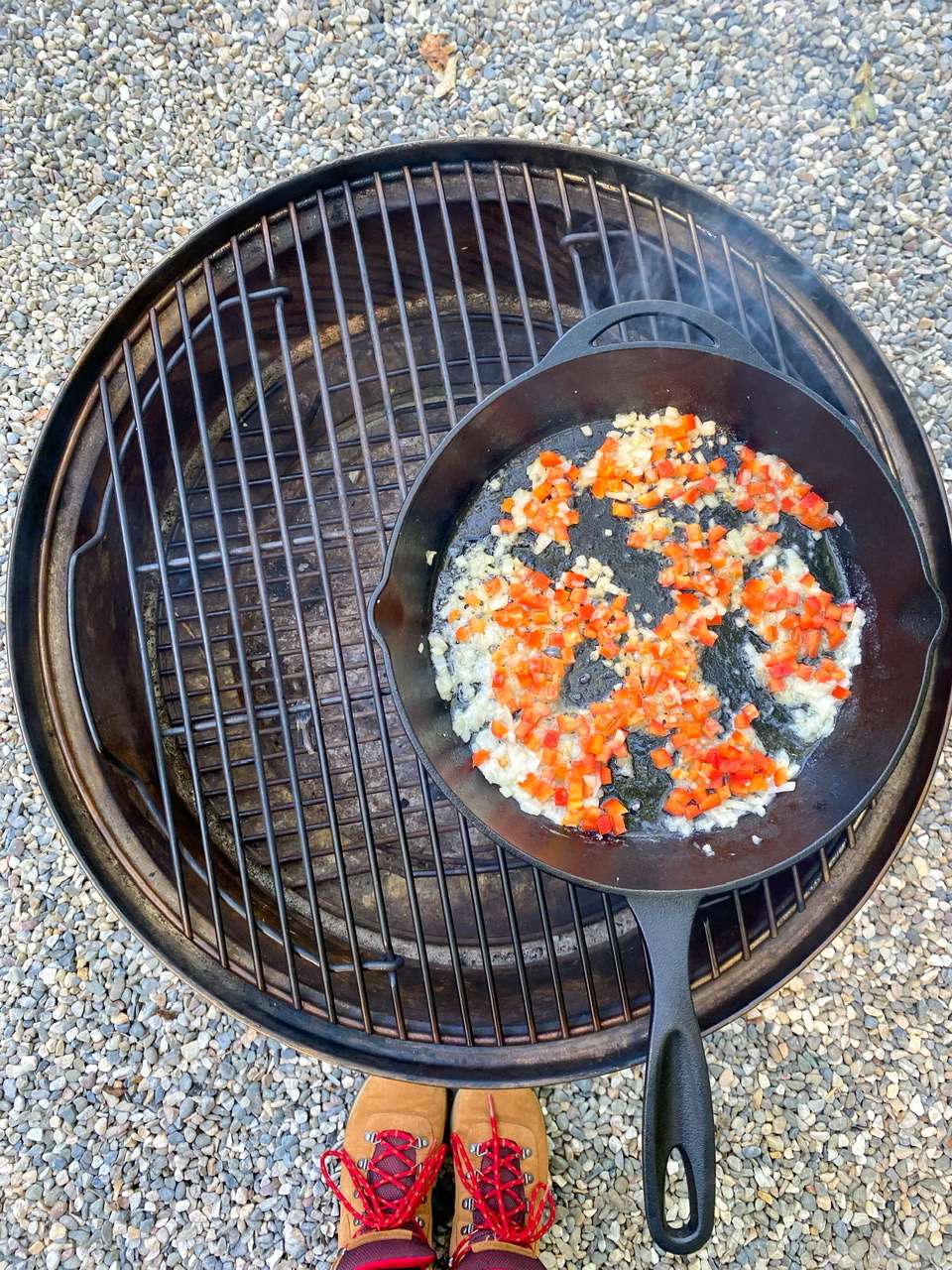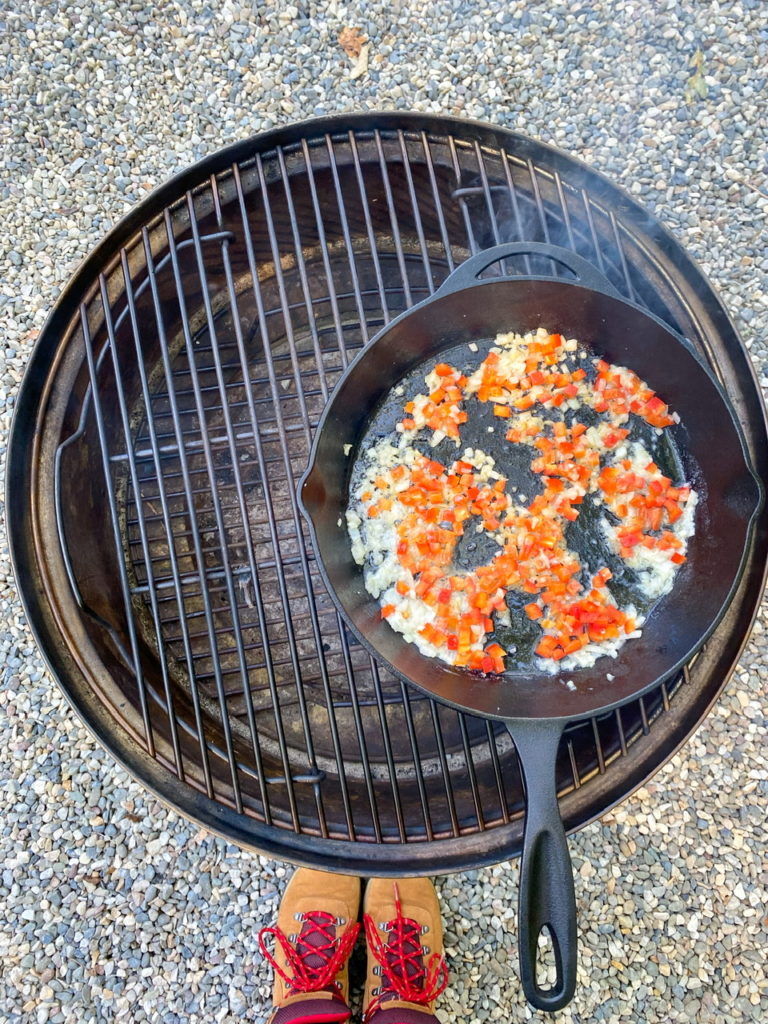 How to Make Shakshuka
4 – 6 Eggs
1 1/2 tbsp Olive Oil
28 oz Can Crushed Tomatoes
3/4 cup Yellow Onion, diced
1 Red Bell Pepper, diced
1/2 tsp Coarse Sea Salt
1/4 tsp Black Pepper
1 tsp Cumin
1/2 tsp Chipotle Pepper Powder
1 tbsp minced garlic
1/2 Cup Feta
chopped cilantro
Sourdough Bread
Butter
1. In a large skillet, saute the onion, garlic, and bell pepper for 5 minutes over medium heat
2. Add the salt, black pepper, cumin, and chipotle pepper. Cook for 2-3 minutes.
3. Add can of tomatoes and bring to a boil. Let this boil for 3 minutes then reduce the heat to medium low.
4. Add the pumpkin puree and mix.
5. Once mixture thickens and is less watery, create little pockets to add your eggs. Crack eggs into each pocket, cover your pan and let the eggs steam.
7. Once the egg whites start to cover the yolks, add the feta cheese. Keep covered until eggs are preferred consistency.
8. Remove from heat, garnish with cilantro, and serve with toasted bread!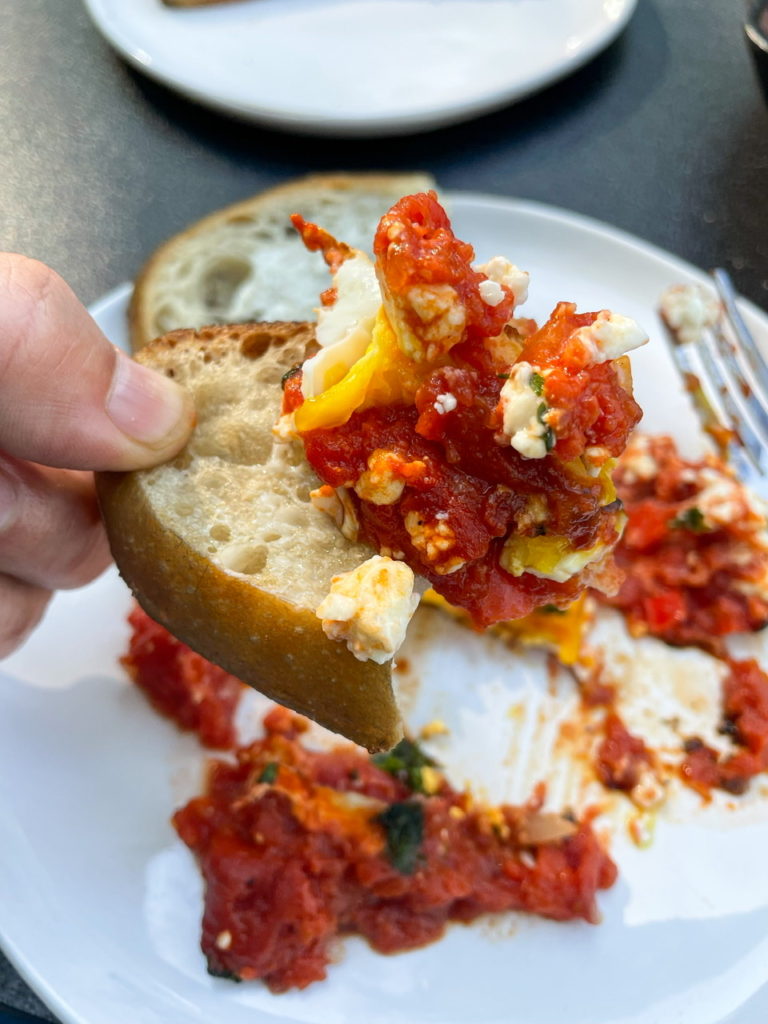 If you like this dish, you may also like:
Shakshuka with Feta
A great easy breakfast to use up leftover tomato sauce and eggs
Equipment
cast iron pan

any large skillet will work on a stove
Ingredients
1.5

tbsp

Olive Oil

4-6

Eggs

28

oz

Can Crushed Tomatoes

3/4

cup

Onion

diced

1

Red Bell Pepper

chopped

1

tbsp

Garlic

minced

1/2

tsp

Sea Salt

1/4

tsp

Black Pepper

1

tsp

Cumin

1/2

tsp

Chipotle Pepper Powder

I love the smokiness and heat of chipotle. You can substitute a little smoked paprika and regular chili pepper

1/2

cup

Feta Cheese

crumbles

1

tbsp

cilantro

chopped

sourdough bread

for dipping

butter

for the bread
Instructions
Heat the olive oil in a pan on medium heat.

Add chopped onion, pepper, and minced garlic to the hot pan and mix well. Cook for 5-6 minutes or until onion starts to brown

Add the salt, pepper, and spices to the onion mixture. Mix well and cook for an additional 3 minutes.

Add the tomatoes and mix well. Cook for a few minutes so that some of the moisture releases.

Create a pocket in the tomato mixture and add an egg. If you are adding four eggs, make space for 4 pockets. If you are making 6 eggs, make room for 6 pockets.

Cook uncovered until the whites start to cook. Then add feta cheese and cover the pan. Reduce the heat and keep covered for 4-5 minutes. Check the eggs and see if the white has covered the egg yolk slightly. When there is just a slight jiggle but the egg is firm, then the eggs are done. Serve immediately with warm bread.
Notes
Use a clear lid to cover your pan so you can watch the eggs cook and make sure they do not overcook.