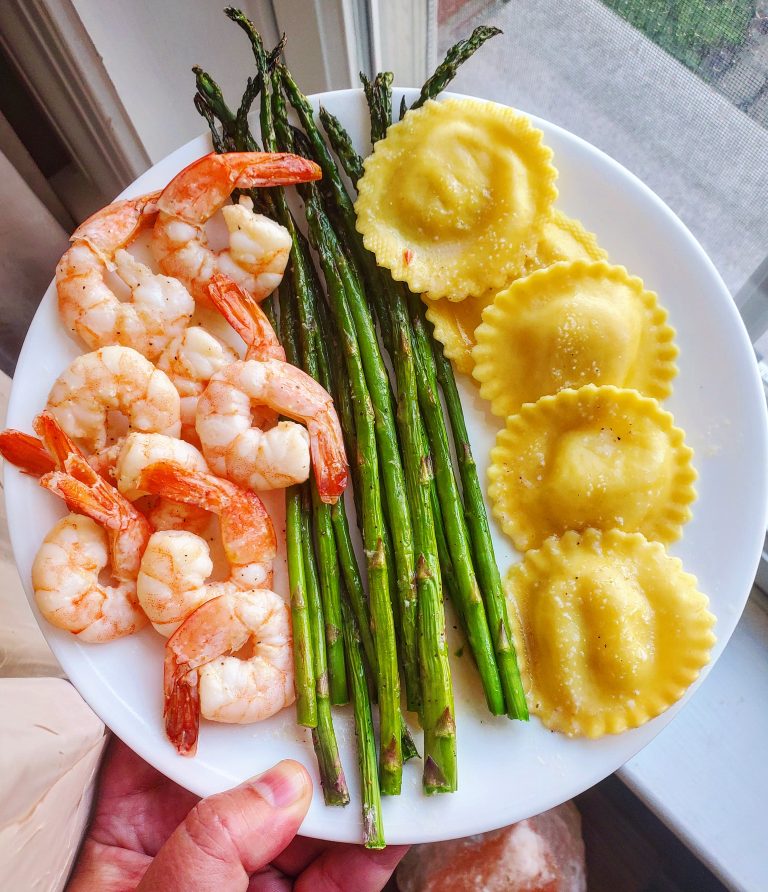 Lemoney Shrimp, Asparagus, and Ravioli
🍋🍋 I have been going crazy for lemons lately. And this lemoney plate of goodness did not disappoint. I made lemoney garlic shrimp, roasted asparagus, and ricotta and lemon zest ravioli! I don't usually believe thin > thick, BUT when it comes to asparagus I love the thin stalks because they crisp up so well! Mmm!
Ingredients:
Frozen Deveined Shrimp with Tails
Asparagus
Ricotta and Lemon Zest Ravioli(cooked according to package directions)
Juice of two lemons
Salt
Pepper
Garlic powder
1 tbsp Olive oil
1 tbsp Butter
Method for Cooking Shrimp
Thaw shrimp
Season shrimp with salt, pepper, and garlic powder.
Add butter and oil to pan on medium heat, then add shrimp. Cook for a couple of minutes on each side, adding half of the lemon juice in the middle of the cooking process.
Once shrimp are cooked, turn off the heat and add the other half of the lemon juice. Stir!
Method for Roasting Asparagus
Cut off the purple bottoms of each stalk
Spread out aspragus on a parchment paper lined baking sheet
Season with olive oil, salt, and pepper
Cook at 400°F for 20 minutes or until crispy.
Once cooked, leave on the tray untouched for 5 minutes