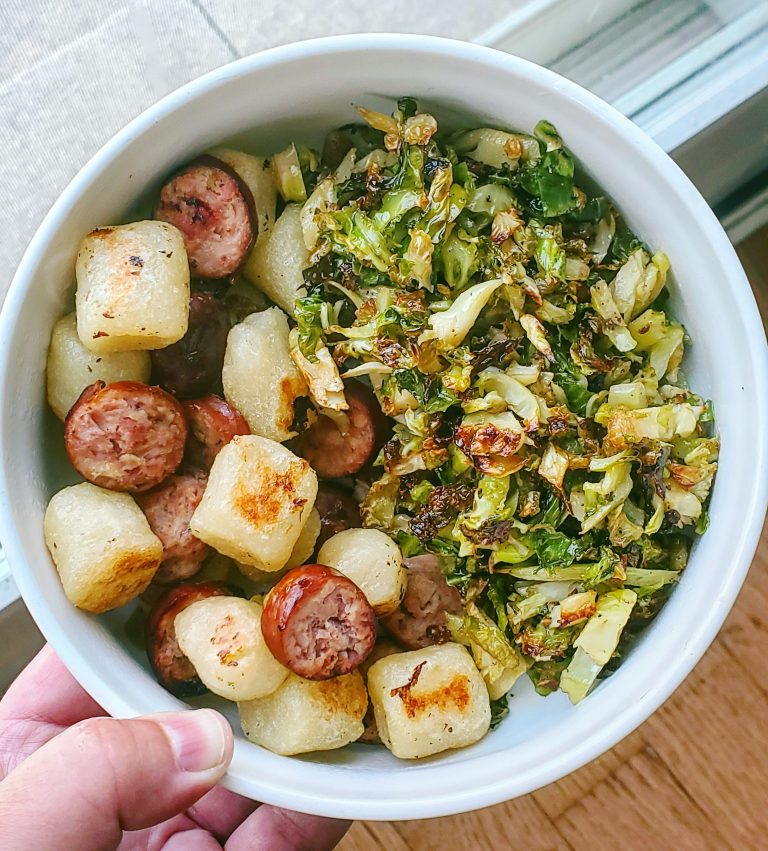 Cauliflower Gnocchi, Brussels Sprouts, and Smoked Apple Chicken Sausage
Made it all on a sheetpan! 💁‍♀️ This bowl was made with Cauliflower Gnocchi, Shredded Brussels Sprouts, and Smoked Apple Chicken Sausage! I know summer has just began, but I am already overrrrr it. It's supposed to be 97°F this weekend, so I am mentally preparing myself by thinking of Fall recipes and trying to chill hard! This bowl has all my favorite Fall flavors, and well..I probably won't have much time to cook in a few months, so I am enjoying it now! 😁

Ingredients:
Cauliflower Gnocchi
Shredded Brussels Sprouts
Smoked Apple Chardonnay Chicken Sausage (can be subbed with any sausage)
Avocado Oil
Salt
Pepper
Garlic Powder
How to make it:
Preheat oven to 400°F
Line a sheet pan with parchment paper
Add Cauliflower Gnocchi to the pan and set the timer for 38 minutes.
When the timer gets down to 23 minutes, carefully remove the hot pan from the oven, move the gnocchi to one side, add the shredded brussels sprouts and season them with avocado oil, salt, pepper, and garlic powder. Stir it around to combine, but section it off to one area of the sheet pan.
Then cut up the sausage(I love using kitchen scissors for this), and add it to one area of the pan.
Put the pan back in the oven, and continue to cook. My pan was out of the oven for 3 minutes while i prepped the brussels sprouts and sausage so my pan was in the oven for a total of 35 minutes.
Follow me on Instagram by clicking below!