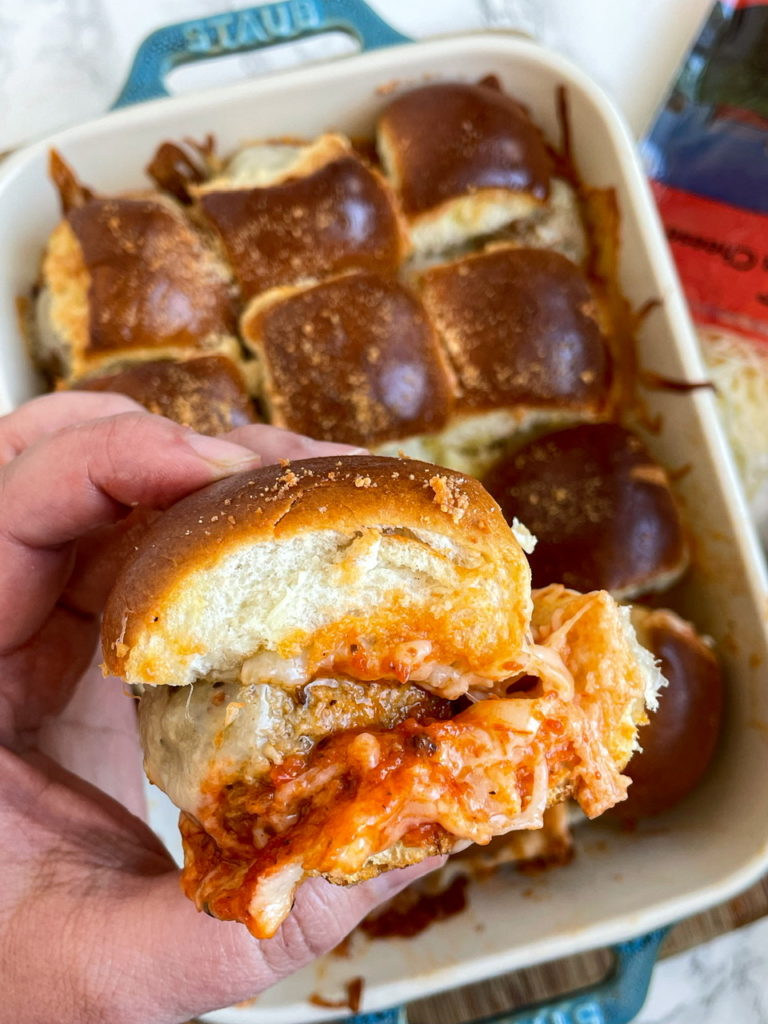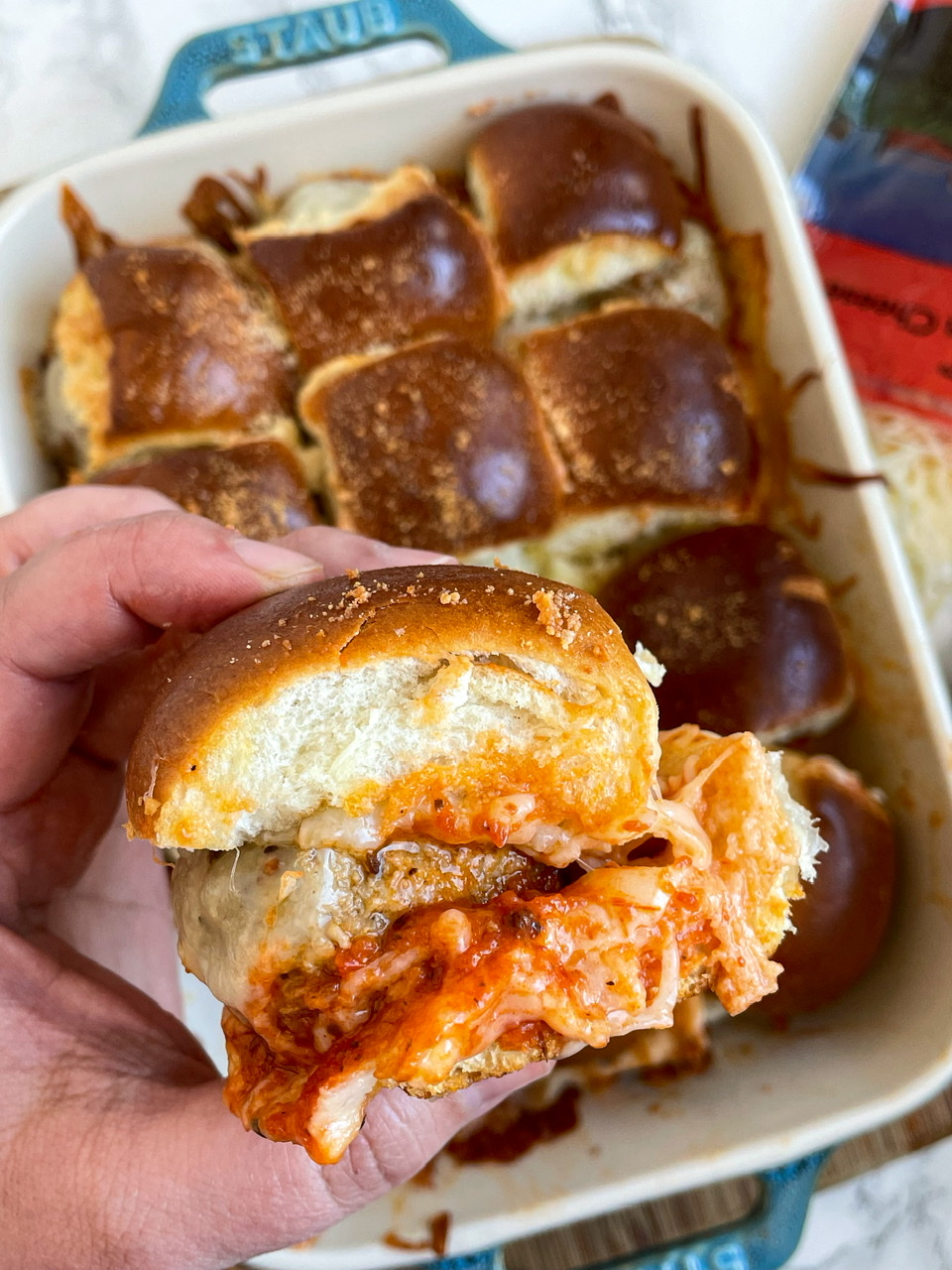 Cheesy Meatball Sliders
Hawaiian Roll Meatball Sliders are just absolutely delicious. Last year was the year of the "slider" for me. I started buying the cute little Hawaiian rolls from Trader Joe's or by King's Hawaiian and I put so many delicious combinations of fillings in them. They fed my family really well, were really easy to make, and really tasty. These Cheesy Meatball Sliders were created out of a craving for a meatball Parmesan hoagie (or sub, depending on where you live). I got some ingredients to make this easy to put together, and then I started making it.
I like using pre-made frozen meatballs in my Cheesy Meatball Sliders recipe because it makes the whole meal come together even faster. It is important to thaw the meatballs before you use them in this recipe. Once they are thawed, the only thing that needs to be done is to assemble the sandwich. First the layer of bread, then cheese, a little sauce, a meatball, a little bit more sauce, more cheese, and finally the top layer of bread. I then bake this alltogether with some garlic butter on top. These become the cutest little portable sandwiches for dinner, get togethers, and for game day!
What toppings go well on Cheesy Meatball Sliders?
I like to use mozzarella or provolone or BOTH, parmesan, marinara sauce, and garlic butter on these, but you can use any cheese you like. For these hawaiian Roll meatball sliders I used frozen meatballs that I let thaw, but you can make homemade meatballs too. Another option is grilling some onions and peppers too!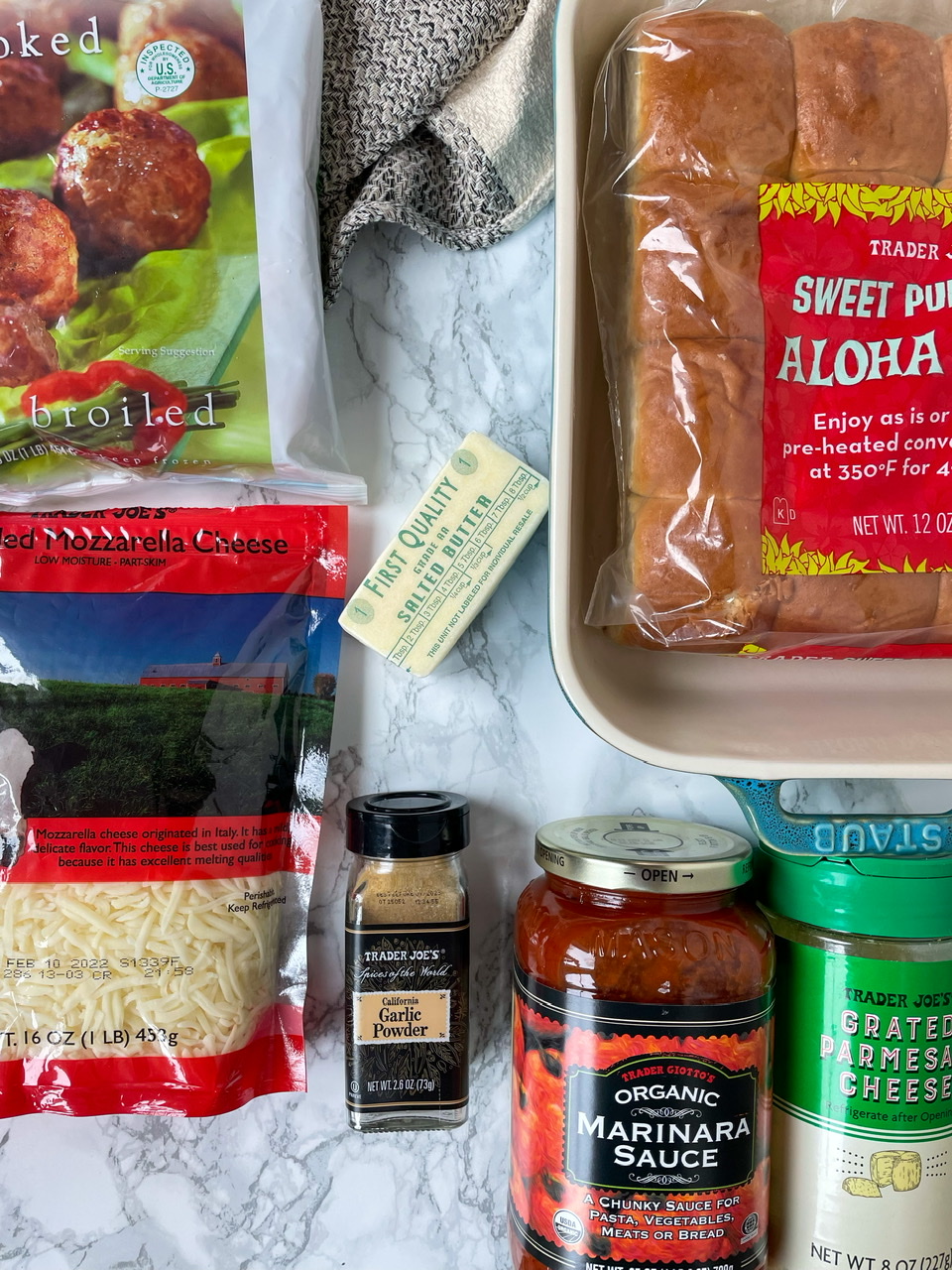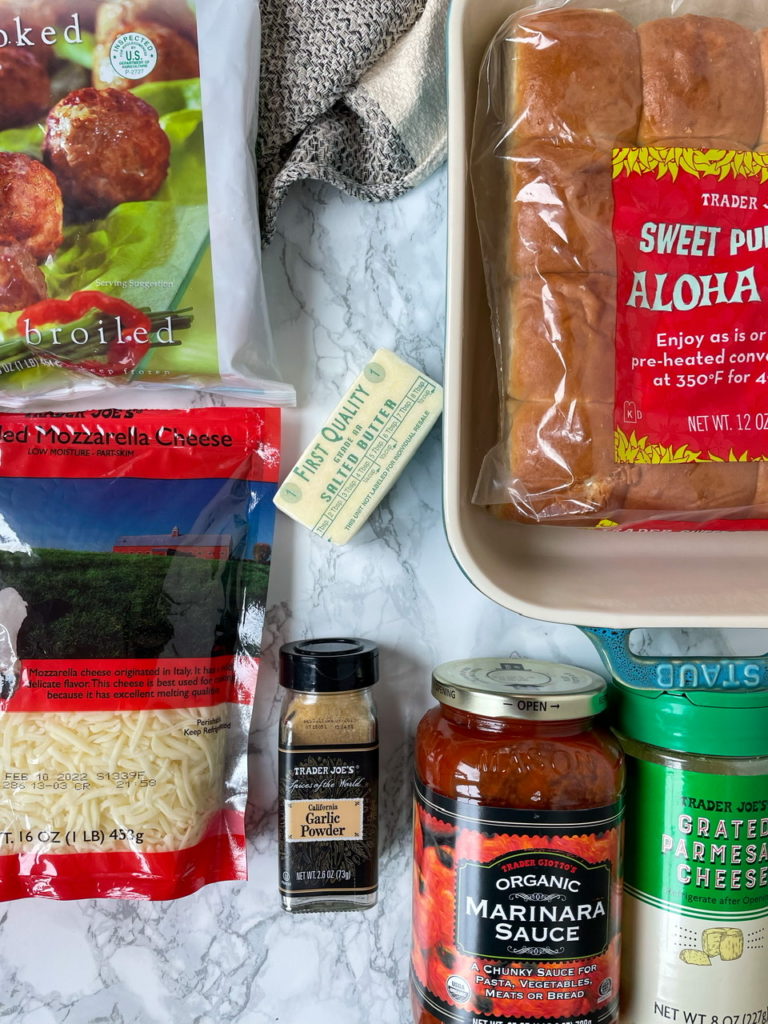 If you like this recipe, you may also like:
Ham Egg and Cheese Stuffed Biscuits
Cheesy Meatball Stuffed Biscuits
Cheesy Meatball Sliders
Classic Meatball Parmesan in slider form! Perfect for the whole family!
Course
Appetizer, dinner, lunch
Cuisine
American, Italian
Ingredients
1

pack

Hawaiian Rolls

12 should come in a pack

12

Frozen Meatballs

Thawed! You can also use homemade meatballs

2

cups

Shredded Mozzarella

12

slices

Provolone Cheese

optional

1.5

Cups

Marinara Sauce

You need about 1.5 tbsp per slider

2

tbsp

Butter

1

tsp

Garlic Powder

3

tbsp

Grated Parmesan Cheese

For the topping
Instructions
Thaw your meatballs. This step is important so that the sliders cook easily in the oven.

Cut the Hawaiian Rolls in half and lay the bottom half in a baking dish. I like to seperate each roll a head of time so that it makes it easier to pull apart when it is hot.

Put a layer of cheese on top of the rolls. If you are using Provolone slices, cut each slice of cheese in quarters and then put two quarters on top of the bread. Top with some shredded mozzarella.

Add some sauce on top of the cheese.

Add a meatball, then a little more sauce, and then the cheese. If you are using provolone slices, you would now add two more quarters of cheese per sandwich.

Put the top of the rolls on top of the sandwich and make your garlic butter by combining the butter and the garlic powder in a microwable bowl. Heat for 20 seconds or until it is completely melted.

Brush the butter on top of the rolls, add grated parmesan over the butter, and cover the rolls in tin foil. Bake for 30 minutes.

remove from oven, remove the tin foil and cook for another 5 minutes.

Serve with marinara sauce for dipping! Enjoy!