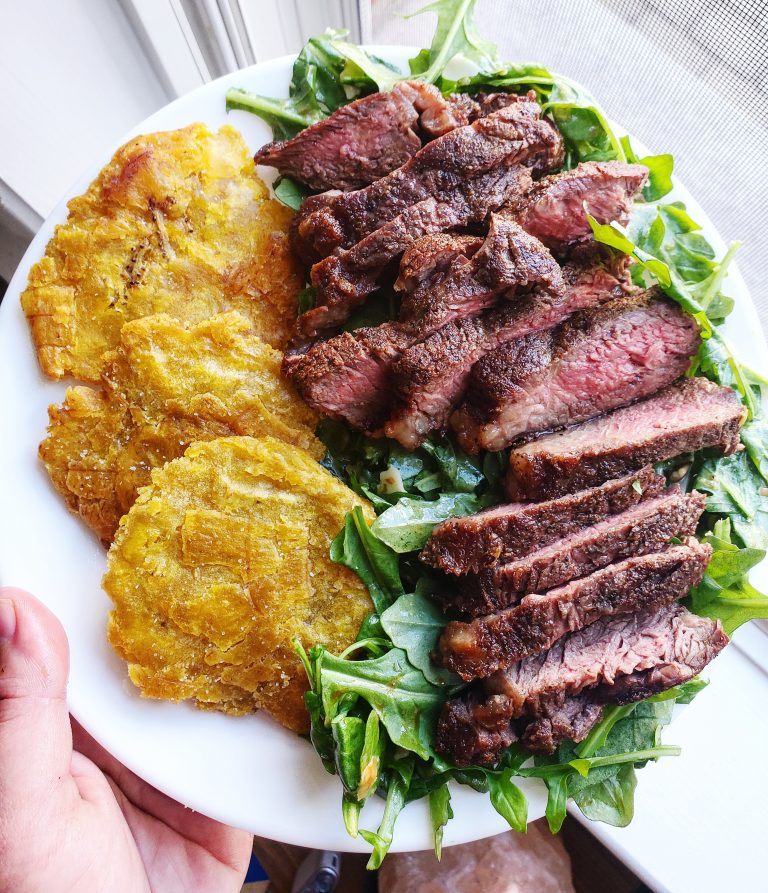 Cast Iron Strip Steak
This Cast Iron Strip Steak recipe will give you a perfectly cooked steak every time. The steak is cooked to medium on the inside and has a delicious crispy crust on the outside. It is so important to let your steak rest after cooking it and before serving it. When you let a steak rest, the juices evenly distribute throughout the meat so that you have a juicy, tender, and delicious steak waiting for you. Plus, it is perfectly cooked!
Cast Iron Strip Steak and Tostones(fried green plantains)! This is the type of hearty meal I was raised on. Although, there was also usually rice on my plate, and not much salad when I was younger. We had some bad weather in the forecast for the next few days, so I knew I couldn't use my grill. I decided to buy some NY strip steaks and make them on my cast iron pan. They came out so great and they were done so fast! Here is my method!
NY Strip Steak Cooking Method:
Let the steaks rest at room temperature for 30 minutes prior to cooking. Then I heated a cast iron pan on high heat with avocado oil. Once the pan was super hot, I seasoned both sides of each steak with salt and pepper and added each steak to the pan. I cooked the steaks for 3 minutes per side at high heat. (Total of 6 minutes).
Then I lowered the heat to medium low, added butter and garlic to the pan(you can add herbs at this point too), and continued to cook the steak for 2 more minutes while basting the steak with the garlic butter. I then removed the steaks from the pan, and let them rest on a cutting board for about 12 minutes.
I paired this steak with Tostones(fried green plantains) and a Lemon Arugula Salad(from Trader Joes). Visit my instagram account @spinachandbacon for a video tutorial on how to make the Fried Plantains!
If you like this recipe, you may also like:
Chimichurri Steak Flatbread Sandwich