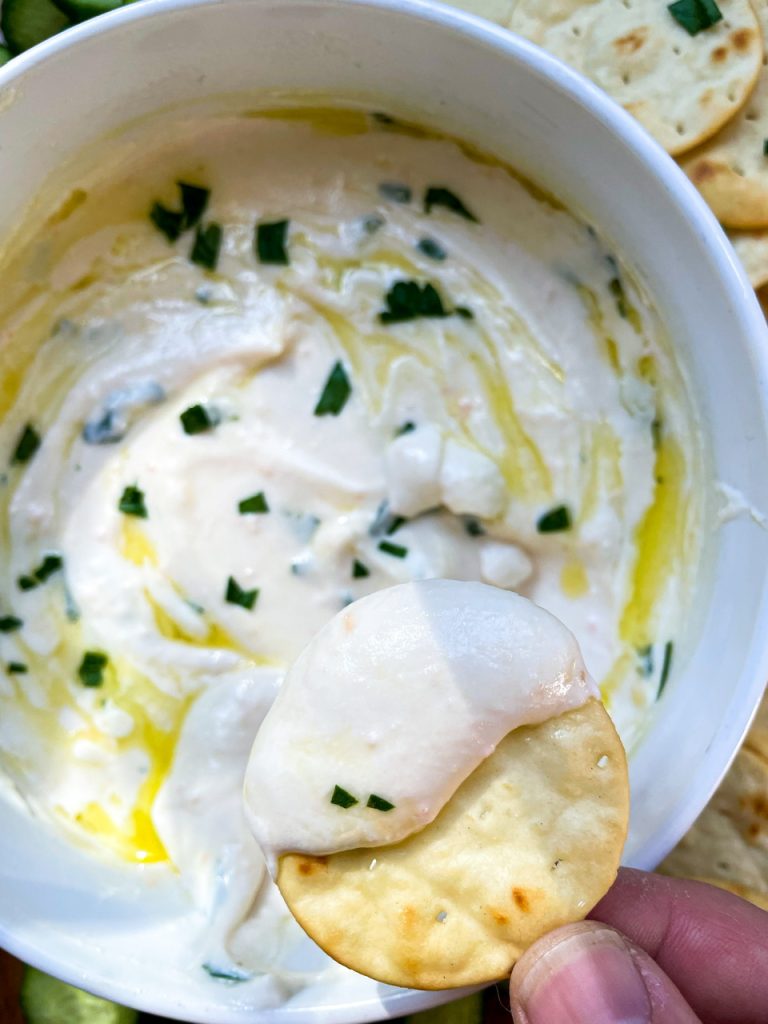 Tirokafteri (Spicy Feta Dip)
Tirokafteri is a creamy and spicy whipped feta dip. This Greek inspired dip recipe includes a blend of whipped feta cheese, ricotta, olive oil, garlic, and the perfect amount of spicy peppers. It is perfectly salty and creamy with the perfect hint of spice. Serve this for a party and it will for sure be a hit!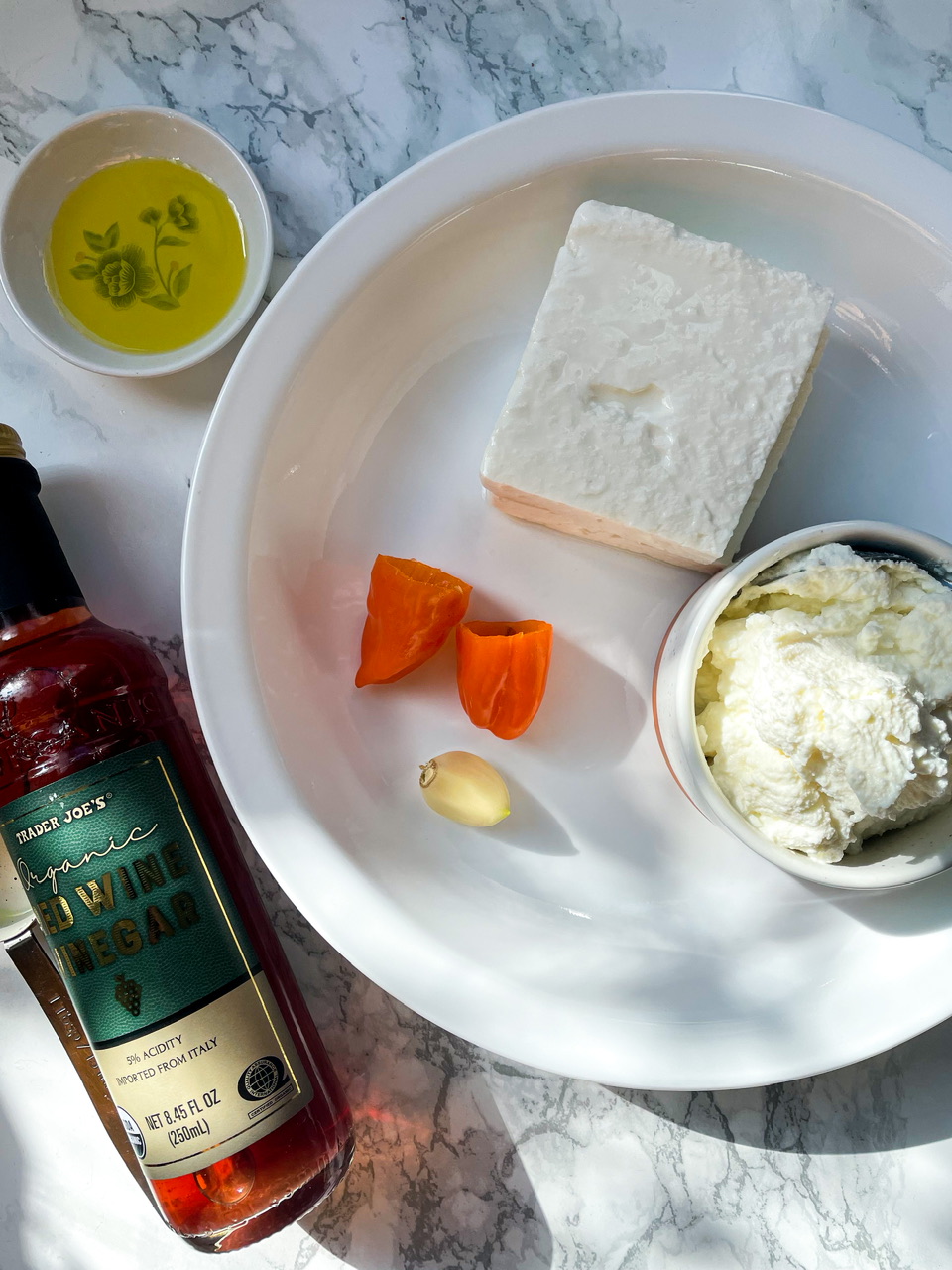 Tirokafteri
Tirokafteri is a greek feta cheese dip. Some people make it with roasted red peppers and some people make it with habanero peppers. I did some research before making this and it seems that if you use chili peppers, it should be called "tirokafteri", and if you use roasted red peppers it should be called "htipiti". I like this dip both ways, but I prefer it made with a small amount of habanero peppers so that it gives a delicious spicy kick.
If you are a big fan of spicy food, you could probably handle three habaneros, but please remember to remove the seeds. For me personally, two habaneros is the perfect amount of heat. Also, it is the type of heat that doesn't linger since the dairy in this dip cools your mouth down. Also, luckily, this greek feta dip does not get spicier the longer that it sits – not that it will last long anyway. Everyone will devour this dip, and I recommend making it alongside my Feta Meatballs recipe with some warm pita bread and cucumbers.
In addition to feta cheese, I use creamy ricotta cheese. Tirokafteri always uses feta cheese, and normally one or more soft cheeses to make the dish creamy and delicious. I love how creamy ricotta is and it isn't overly salty so it balances out the feta perfectly. You can also use greek yogurt in this dip for some additional tang.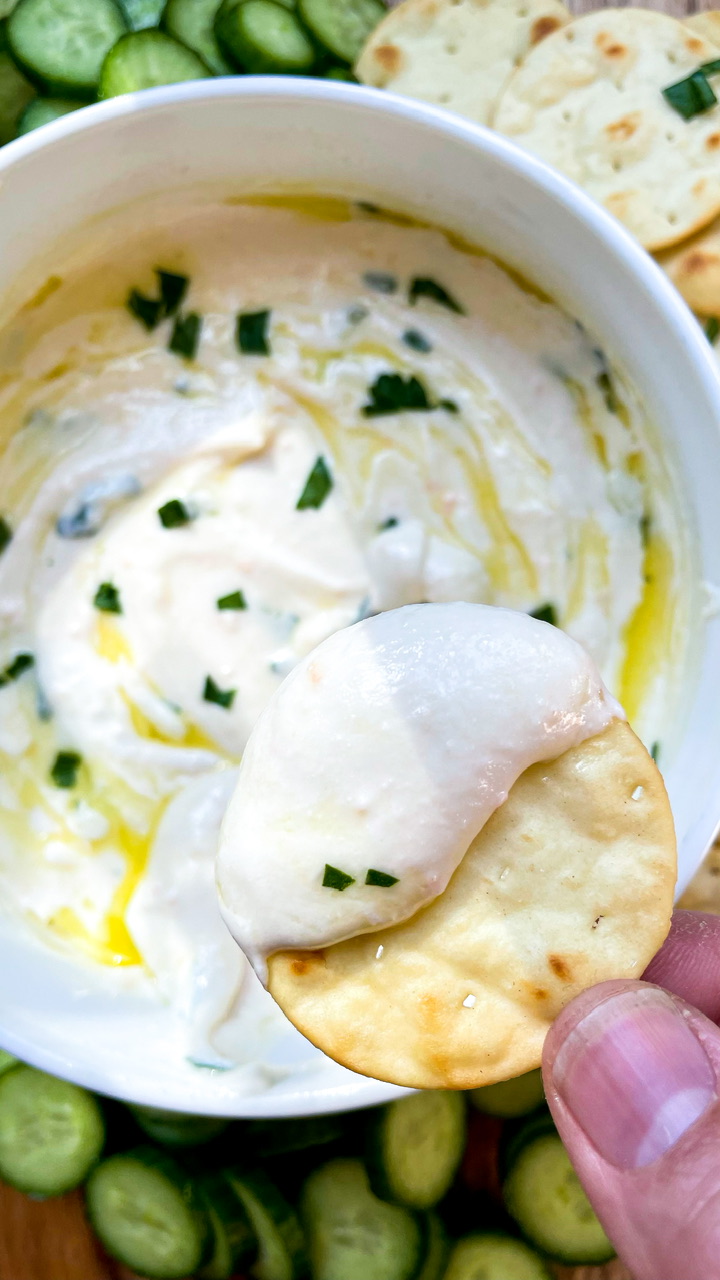 How to Make Spicy Feta Dip
This dip combines feta cheese, ricotta cheese (or yogurt), olive oil, habanero peppers (or roasted red peppers), red wine vinegar, olive oil, and garlic. It is one of those recipes where you throw everything in a food processor (or high speed blender) and you let the machine do all of the work. Because I used habanero peppers in this recipe, I removed the seeds before I used them, but other than that, I didn't chop a single thing.
What do you eat with Tirokafteri (Spicy Feta Dip)?
This dip is honestly one of the easiest things I have ever made. And it absolutely blows my mind how much flavor it has! It is commonly eaten as part of a mezze plate, served with other greek dips like hummus and baba ganoush. It is naturally gluten free and can be served with crudite, crackers, or crusty bread. Or even some warm pita bread.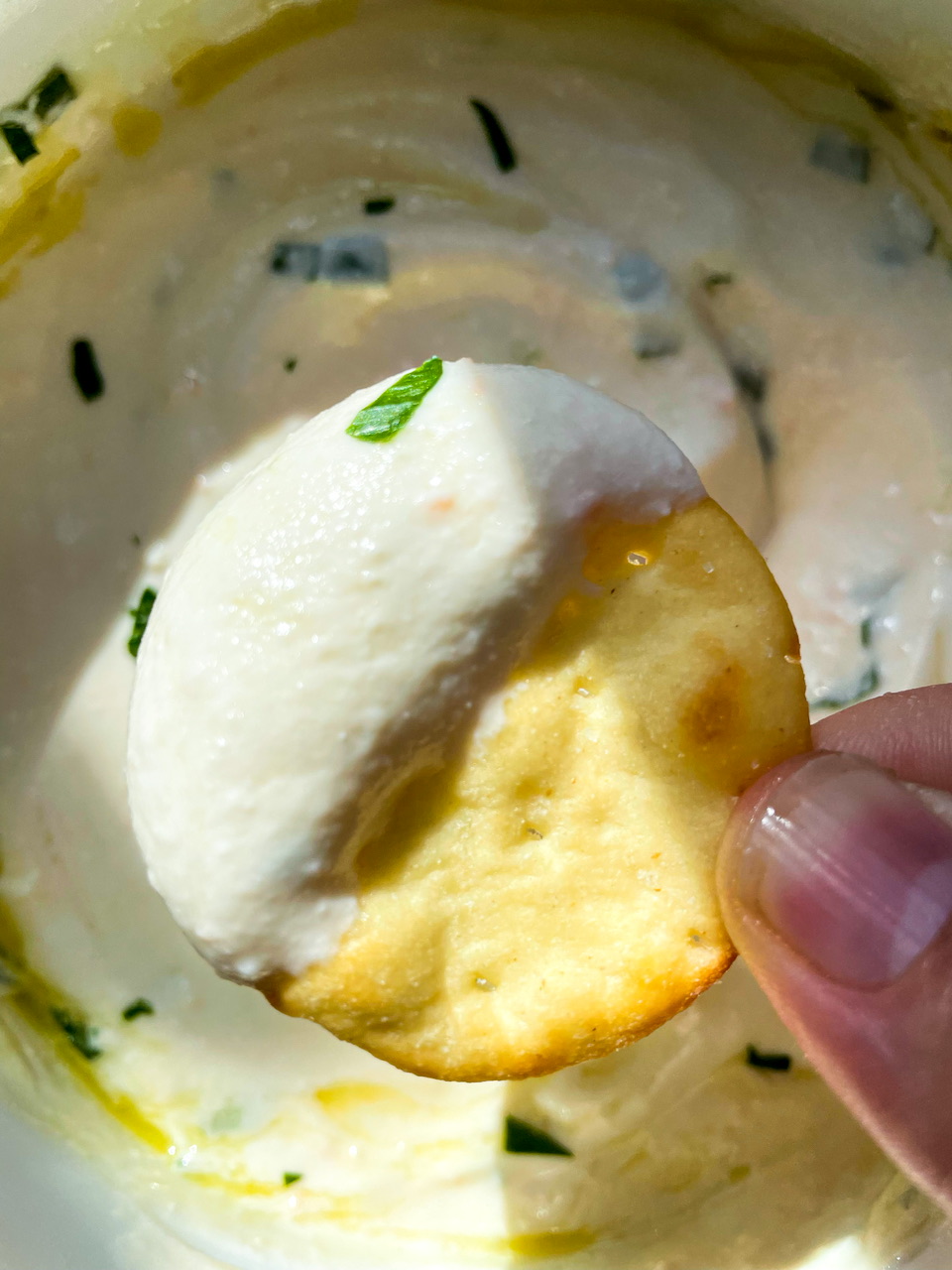 INGREDIENTS
8 oz Feta Cheese in a block
2 Habanero Chili Peppers (seeds removed)
5 oz Ricotta Cheese or Greek Yogurt
1 tbsp Red Wine Vinegar
2 tbsp Olive Oil
1 clove Garlic
(optional) – a pinch of salt
(optional) – a pinch of oregano
INSTRUCTIONS
Remove the seeds from habanero peppers, carefully. Keep in mind that these peppers are spicy, so do not rub your eyes after touching them.
Add all ingredients to a food processor and mix until completely creamy
Serve with your favorite crackers, crusty bread, or vegetables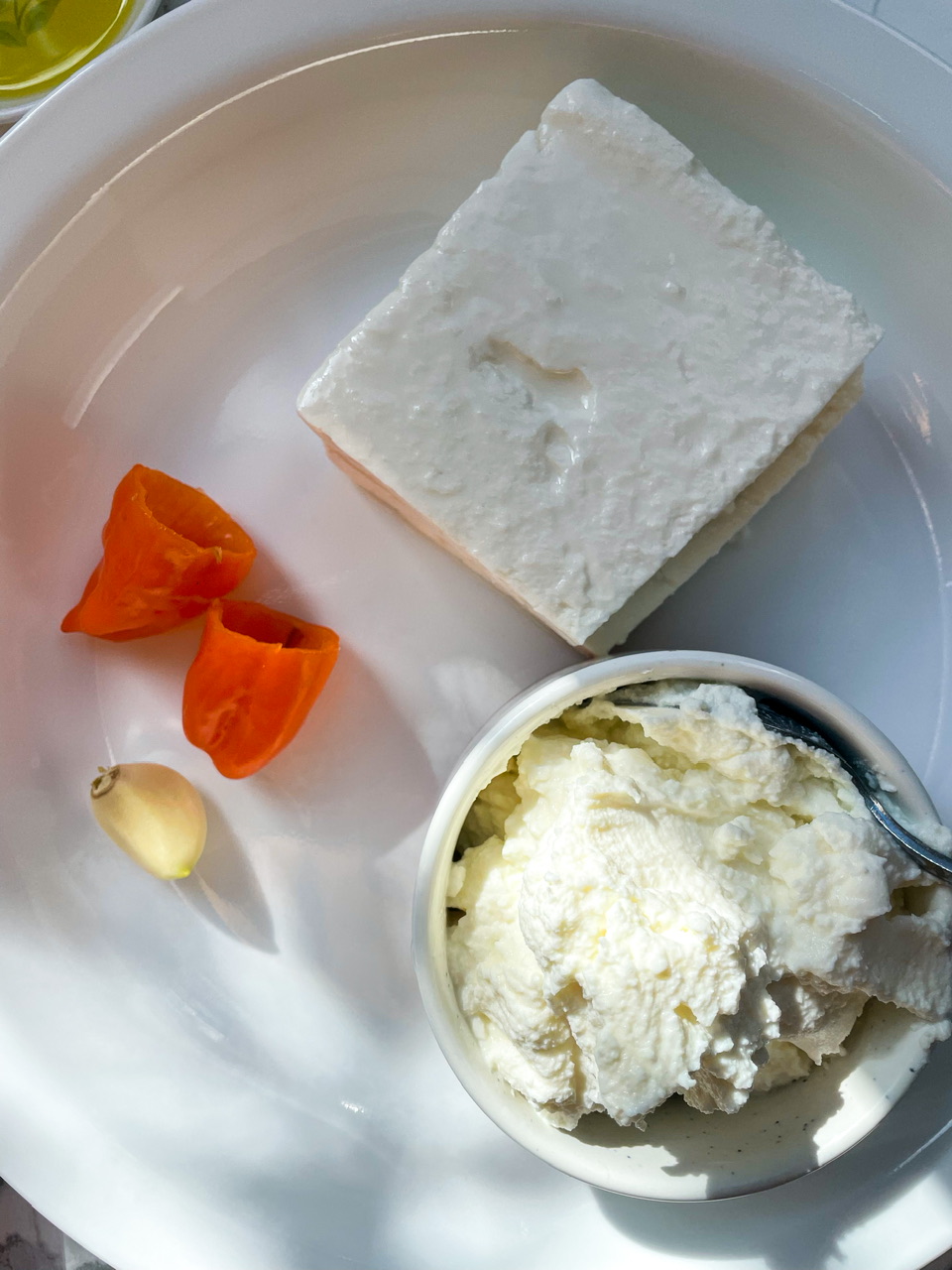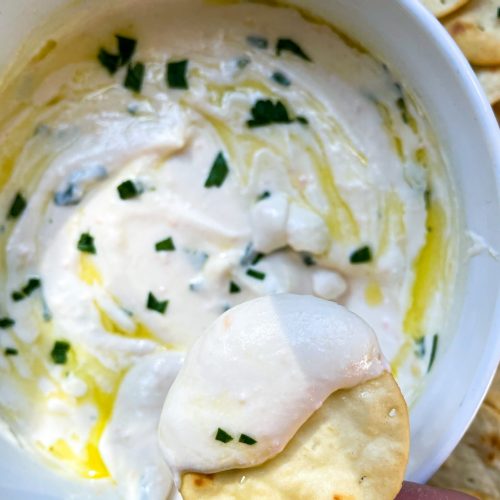 Tirokafteri (Spicy Feta Dip)
Ingredients
8

oz

Feta Cheese

in a block

2

Habanero Chili Peppers

5

oz

Ricotta Cheese

or Greek Yogurt

1

tbsp

Red Wine Vinegar

2

tbsp

Olive Oil

1

clove

Garlic

pinch of salt

optional
Instructions
Remove the seeds from habanero peppers, carefully. Keep in mind that these peppers are spicy, so do not rub your eyes after touching them.

Add all ingredients to a food processor and mix until completely creamy

Serve as a dip with some crackers, crusty bread, or vegetables