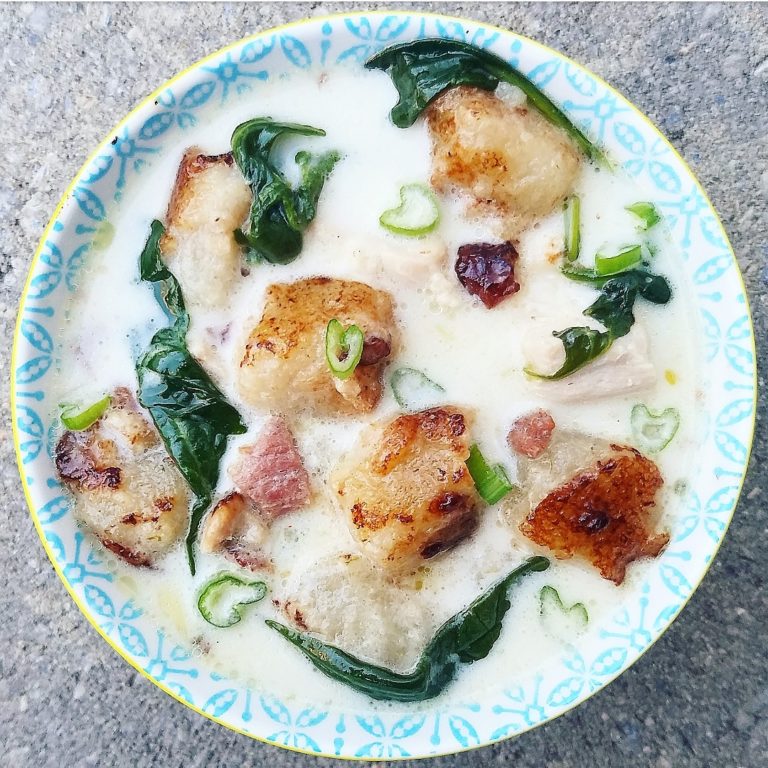 Creamy Chicken and Cauliflower Gnocchi
Creamy Chicken and Cauliflower Gnocchi Soup! I have seen so many people throw shade at this cauliflower gnocchi over the last few months.  But whhhyyy???!!  I heard that following the package cooking instructions can lead to a sticky mess, but there are many other ways to cook these that will produce delicious results. Many food bloggers unlocked the secret to transform these frozen grain free gnocchi into amazing little crispy pillows. This recipe cooks the gnocchi on the stove-top, but I heard the air fryer works well for these too. The rest of the soup cooks in the Instant Pot! Enjoy!
This recipe makes 6 Servings
Ingredients:
1 Bag Trader Joes Cauliflower Gnocchi
2 Tbsp Ghee
3 Green Onions, chopped
5 slices of bacon, diced
1/4 tsp Trader Joes Mushroom & Co Umami Seasoning
1/4 tsp Dried Rosemary
1/4 tsp Sea Salt
4 Cups of Chicken Stock
1 Tbsp Nutiva Garlic-Infused Coconut Oil (or 2 cloves of garlic, minced)
3 Chicken Breasts, chopped into bite sized pieces
2 Handfuls of Baby Spinach
1 Cup Coconut Cream or 3/4 Cup Heavy Cream
Directions:
1. Cook Cauliflower Gnocchi on the stove top with 1 tbsp ghee. Cook for 15 minutes on medium low heat, stirring occasionally, until gnocci has lightly browned. Do not use the instructions on the back of the bag.
2. While Gnocchi is cooking, press Saute function on Instant Pot and cook bacon until almost done.
3. Add onions, 1 tbsp ghee, and garlic oil(or minced garlic) and cook until onions start to turn translucent.
4. Add umami seasoning, rosemary, salt. Saute for 1 minute.
5. Add the chicken broth and chopped chicken.  Stir.
6. Press Cancel
7. Put the lid on the Instant Pot, Lock in Place, Set the Steam release to Sealing position.
8. Press Pressure cook (or Manual) and cook for 7 minutes at High Pressure.
9. When cooking is done, press cancel and then do a quick release to let the pressure out.
10. Take lid off, turn on Saute function and add Cream. Cook until you see bubbles. Stir
11. Add the Baby Spinach and cook for additional minute. Stir
12. Add Cauliflower Gnocchi
13. When everything is hot and incorporated, turn off machine and serve.
14. Eat!