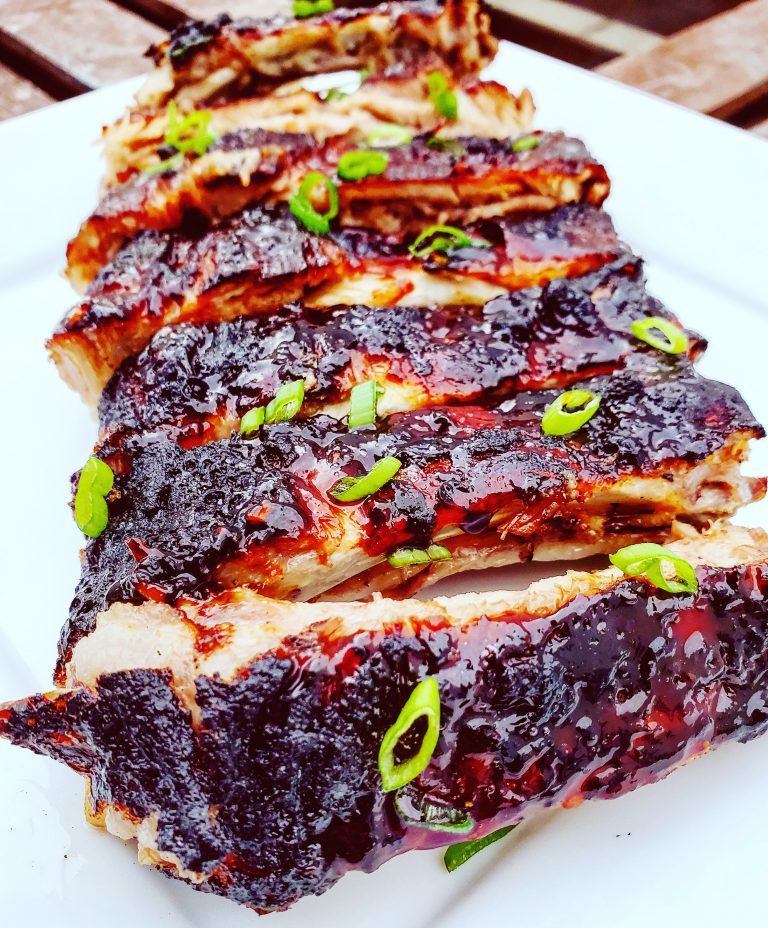 Less Sweet Sticky Spare Ribs
The weather in Philly this weekend was giving me all the BBQ feels. BBQ season is almost officially upon us, which means hotdogs, burgers, and ribssss!! I LOVE ribs, but I have never liked traditional rib sauces. These ribs are just like chinese spare ribs, but without tons of sugar  I experimented a few times to get the ratio just right.  I cook them in the instant pot for 25 minutes so that they become super tender, then I stick them under a broiler for exactly 7 minutes.
Instant Pot Ingredients:
1 rack of pork spare ribs
Water to cover
6-8 green onions, cut in 2 inch pieces
1/2 tsp salt
6 cloves garlic, smashed
1.5 tbsp apple cider vinegar
1/4 tsp black pepper
1 tbsp sliced fresh ginger
Sauce Ingredients:
1/4 cup tamari (OR 1/4 cup coconut aminos plus 1/4 tsp salt)
1 tsp Apple Cider Vinegar
*1.5 tbsp maple syrup* (1.5 tbsp Unsweetened Apple Sauce for Whole 30)
1/4 tsp sriracha (1/2 tsp Franks Red Hot for Whole 30)
1/4 tsp minced ginger
1/2 tbsp arrowroot powder
Add all of the instant pot ingredients to the instant pot. Put in enough water to cover the ribs, but do not exceed the "max fill line". Cook on high pressure 25 minutes.
While the ribs are cooking, make the sauce.
Add all ingredients except for the arrowroot powder to a pan. Cook on low until bubbly. Slowly add in arrowroot powder and stir.
Once the ribs are done cooking turn off machine and unplug. Do a quick release. Use tongs to remove the rack of ribs and place them, meat side up, on a baking sheet lined with aluminum foil. Add sauce to the top of the ribs, put under broiler for 7 minutes. Let sit for a few minutes and cut, or use kitchen shears.
*Note: I haven't tried monk fruit sweetener, but I imagine it would substitute well for this. If you try this, please let me know. *