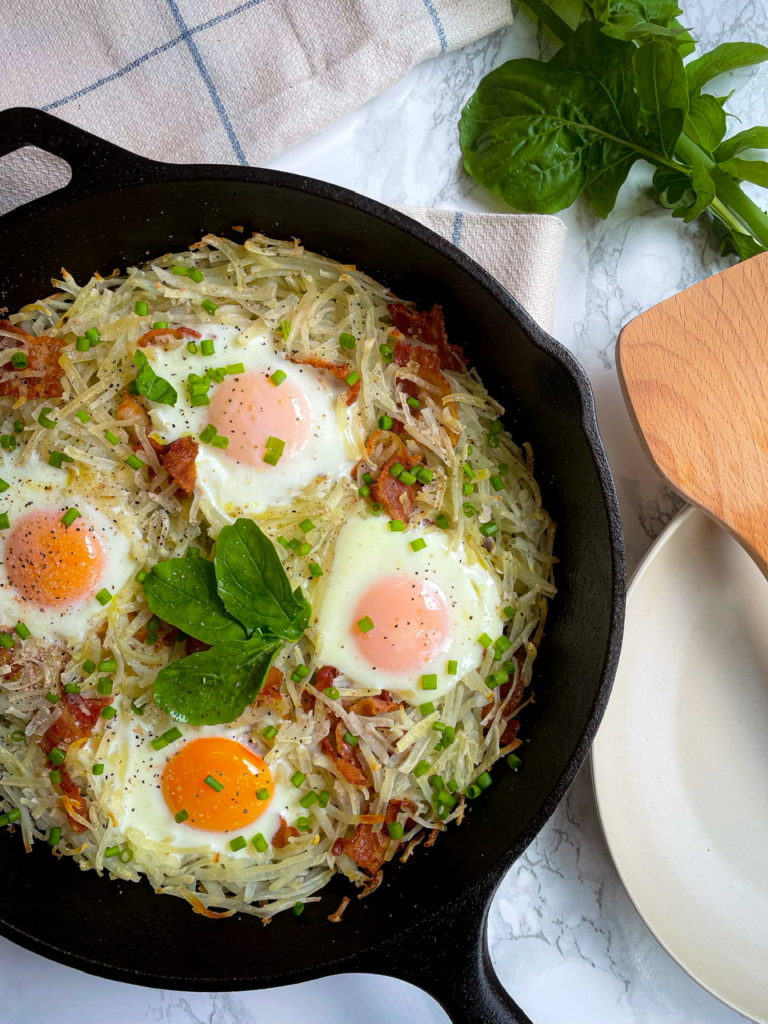 Hashbrown Nests
I take breakfast very seriously. Well, really, I take all food very seriously but there is something extra special when life allows me the time to make a big breakfast. These Hashbrown Nests have all my favorite things! Bacon, Greens, Potatoes, and Eggs! I used one pan *a castiron pan* for the whole meal. First I lightly cook the bacon, then I blend it with the shredded potato, then I add some eggs, and finish with a pop of green that I love. This is the type of breakfast that fills you for hours and carries you through the day! I hope you enjoy it!
Ingredients for Hashbrown Nests
Shredded Potatoes
Bacon
Eggs
Greens
Herbs
Olive Oil
Salt and Pepper
What is a Hashbrown Nest?
A hash brown nest looks like a bird's nest but it is made out of shredded potato and then an egg is baked into it. This breakfast can be customized to not include any bacon, but then you will have to add additional butter or oil in it's place.
If you like this recipe, you should also try:
Ham, Egg, and Cheese Stuffed Biscuits
Everything Bagel Sausage Strata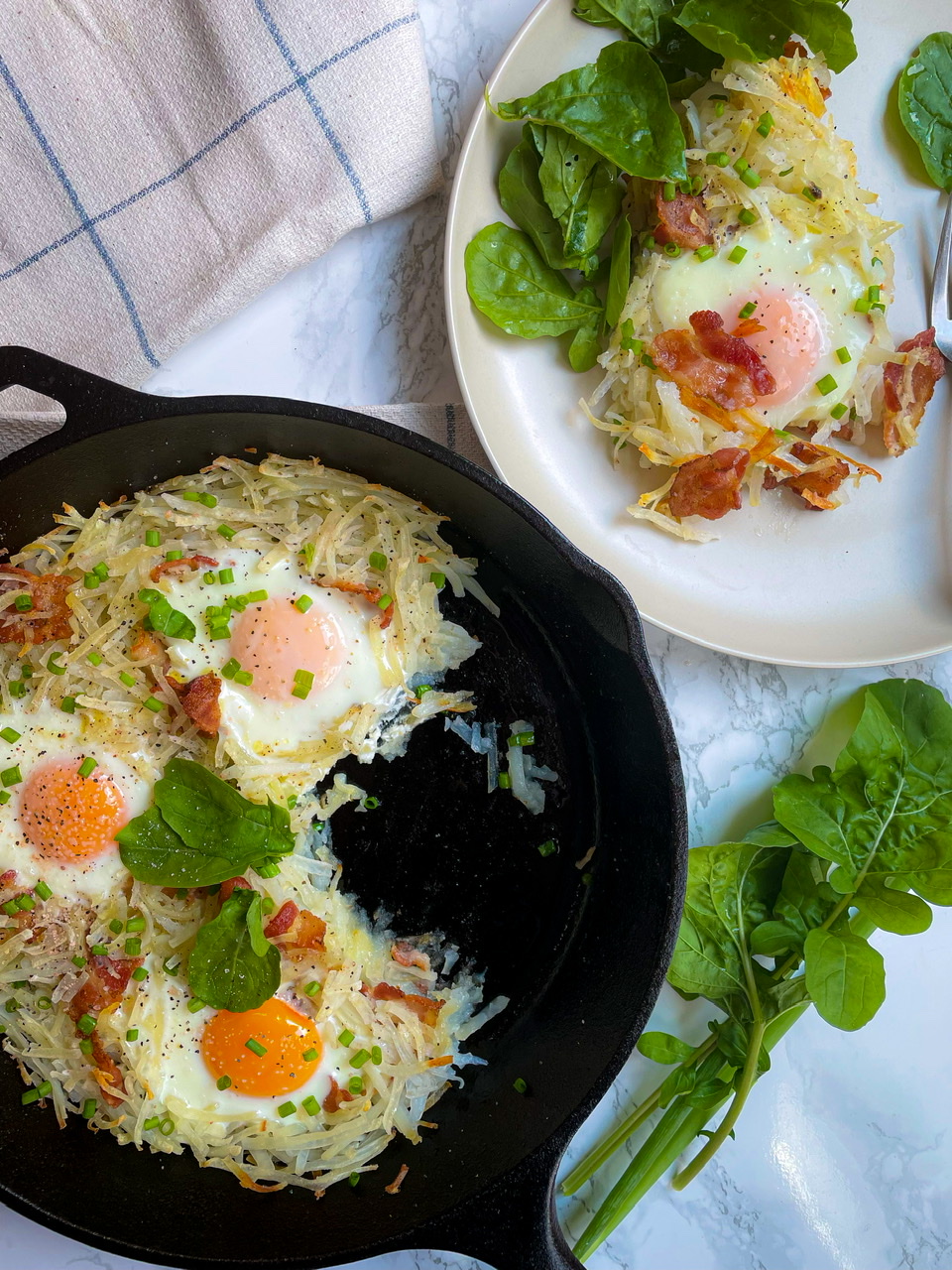 Hashbrown Nests
Eggs Cooked into Crispy Hashbrowns with bacon, green onions, and fresh arugula
Course
Breakfast, dinner, lunch
Ingredients
5

Slices

Thick Cut Bacon

15

oz

Frozen Shredded Hash browns

4

Eggs

2

Green Onions or Chives

Fresh Greens

I used Arugula, but you can use Spinach, Kale, etc

2

tbsp

Olive Oil
Instructions
Cut 5 Slices of Bacon into 2 inch pieces and then cook them in a cast iron pan on medium heat

Cook until only slightly brown since they will continue to cook with the potatoes and then the eggs. Turn off the stove heat.

The bacon should produce a good amount of oil. Keep this oil in the pan and you will use it to cook your hash browns.

Add frozen hashbrowns to the pan, and mix them around with the bacon pieces and the bacon grease. Make sure to partially cover all of the bacon. It is ok if some is poking out on top.

Create four holes in the hashbrowns that you will add an egg later on. Season the potatoes with a little salt, some black pepper, and then put the Potatoes and Bacon in the oven for 28-30 minutes.

Remove the pan from the oven, add a little olive oil to the bottom of each hole before you crack an egg into it. Crack 4 eggs into the holes, and drizzle about 1.5tbsp of oil over the potatoes.

Put the pan back in the oven for another 10 – 12 minutes or until the white are set. I took mine out of the oven at 10 minutes and only 3 of the 4 eggs had whites that were set. 1 egg white was still a little jiggly but the eggs will continue to set after you take the pan out of the oven, so i decided to keep the pan out instead of risking over-cooking the 3 other eggs.

Top the eggs and potatoes with diced green onions or chives.

Serve on a plate with greens of your choice!
Keyword
eggs, gluten free, paleo