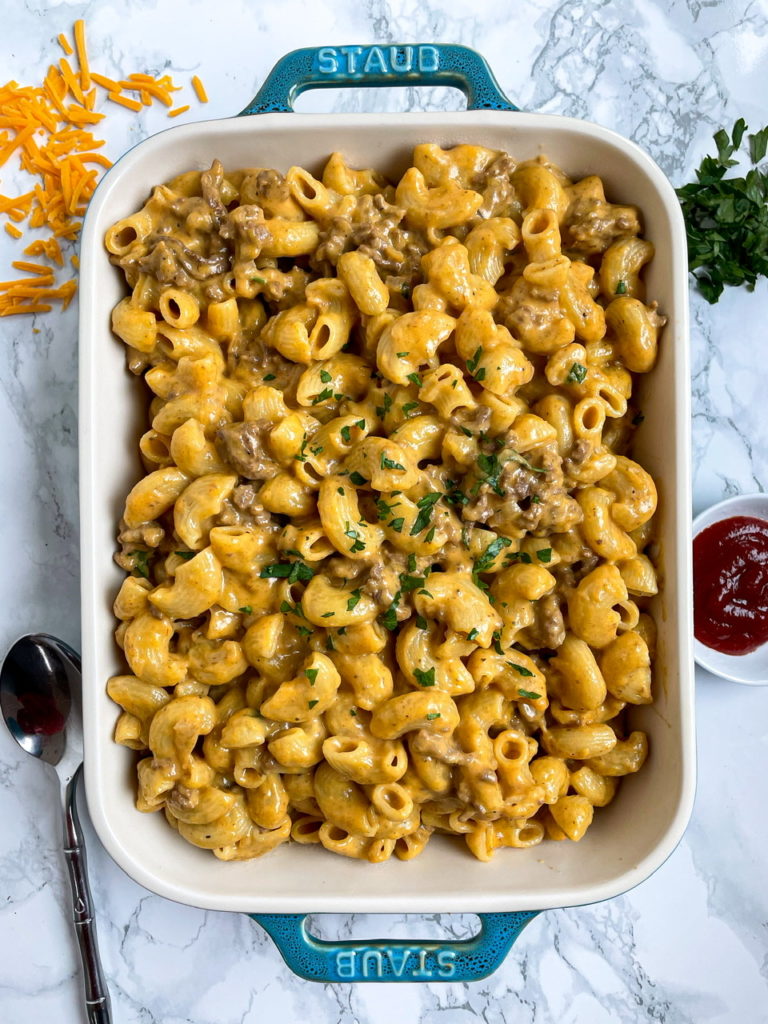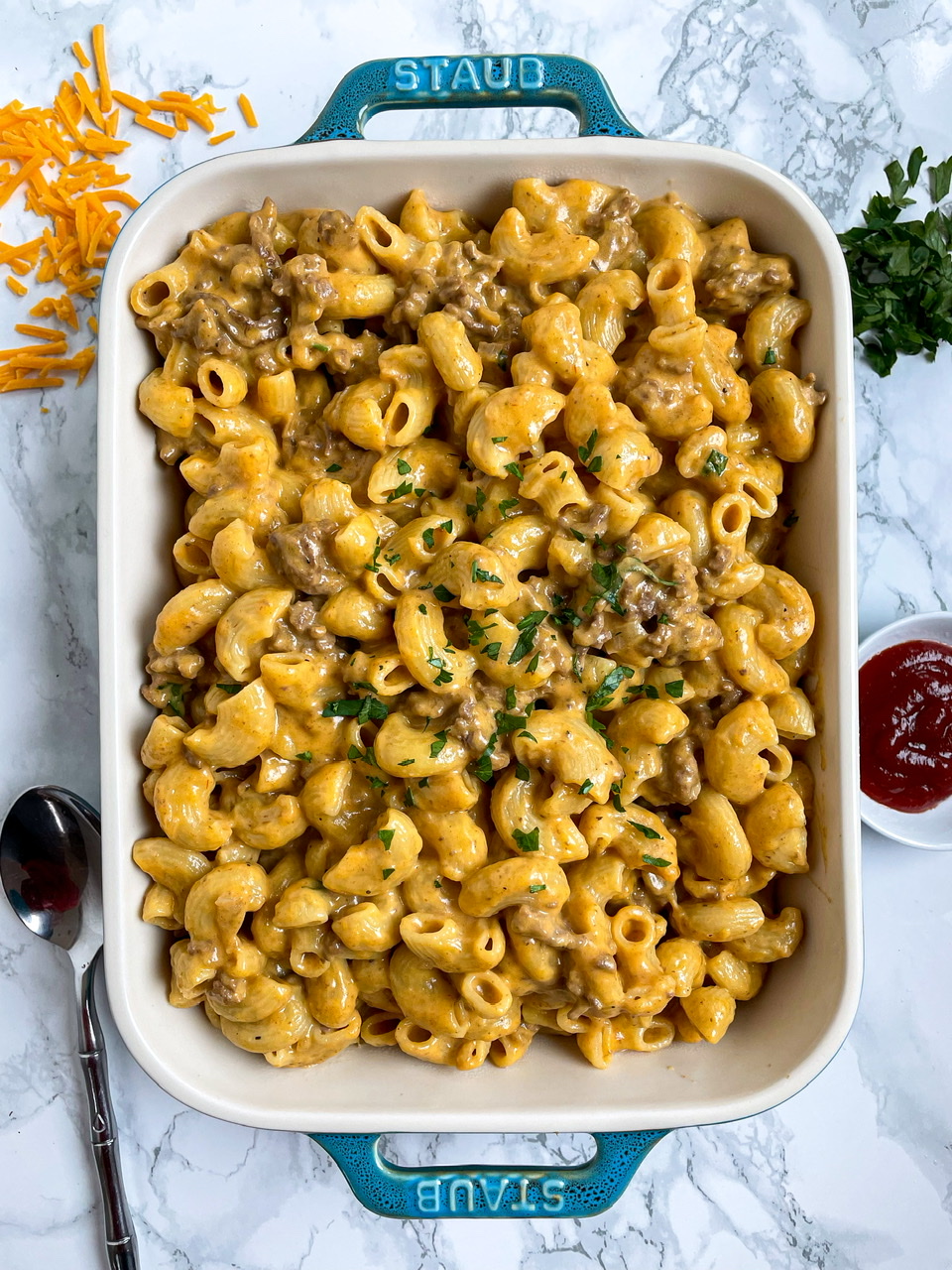 Healthier Homemade Hamburger Helper
Healthier Homemade Hamburger Helper is a delicious one pot meal that your entire family will love. I actually never ate hamburger helper as a child, but when I got to college I tried out all of those easy to prepare meals I saw on grocery shelves. It was probably right next to the boxed macaroni and cheese! I didn't enjoy cooking until I was a little older so anything quick and easy and/or microwaveable was the move for me! I thought it tasted ok, but I knew I could probably make better choices so I never bought it again.
Nowadays, I have been thinking back to the food I liked as a child, but trying to make it in a wholesome way for my family. I know my daughter likes pasta, ground beef, and cheese, so Hamburger Helper came to mind. My favorite type of macaroni pasta is the one they sell at Trader Joe's. They are bigger than the traditional macaroni pasta you can find, but I love the way it holds sauce in the sides. I did find out the hard way, though, that my daughter does not like how big this macaroni is. I had to cut each pasta for her. ;/ So, moral of the story, when making this dish, choose a pasta that you know your whole family likes.
How do I make Hamburger Helper?
The boxed hamburger helper from out past used to just be a pot of boiling water, pasta, milk, and sauce mix. The issue is that the sauce mix had more sodium than we should consume in a day, and it wasn't made with the most "sourced" ingredients. My version of this meal uses pasta, broth, onion, milk, water, spices, cheese, organic ketchup, and then either a bit of greek yogurt or sour cream for creaminess.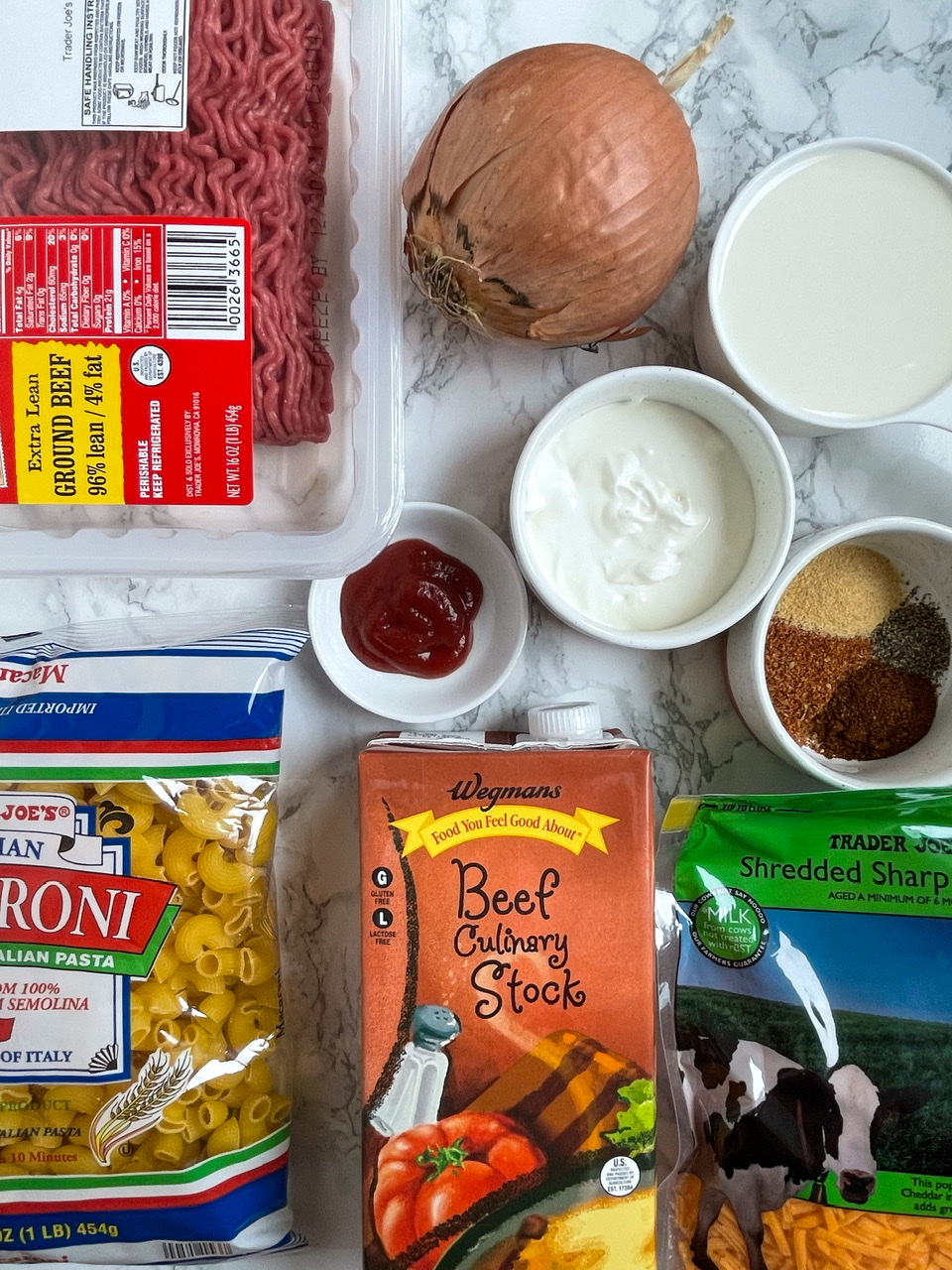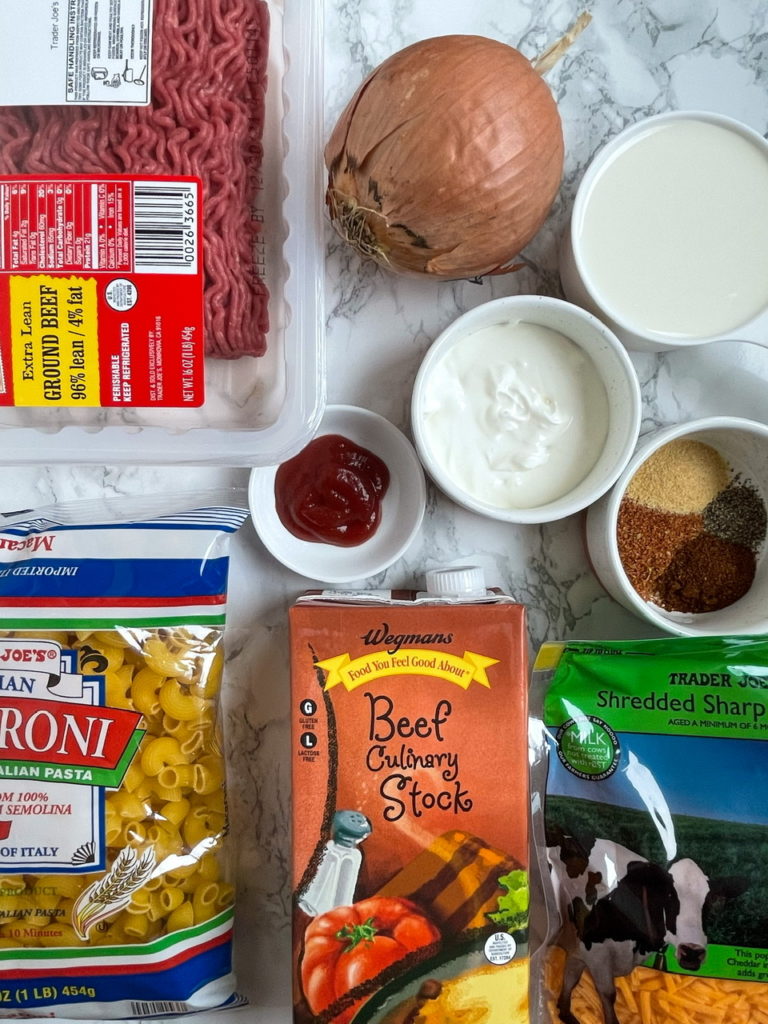 What type of pasta do I use to make Healthier Homemade Hamburger Helper?
You can use whatever type of pasta your family likes, but I prefer traditional macaroni shaped pasta. Just note that your cook time will vary depending on the shape of your pasta and you also may need to add more liquid. It is ok though, in the end, it will taste amazing!
If you like this recipe, you may also like:
Healthier Homemade Hamburger Helper
Healthier Homemade Hamburger Helper is the perfect easy one pot meal for your family!
Ingredients
1.5

tbsp

Olive Oil

or butter

1

lb

Lean Ground Beef

I used 96/4 ground beef and trust me, you cannot tell it is lean in this dish.

1

Yellow Onion

diced

2

cloves

garlic

minced

1/2

tsp

Sea Salt

1.5

cups

Beef Broth

low sodium

2

cups

Milk

I used whole milk, because that is what our daughter drinks

3/4

cup

Sour Cream or Plain Greek Yogurt

2

TBSP

Ketchup

I buy the organic one from Trader Joe's

16

oz

Pasta

12

oz

Shredded Mexican Blend Cheese

or Cheddar

a few dashes of sriracha

water

quanity will depend on what type of pasta you use

Diced Green Onions or Chives for Topping

completely optional 🙂
Spices
1/4

tsp

Black Pepper

1

TBSP

Garlic Powder

1

tsp

Chili Powder

1

tsp

Cumin

1

tsp

Paprika

1/2

tsp

Oregano

1/2

tsp

Lawrys Seasoned Salt

if using plain salt, only add 1/4 tsp and taste once it is cooked
Instructions
Heat a large pot on medium heat and add your oil

Once the pot is hot, add the onion and salt and cook until soft and translucent

Add ground Beef and Spices and cook until done.

Add your broth, ketchup, sriracha, and 1.5 cups of milk. Mix and bring to a boil.

Add your pasta, and enough water to ALMOST fully cover the pasta. Normally, I would say to cover your pasta completely, but that will make this dish more watery than you would like. Continue to stir the pasta while making sure the pasta on the top gets mixed to the bottom and the pasta on the bottom gets mixed to the top so they all get enough water. You may need to add a little bit of water later on if the water starts to evaporate too much.

Once pasta is fully cooked, turn off the heat, and add the cheese, rest of the milk, and your choice of sour cream or plain greek yogurt. Mix and serve! You can add a bit more milk to achieve your desired level of creaminess.
Notes
I tried this recipe with chickpea pasta and I needed to use more water during the cooking process. I added an extra cup of water anytime I noticed that the water was getting low. Once the noodles were aldente, I mixed in the cheese and a little sour cream, yogurt, or ricotta. 
Keyword
cheese, meat, pasta