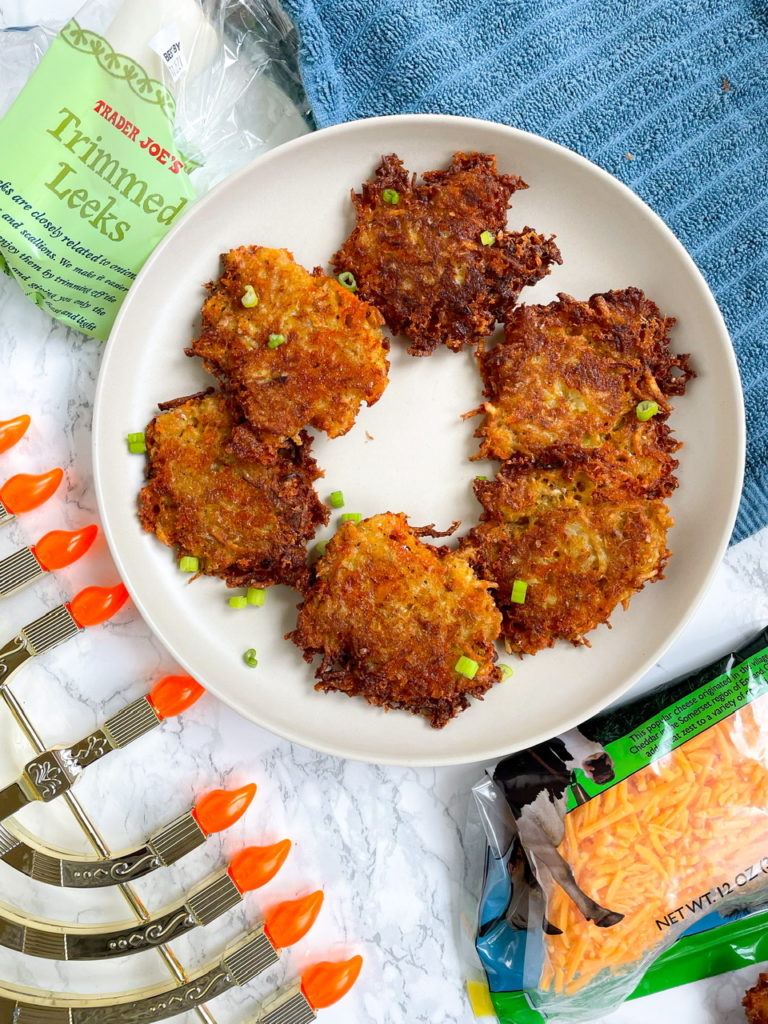 Cheddar Leek Potato Latkes
Tonight is the first night of Hanukkah and I am going to be filling your feed with latkes all week! I made one new latke recipe this year, Cheddar Leek Potato Latkes, and the rest will be my favorite latke creations from the past!
Why are Potato Latkes eaten during Hanukkah?
Potato Latkes are traditionally eaten for Hanukkah to remind us of the miracle of oil. The reason Hanukkah is 8 days long is because once upon a time, there was only enough oil to light a menorah for one night, but miraculously it kept the menorah lit for 8 days. Potato Latkes are fried in oil to remind us about how magical oil can be.
Are Potato Latkes easy to make?
Potato Latkes are usually made in bulk because it is one of those treats that take a lot of work, but modern day food processors have made them quite easy to make.
When I share my family recipes, they are usually from my mom's side of the family, which is Puerto Rican. My dad's side of the family is Eastern European – a mix of Russian and a few neighboring countries. My dad's mom (my Mema) was a fantastic cook and she used to make potato latkes every year for Hanukkah. She gave my mom the recipe for her Latkes, and my mom has carried on her legacy. I love honoring my Mema and continuing on the Jewish tradition of making Latkes for Hanukkah.
Potato Latkes are traditionally eaten with either apple sauce or sour cream. I prefer sour cream but honestly both are delicious.
Pro Tip – I prefer to use Yukon Gold Potatoes because they have a tender yellow skin. I do not peel them. If you use Russet Potatoes you will need to peel your latkes. Not having to peel the potatoes saves a lot of time.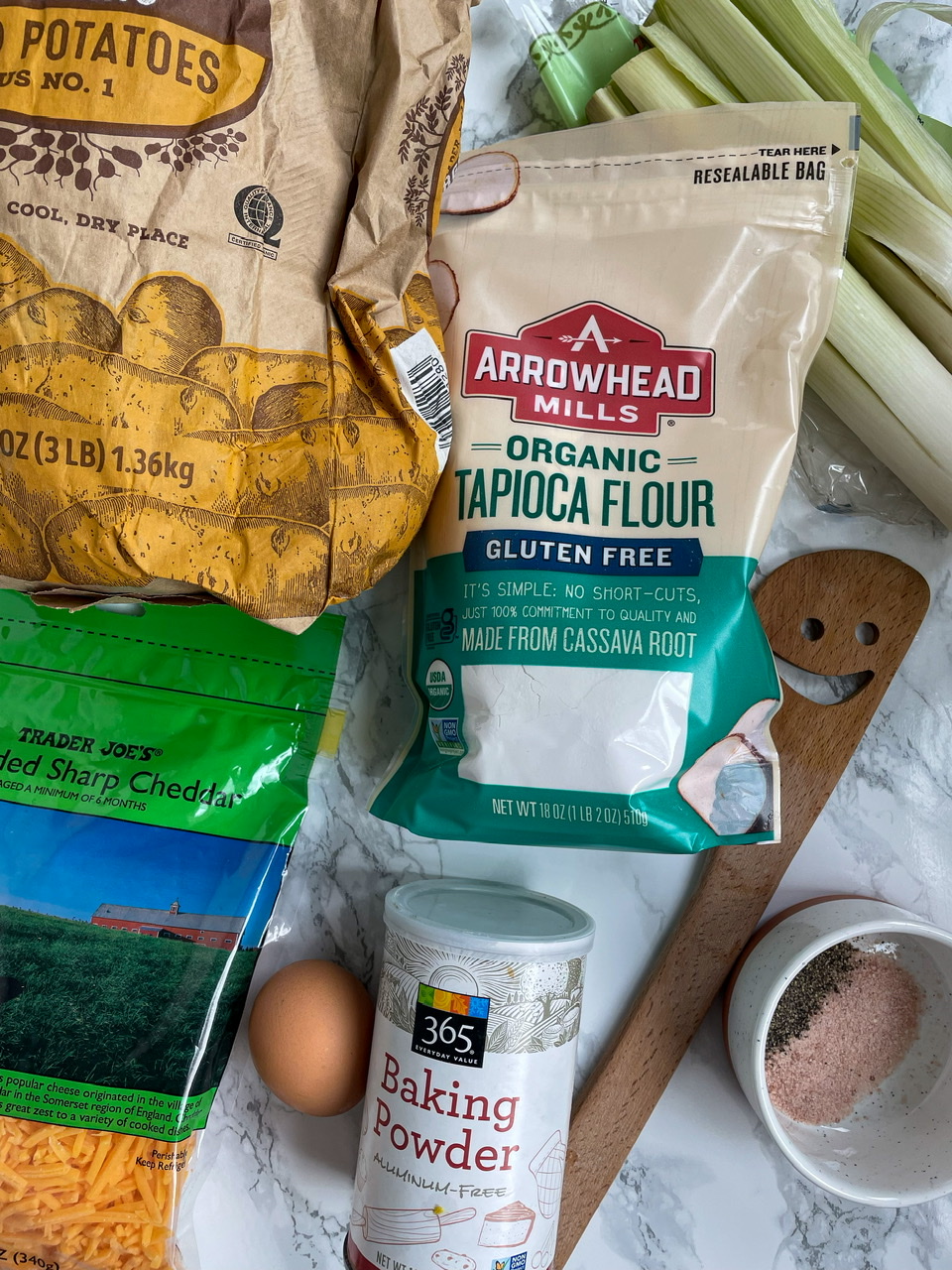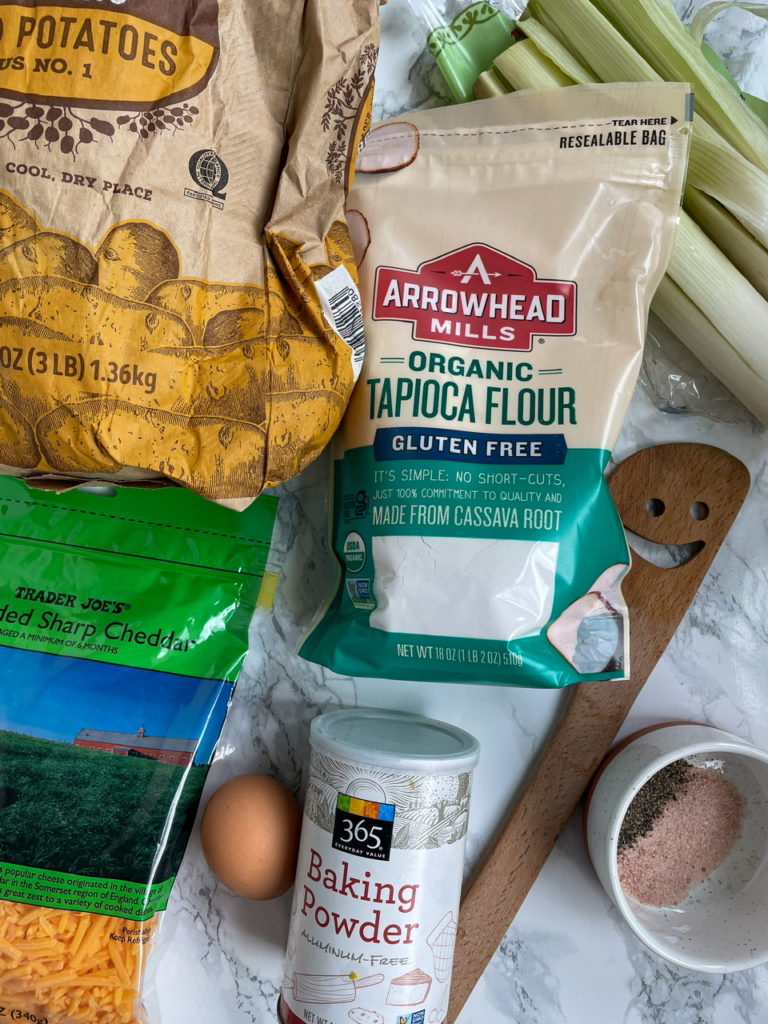 Ingredients for Cheddar Leek Potato Latkes

Yukon Gold potatoes, peeled
Leeks
shallot, peeled, and cut in half (optional)
egg
1tapioca flour
baking powder
Shredded Cheddar Cheese
salt
black pepper

Makes about 25 small latkes, or 15 larger latkes
Check out my other Potato Latke Recipes:
Brussels Sprout and Bacon Latkes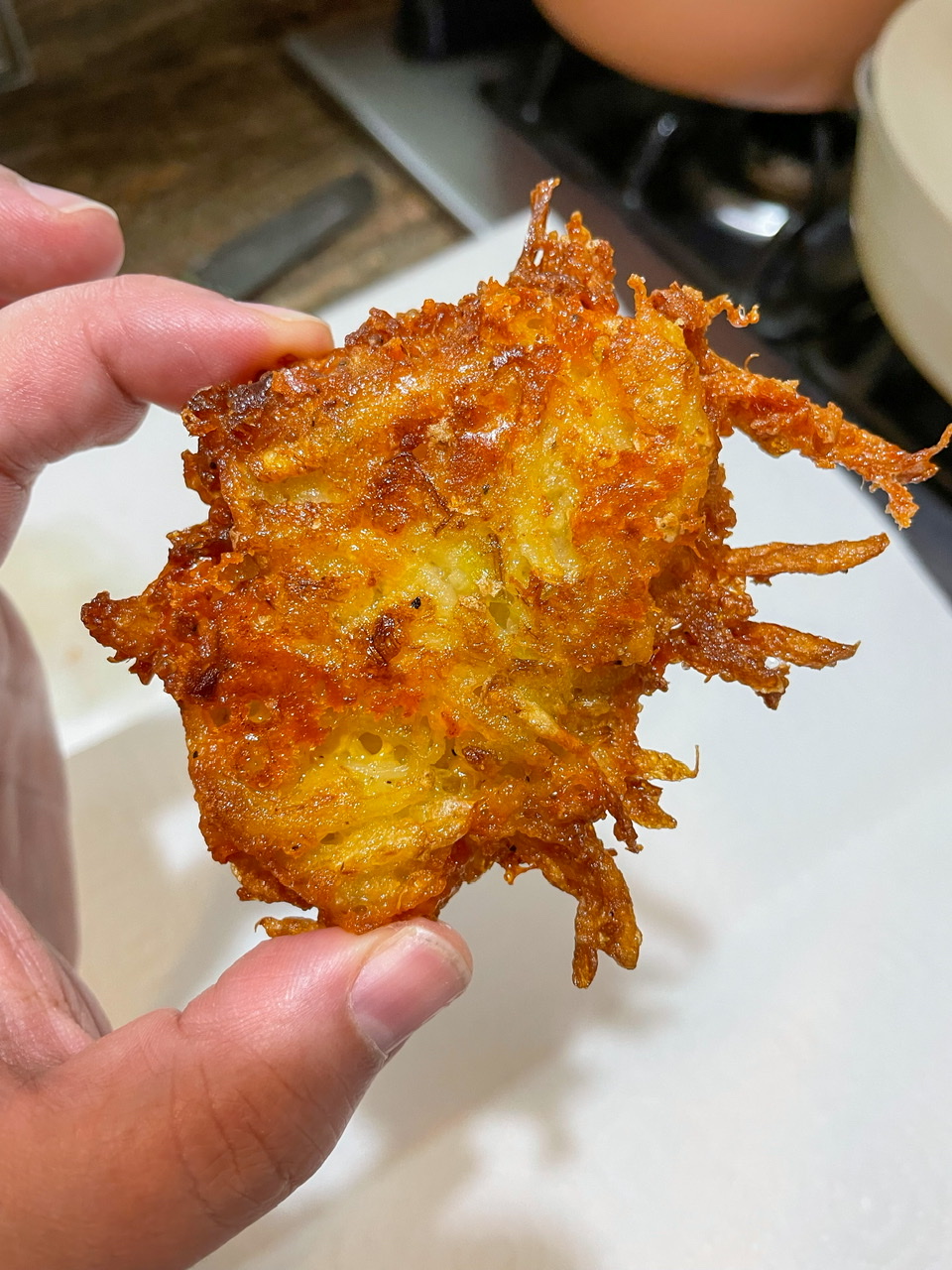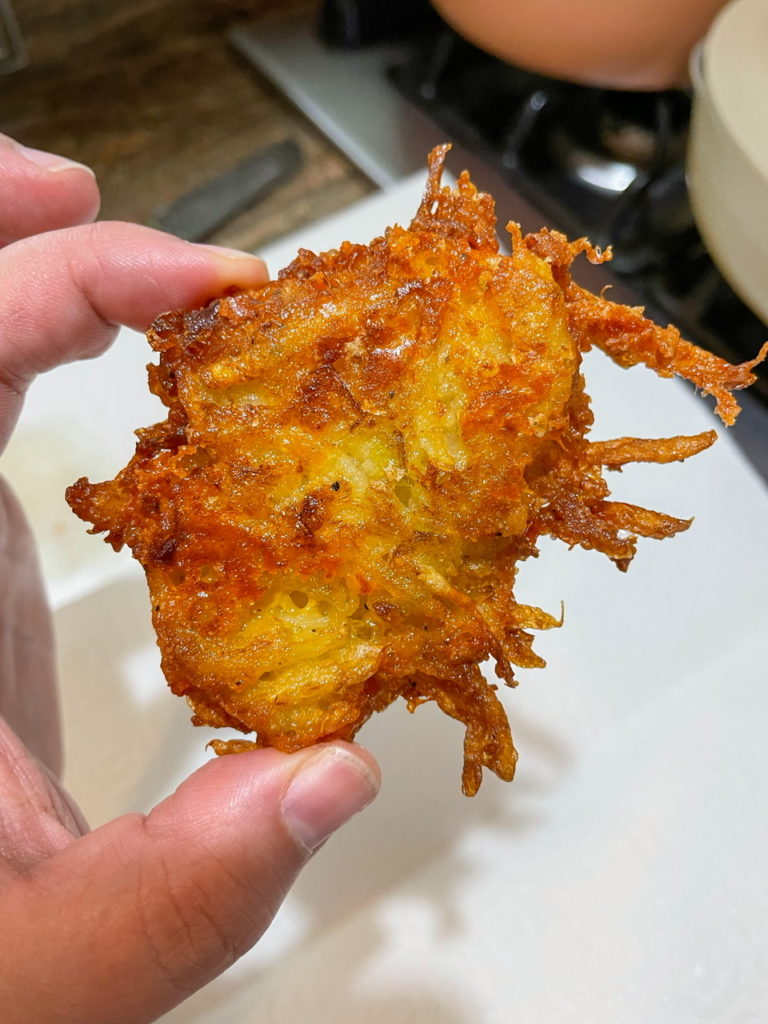 Cheddar Leek Potato Latkes
Ingredients
6

Yukon Gold Potatoes

Chopped into pieces small enough to go into the food processor with the shredding disc. You can also manually shred these with a box grater.`

2

Leeks

Washed and Diced

1

Shallot

optional

1

Egg

1/2

Cup

Tapioca Flour

or regular flour

1

tsp

Baking Powder

2

Cups

Shredded Cheddar Cheese

1

tsp

Salt

1/2

tsp

Black Pepper
Instructions
Grate the potatoes using the grating disc of your food processor or by using a box grater.

Take half of the grated potatoes and add them back to a food processor and pulse a few times until they start to resemble mashed potatoes. You want half to be grated and half to be a mashed consistency. This will ensure creamy, but crunchy latkes.

Drain all water from the potatoes by using a nut milk bag or cheese cloth. (This step is very important. If you don't remove all of the water, the latkes will take a long time to crisp up and they will possibly burn before that happens) I use the nut milk bag from www.elliesbest.com. You can use the code "spinachandbacon" to receive 10% off your purchase.

Once all the water is removed, add the potatoes to a large bowl.

Throw the leeks and shallot into the food processor and pulse until it starts to look like a paste.

Using the nut milk bag squeeze out the moisture from the leeks and shallots

Add leek mixture to potatoes

In a small bowl, beat the egg with the salt and pepper.

Pour egg mixture over potatoes and leeks, and mix well.

Add flour, baking powder, and cheddar cheese to the mixture and mix well.

Heat enough oil(avocado oil or oil of your choice) in a large skillet to cover the bottom of the pan. Use medium heat.

Once oil is hot, drop spoonfuls of the potato mixture into the oil. I use a heaping tablespoon and then I use the back of the spoon to flatten the latke once it is in the oil. Do not move the latke for about 3 minutes. Once one side is golden brown, flip it over and brown the other side.

As the latkes are cooking, transfer them to a paper towel lined baking sheet to absorb excess oil.