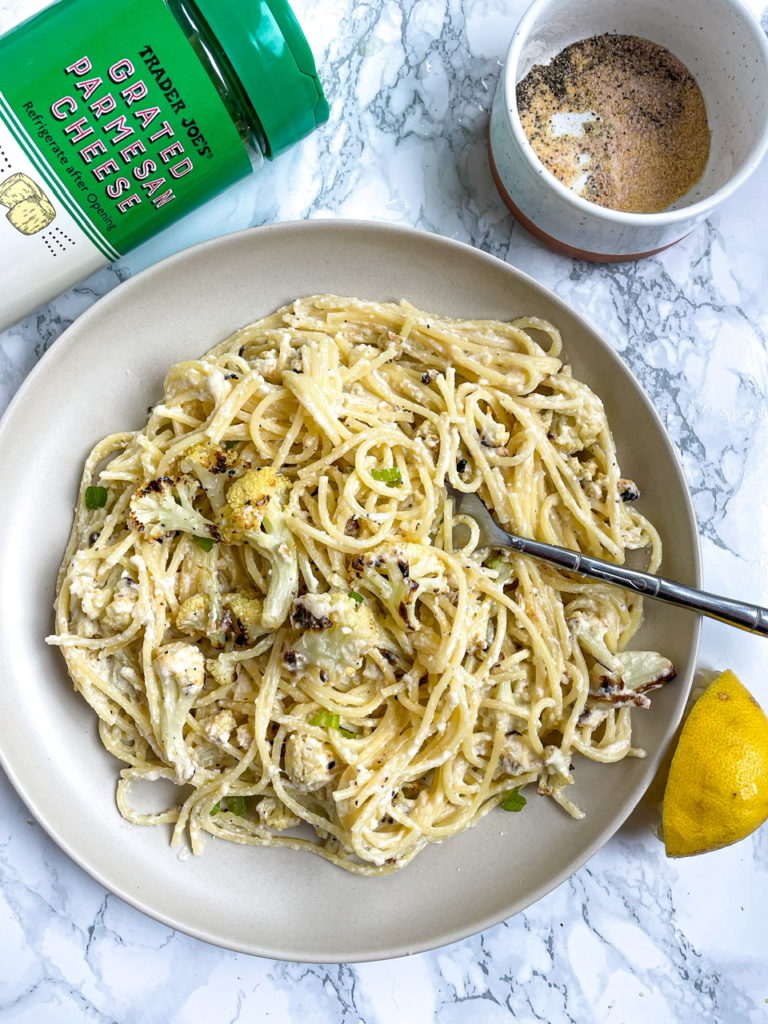 Pasta with Roasted Cauliflower
This pasta with roasted cauliflower is the fanciest pasta dish I ever made for myself but it is surprisingly low key at the same time. I was trying to think up some winter recipes to test, and so I thought about what type of food is in season. A lot of root veggie soups come to mind, but also the flavors of citrus and cooler weather crops like cauliflower. I have been loving lemon on pasta lately, and I love the nuttiness of roasted cauliflower is so delicious. I've also made this dish with some toasted pine nuts on top on days when I have a bit more time. It all goes together so great!
Why did I make this dish?
Truthfully, I have never been a big pasta eater, but my daughter and wife love it. Noodles, especially spaghetti are easy for my daughter to eat and she loves the tastes of lemon and parmesan. As for the cauliflower, sometimes she eats it and sometimes she doesn't, but I always serve it to her. My wife was ecstatic to hear that we were eating pasta that night. Pasta is her comfort food. She grew up eating butter and noodles, and this dish is not very far off from that.
How do you roast Cauliflower?
I like to break up my cauliflower florets into bite size pieces, toss with a little olive oil, add some spices. I usually choose salt, pepper, and garlic powder. Then I put it on a baking sheet with parchment paper and into a preheated oven at 400F for 25 mins or until each piece has a nice char on it. The roasting gives cauliflower the most delicious nutty flavor. It's honestly my favorite vegetable for the past decade.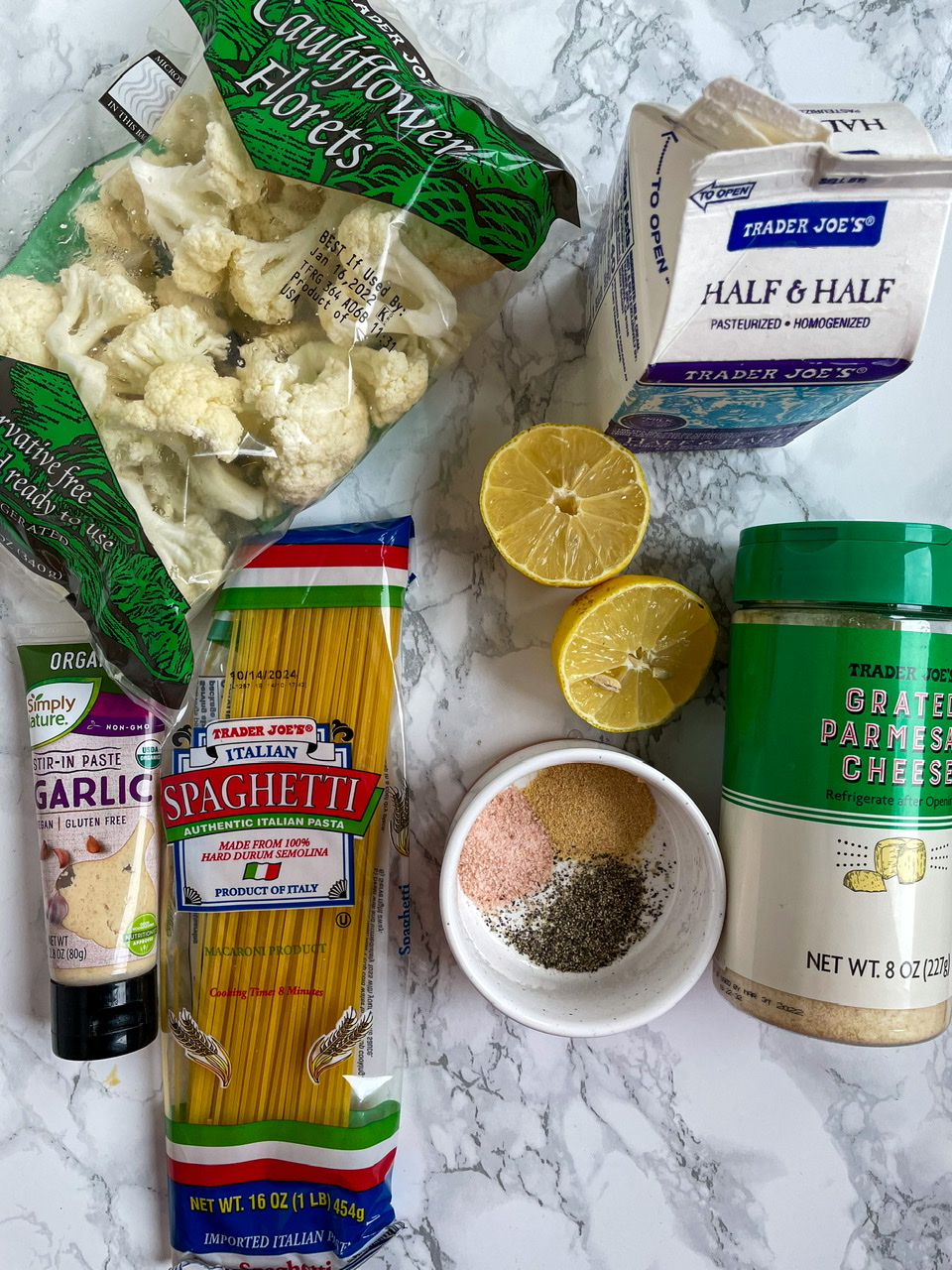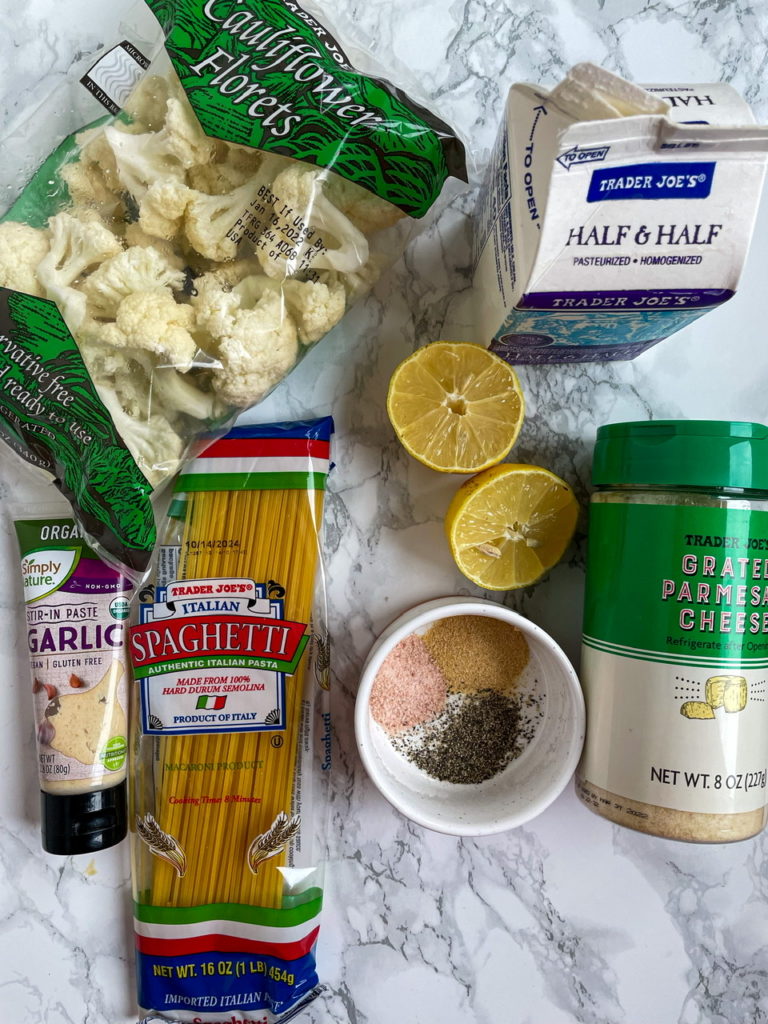 What ingredients do you need to make Pasta with Roasted Cauliflower?
Cauliflower Florets
Large Lemon
Spaghetti
Half and Half
Grated Parmesan
Flour (I used tapioca flour)
salt, pepper, and garlic powder
Pine Nuts (optional)
If you like this recipe, you may also like:
Pepperoni Pizza Cauliflower Bites
Vietnamese Meatballs with Cilantro Mint Cauliflower Rice
Pasta with Roasted Cauliflower
Pasta with Roasted Cauliflower is a delicous and creamy pasta dish with a lemony parmesan sauce and roasted cauliflower.
Course
dinner, lunch, pasta
Cuisine
American, Italian
Ingredients
12

oz

Cauliflower Florets

1

tbsp

Olive Oil

1/4

tsp

Sea Salt

1/2

tsp

Garlic Powder

A few

Pinches

Black Pepper

8

oz

Spaghetti

2

tsp

Minced Garlic

2

tbsp

butter

1

Large

Lemon

Juiced

1/4

cup

Water

or broth

1

cup

Half and Half

1/3

cup

Grated Parmesan

Or more!

3/4

tbsp

Flour

arrowroot or tapioca flour also work
Instructions
Place cauliflower florets on a parchment paper lined baking sheet, drizzle with oil, and add spices. Massage the oil and spices into the cauliflower and then bake for 20-25 minutes or until cauliflower has one side roasted dark

While the cauliflower is roasting, boil your pasta and start your sauce.

Once pasta is done boiling, drain it and set it aside.

To make the sauce, heat the butter on medium heat and add the minced garlic.

Once the butter and garlic start to sizzle, add the half and half. Bring to a low boil and add the flour. This step is really important. If you don't add flour, you run the risk of the half and half curdeling when you add your lemon juice. Mix well, and lower the heat to medium low.

Once sauce starts to thicken, add in the lemon juice, water, and parmesan cheese. Mix well. You will see that the sauce is a little thicker now.

Turn off the heat, add your pasta and roasted cauliflower and mix.
Keyword
cauliflower, lemon, pasta