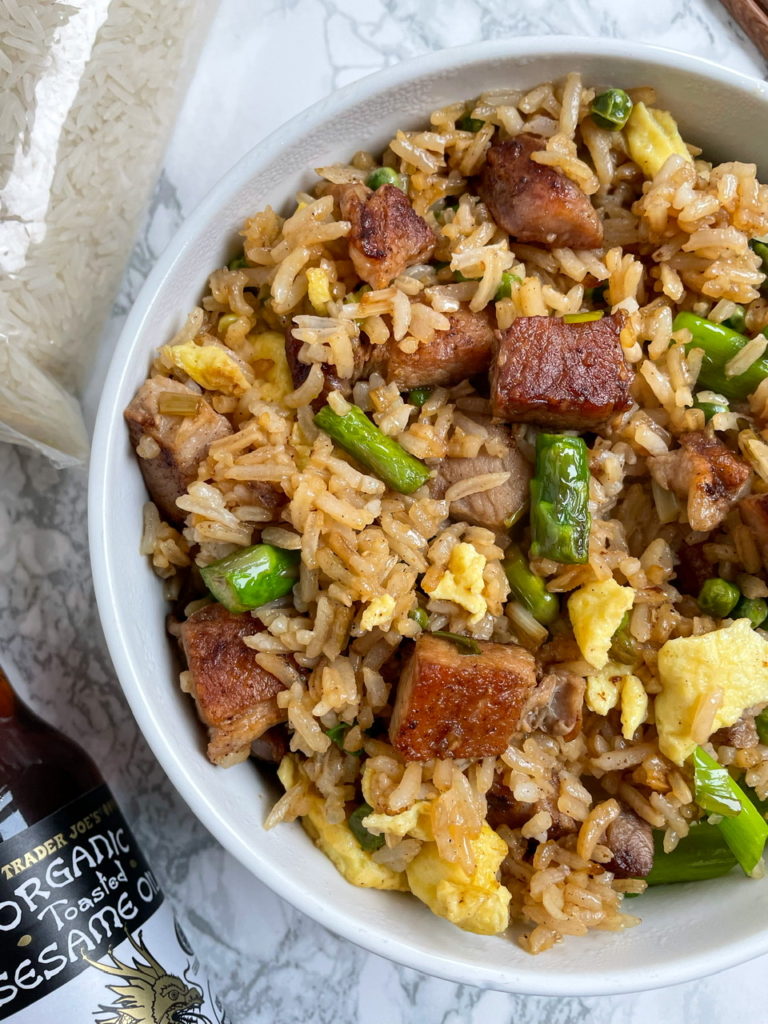 Pork Belly Fried Rice
Pork Belly Fried Rice is similar to regular pork fried rice but it has the special touch of being made with crispy pork belly and spring vegetables. I love eating seasonally. When vegetables are in season, they are frequently cheaper than they would be at different times of the year. Also, many grocery stores carry frozen asparagus and frozen peas, so this meal is very simple and affordable to make. I buy my pork belly already cooked at Trader Joe's, so I just crisp it up in a pan with some chinese five spice powder, and woah it creates such a special tasting dish.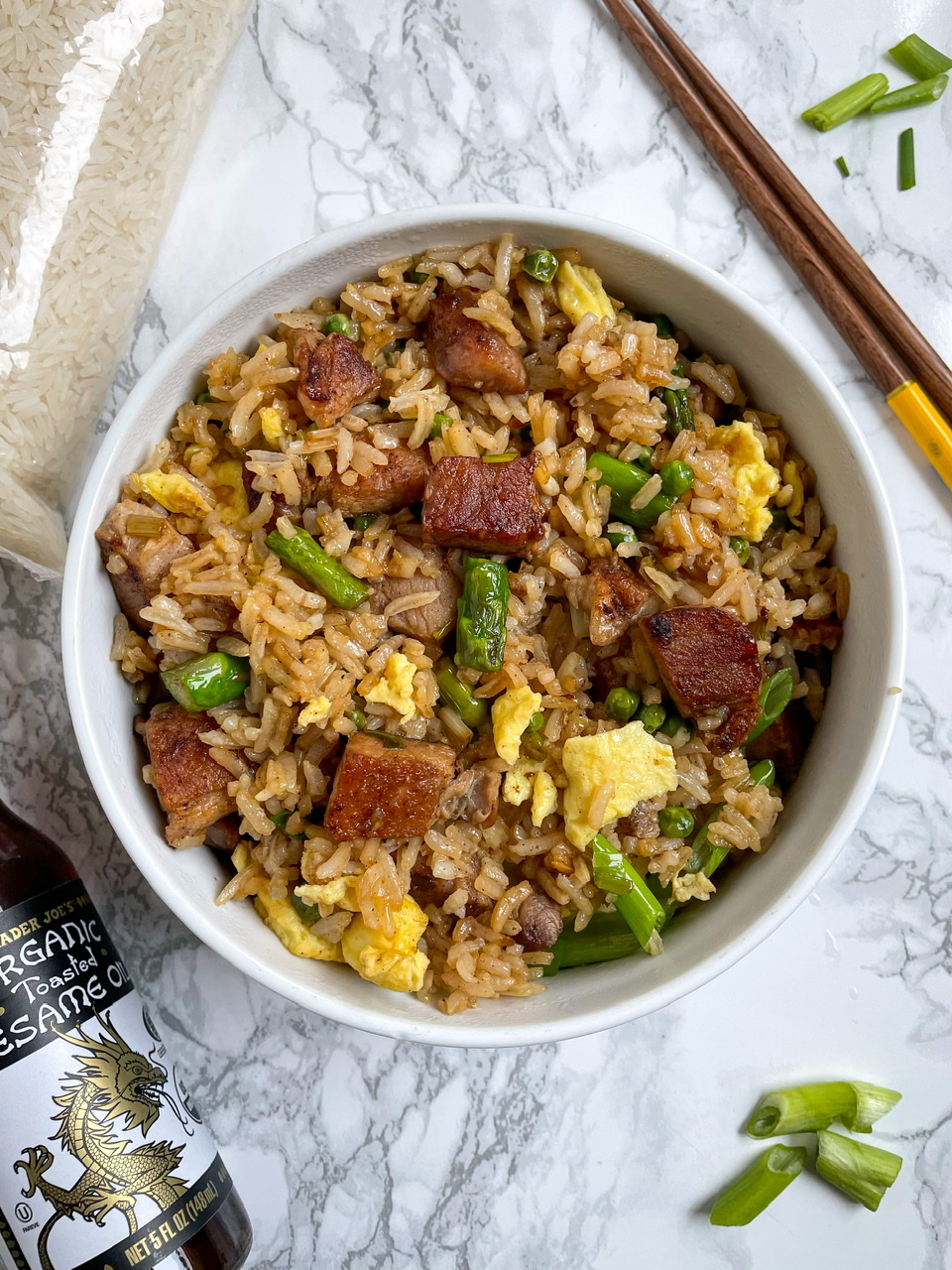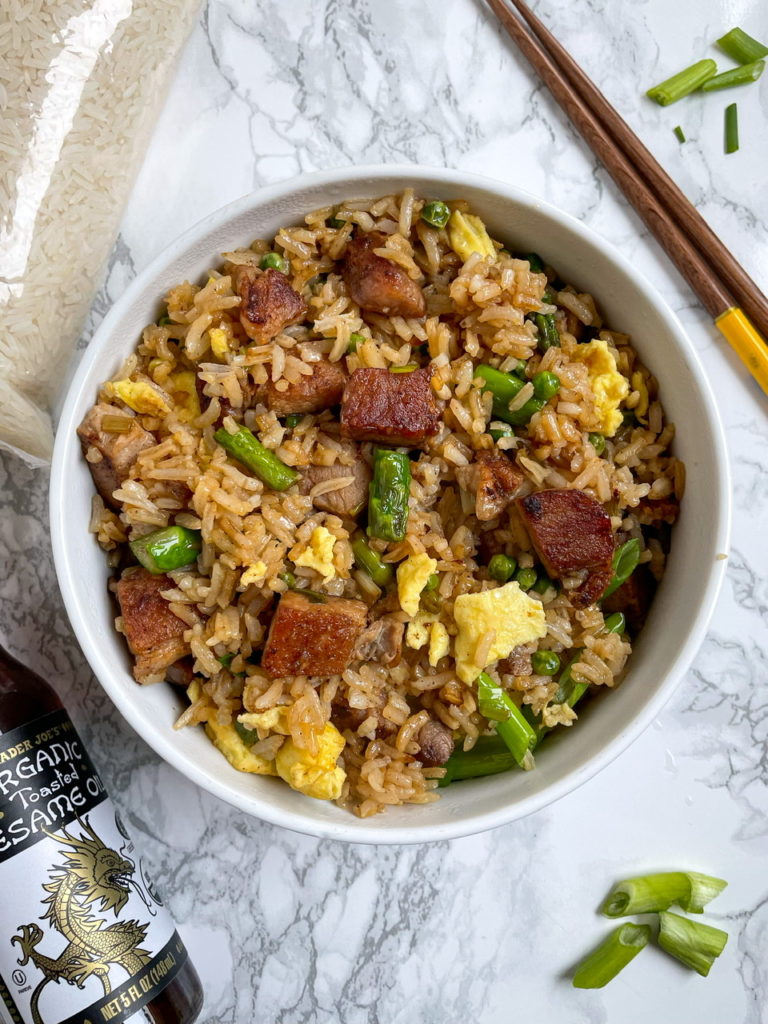 How do you make simple fried rice?
Good fried rice should be made with leftover rice. And if you don't need to cook the rice the day of, then this meal becomes super fast and easy. If you ever have leftover white rice from an Asian restaurant, this is the perfect meal to make. It requires the leftover rice, green onions, veggies, soy sauce, and sesame oil.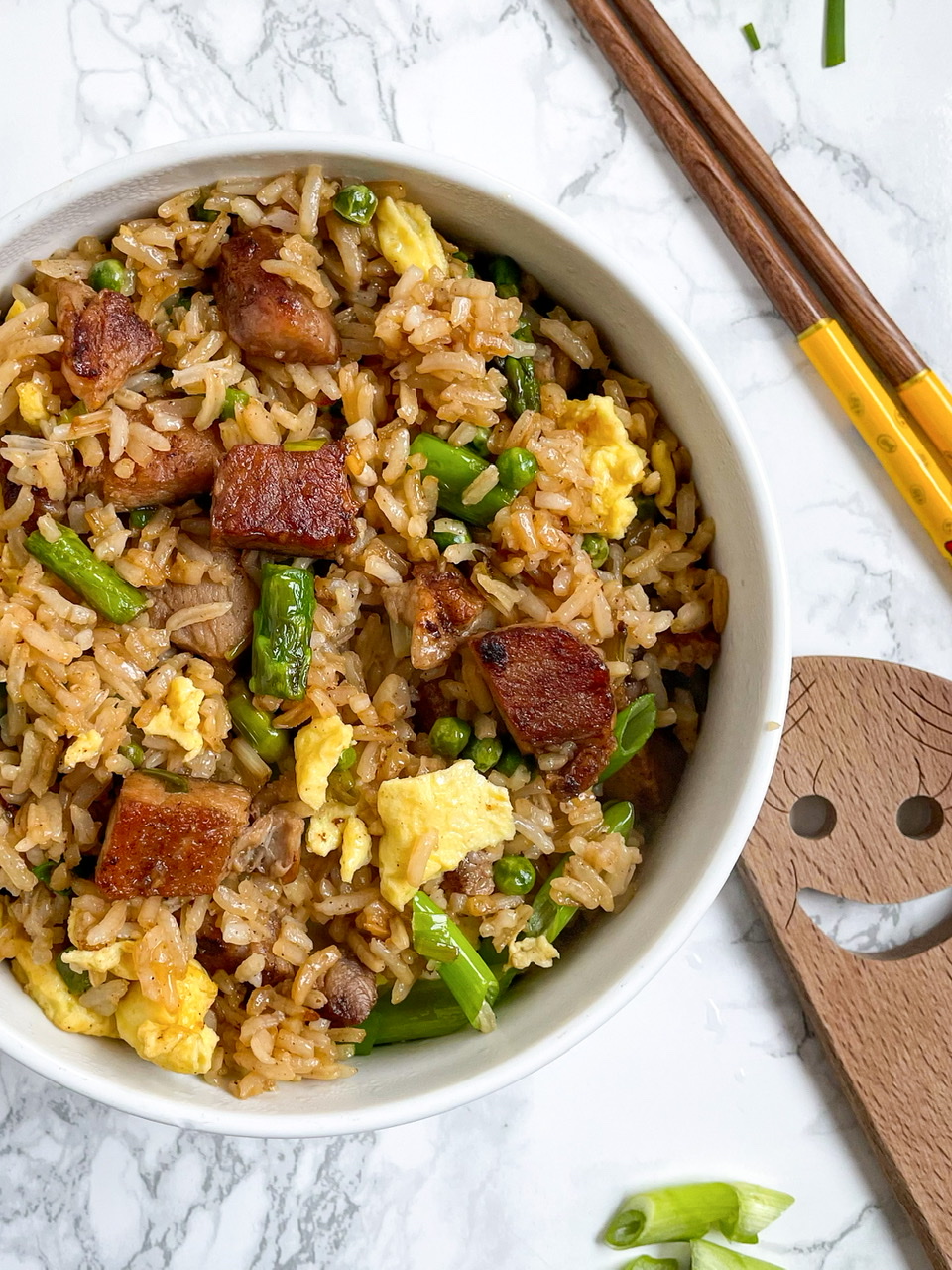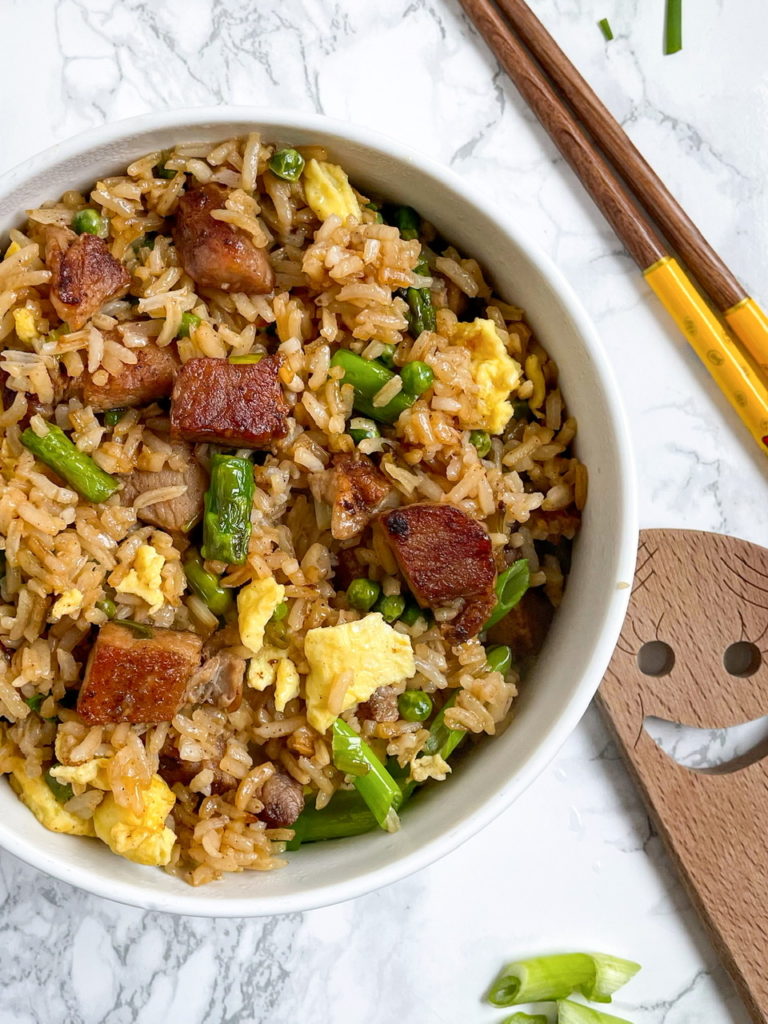 What rice is good for fried rice?
I like to use Jasmine rice, but any medium or long grain rice would work. Leftover rice is the best to use because there is less moisture and the rice is less sticky.
How long to Fry Pork Belly?
It does not take a long time to fry pork belly, especially when you cut it into cubes, or slice it thin, beforehand. I cut my pork belly into cubes for my Pork Belly Fried Rice Dish, and it takes about 12 minutes to get a nice crisp on all sides.
Ingredients you need to make Pork Belly Fried Rice:
rice, asparagus, green onions, green peas, eggs, pork belly, Chinese five spice powder, soy sauce, butter, and sesame oil. You can also substitute other types of onions or add in some garlic. Alternately, you can substitute prosciutto, pancetta or leftover pork for the pork belly or omit it completely to make this dish vegetarian. I use butter in this recipe because the flavor is incredible but you can use any high temperature cooking oil that you have. Also, if you like spice, you can try using a chili sesame oil in place of regular sesame oil.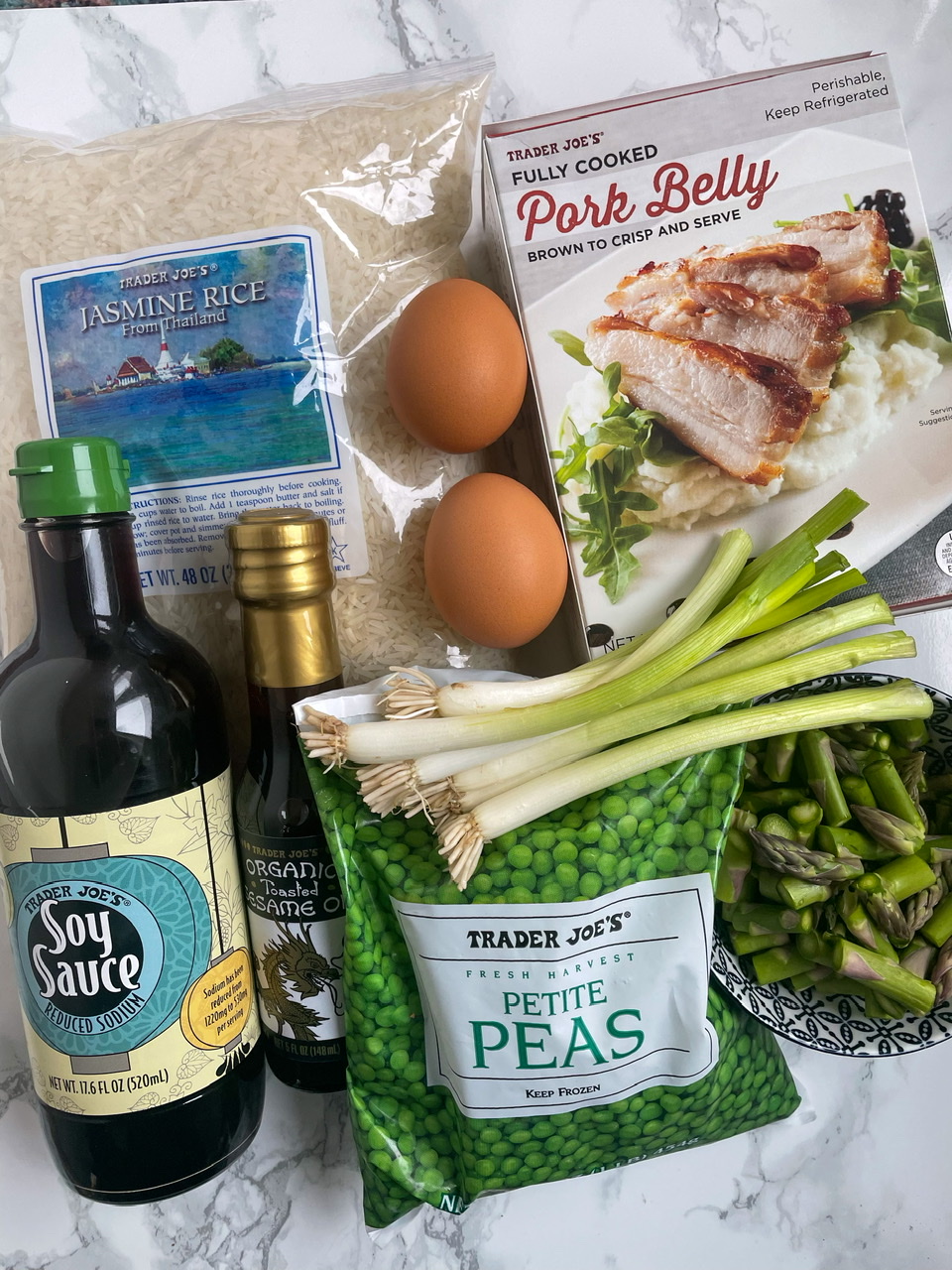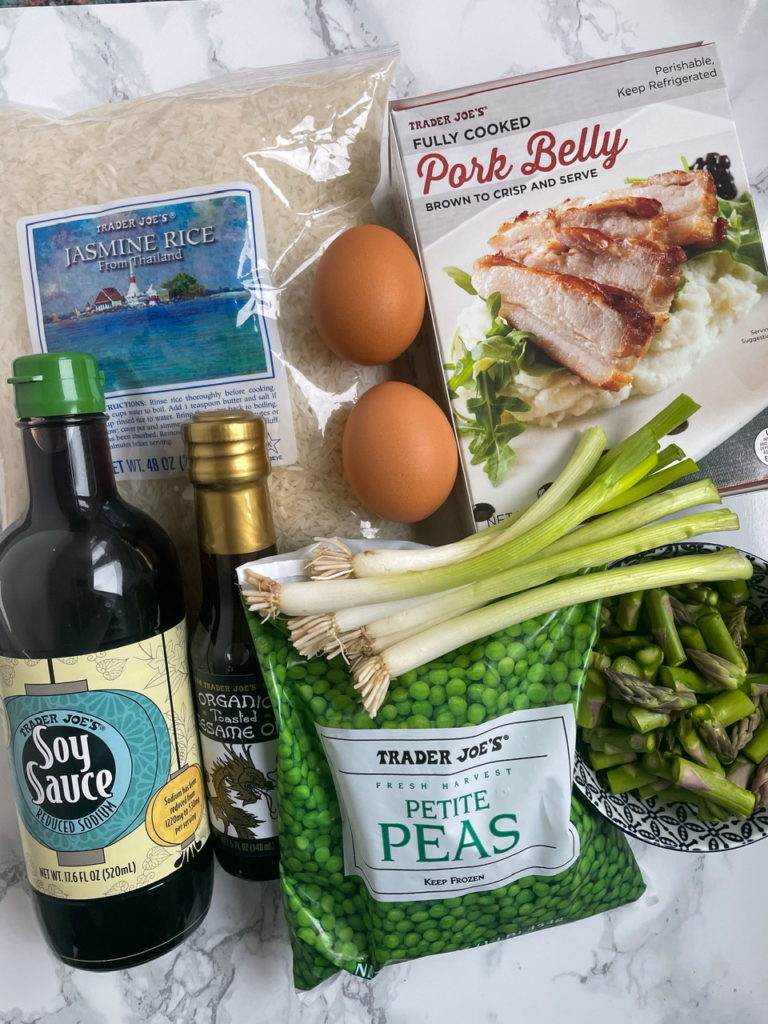 If you like this recipe, you may also like:
Cilantro Mint Cauliflower Rice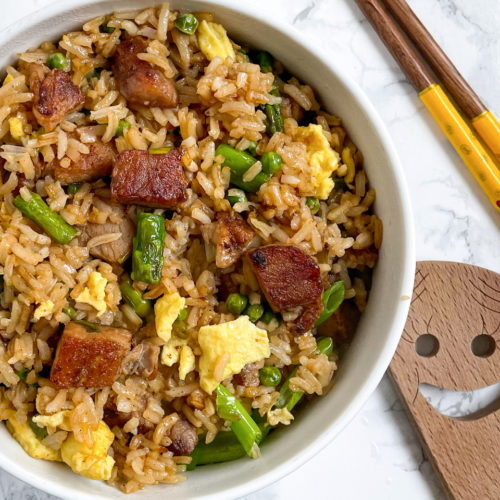 Pork Belly Fried Rice
an easy to make weeknight meal made with leftover rice, seasonal vegetables, and pork belly
Ingredients
4

Cups

Cooked Rice

Leftovers work best

3

tbsp

Butter, plus a little more

Any high heat oil will work

2

Eggs

12

oz

Fully Cooked Pork Belly

Trader Joe's

1

tsp

Chinese Five Spice Powder

sold in most grocery stores

5

Green Onions

Diced

1

lb

Asparagus

tough ends removed

1/2

cup

Frozen Peas

4

tbsp

Soy Sauce

1/5

tsp

Sesame Oil
Instructions
Cut your pork belly into 1" pieces and add them to a pan on medium heat with a little bit of oil. Add the Chinese five spice powder on the pork belly and stir. Once they become crispy, remove them from heat and set aside. it should take about ten minutes for them to crisp up completely.

Wipe the pan clean, then heat it back up and add a little oil or butter to the pan. Scramble eggs and then remove from heat and set aside in a bowl.

Chop up your asparagus and onions.

Add 1 tbsp butter to a large saute pan or wok. Once it heats up, add the majority of your onions and your asparagus. Cook for 5 minutes.

Add the rest of the butter to the pan, followed by the sesame oil, your rice and peas. Mix well.

Add the soy sauce to the pan and mix well. Once it is fully incorporated, let it heat up without moving it so that the rice gets a little crispy.

Once rice crisps up in a few areas, add your scrambled eggs and pork belly back into the rice and mix.

Serve and top with remaining green onions.